Experts from the Kingdom and the Netherlands are working together at this year's Saudi Design Festival to nurture creative thinking among children.
Representing two groups — the Saudi Adhlal and the Dutch NExAR — the experts' aim is to share the best elements of their nations' design culture, to learn from each other and to foster innovation.

According to NExAR's founder, Dennis Meulenbroeks, one of the primary focuses of the collaboration is building a community for children to grow their creativity in design rather than conforming to structured educational thought.

"I believe that if you teach design thinking, critical thinking, and out-of-the-box thinking at an early age, children will benefit from that in the future," he told Arab News.

He added that although children were born creative, they were taught at school to abide by the rules — to color between the lines, for instance — which restricted individuality.

"When a baby is born, they are creative, and then you come to elementary school and one of the first things that a teacher is doing is killing the creativity," he said.

This limited children's potential to develop problem-solving skills and to brainstorm creative and unique ideas, he added.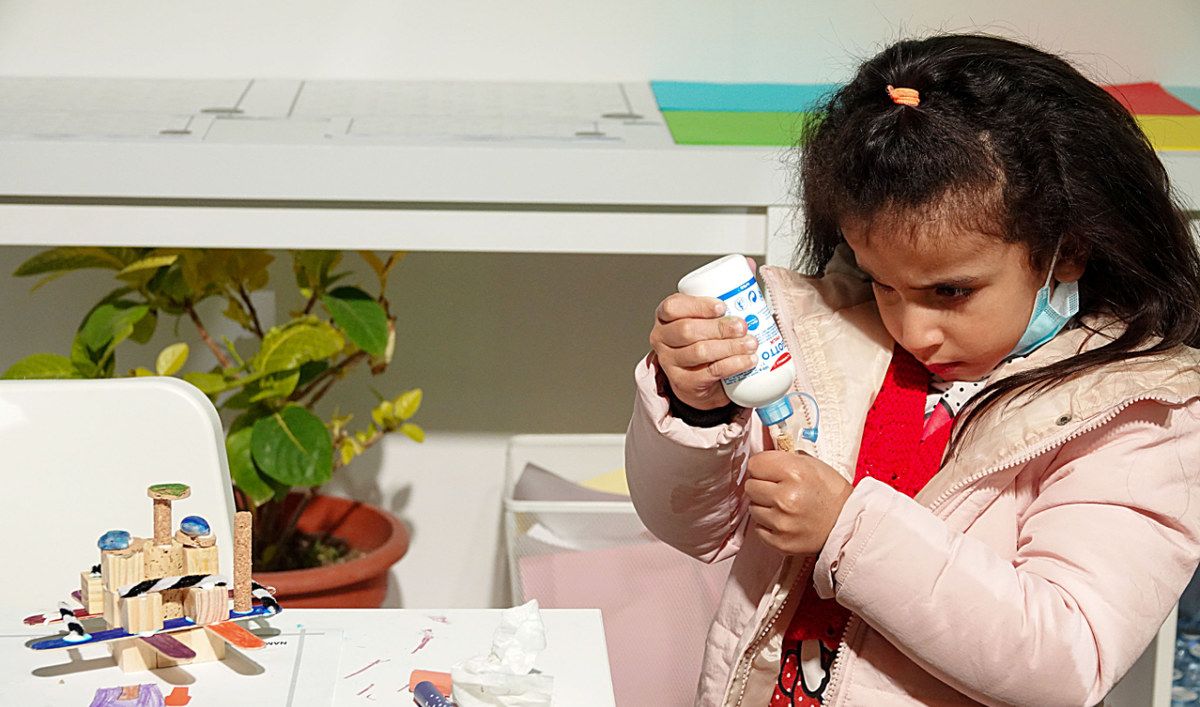 The children's design workshop is open every day after 6 p.m. at the festival, which is being held in the Jax district of Diriyah.

NExAR describes itself as a "bridge building initiative between the Netherlands and the Arab world in the field of design." Adhlal is a research-based consultancy founded by Princess Nourah Al-Faisal that aims to equip future generations of Saudi designers with the tools they need to succeed and build on the Kingdom's Vision 2030 development plan.

The Saudi Design Garden workshop in the Adhlal warehouse at the design festival also involves the Playroom, a group set up in 2014 to nurture divergent thinking in children under the age of five.

According to its co-founder, Bessma bint Bader, the workshop's aim is to create child-led play challenges that empower youngsters to innovate and build strong social skills.

"Children will always do the most unexpected and intelligent things when given the tools, support and freedom," she told Arab News.

Stephanie Assio, a design-thinking specialist with NExAR, said the workshop posed children with thought-provoking challenges intended to inspire them to create out-of-the-box solutions.

"It's all about design and innovation in education, creativity and coming up with programs to teach kids in new ways," she said.

When the children enter the workshop, they are introduced to four different challenges. One of which is to design a nontraditional space for people who fly.

"This garden is for people who fly. You don't have legs, you only have wings," Assio said.

"Then children are posed the question of how to design furniture for people who fly."

Other challenges include creating a garden using limited space on a balcony and designing a space to constrain furniture that "wants to keep running away."

"Naturally, kids are creative thinkers, they know how to problem solve, and they know how to think limitlessly," Assio said. "But over time, that creative thinking is drained out of them through the educational system and through the way life is."

The children's design workshop is open every day after 6 p.m. at the festival, which is being held in the Jax district of Diriyah.

The collaboration between Adhlal and NExAR began during the Saudi Design Festival in 2019 when Princess Nourah began discussing her goals and ambitions with Meulenbroeks.

"We had a booth to explain what design thinking can do in business and education, and we started with a small dialogue about our thoughts about design and what it can do in the future for different countries. Then Princess Nourah told us her vision, and we felt the connection," he said.

He commended the princess on her initiative to strengthen the design community in Saudi Arabia.

"Everything you see here is a compliment to Princess Nourah. She had a vision and she had a dream. For us, even if we were not here, she would still have done something amazing."