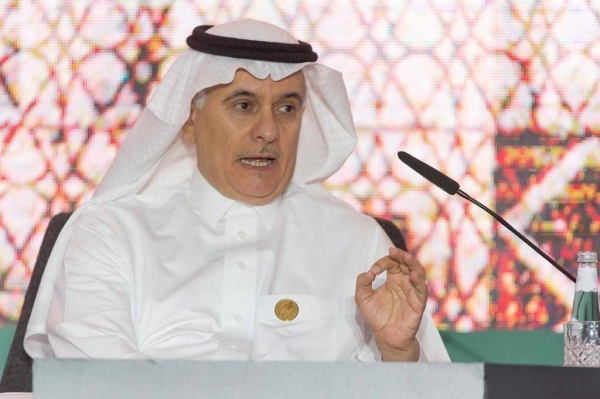 Al-Fadhli to open International Fair and Forum on Afforestation Techniques
The Minister of Environment, Water and Agriculture, Chairman of the Board of Directors of the National Center for the Development of Vegetation Cover and Combating Desertification, (NCVC), Eng. Abdulrahman Al-Fadhli, inaugurates the International Exhibition and Forum on Afforestation Technologies, at the Riyadh International Convention and Exhibition Center on Sunday.
The event, to be held under the patronage of Crown Prince Mohammed Bin Salman, deputy prime minister, minister of defense and chairman of the Council of Royal Reserves, represents a scientific forum that reflects the Kingdom's efforts in supporting vegetation cover and protecting the environment locally, regionally, and globally.

The event is organized by NCVC in coordination and cooperation with the Ministry of Environment, with the participation of a large number of government agencies, the private sector, environmental associations, international bodies, and organizations, in addition to a group of experts and the environmental field and climate issues.

It also includes 20 dialogue sessions and a scientific workshop, during which about 50 scientific papers will be presented for discussion, and more than 80 exhibitors will be showcasing the latest technological developments in combating desertification, mitigating its effects, and developing, and protecting vegetation.

The exhibition and forum aim to contribute to achieving several goals, including identifying globally applied success models, bringing together major investors, corporate leaders, decision-makers, technology solution providers, and green industry leaders interested in climate and environmental issues.

It also aims to develop sustainability tools, and provide a platform to encourage government agencies and semi-government organizations, companies and non-profit organizations, targeting stakeholders to combat desertification and increase vegetation cover.

NCVC works to protect and control sites of vegetation cover, rehabilitate degraded areas around the Kingdom, detect illegal encroachments on them, and combat logging, in addition, to supervising the management and investment of pasture lands, forests, and national parks, to promote sustainable environmental development and contribute to achieving the objectives of the Saudi Green Initiative.