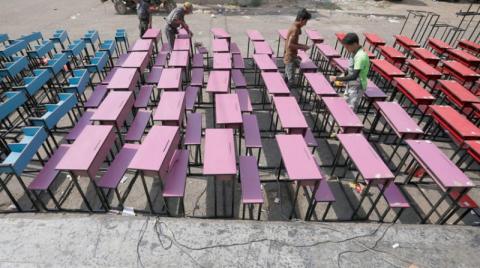 Yemeni Insurgents Accused of Tampering with High School Exams
Houthi militias have tampered with the results of high school exams in their areas of control, according to Yemeni sources.
The sources accused the group's leader, Yahya al-Houthi, who was appointed as Minister of Education, and his deputy, Qassim al-Hamran, of deliberately manipulating the results and leaking exams.

They also accused the militias of deliberately failing about 20,000 male students, who would later be pushed to join military ranks.

The sources say that this comes as part of an organized Houthi plan aimed at forcing students to stop their education, making it easier to attract them and turn them into fighters on the frontlines.

Earlier, the Houthi Ministry of Education announced the results of the high school exams for the 2021/22 school year, claiming that it had an 86.91 percent success rate.

Meanwhile, academics and activists accused the militias of tampering with the results and tests. They also indicated that before the exams, they gathered loyal students in one hall, gave them special exams, and allowed cheating.

Several social media posts said the results of secondary school exams in Houthi-controlled areas this year showed a significant decline in those getting government education in favor of private education.

Activists explained that it reflects the state of neglect after the salaries of state employees were cut for six years ago, including those affiliated with the education sector.

They believe the current state of the education sector is a systematic destruction of government education.

Dean of a private university in Sanaa Taha al-Rouhani stated that the most prominent public secondary schools in Yemen could no longer compete for good standing.

He indicated that many competencies are leaving the country. The authority cannot fill the gaps and supply schools with teachers, warning of the bleak future of education in the country.

Since its coup, the Houthi group has practiced a destructive policy in the education sector. It put many obstacles to it, including freezing public spending on education and salary payments.

The militias also used educational facilities for military purposes, closing more than 2,500 schools, depriving hundreds of thousands of students of education, according to local and international reports.

The Yemeni Teachers Syndicate accused the militias of exploiting the exams and results of the elementary and secondary certificates to recruit thousands of students.