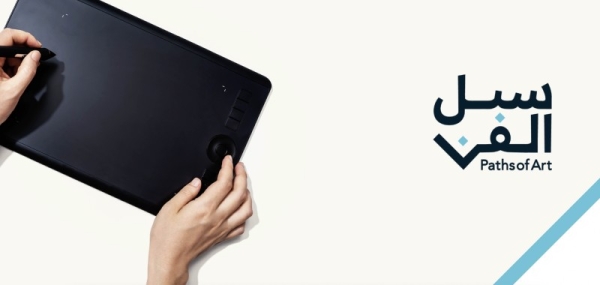 Visual Arts Commission launches Subol Al-Fann digital and plastic drawing competition
The Visual Arts Commission announced on Monday the launch of the Subol Al-Fann (Paths of Art) competition, in cooperation with the Saudi Postal Corporation (SPL).
The competition includes two tracks: digital drawing and plastic drawing. Participation will be opened in both Arabic and English through the dedicated electronic platform, starting from Monday, July 18, until Thursday, August 18. Six winners will be selected and their names will be announced on September 25, the Saudi Press Agency reported.

The commission unveiled the terms and conditions for the submission of entries. The participating artist shall be a Saudi national with a minimum age of 18 years. The applicants can submit only one artwork inspired by the identity of the competition, which aims to present artworks and drawings that simulate a future that depends on the employment of technologies and the use of innovative technical means featuring accuracy, speed and quality.

This would reflect the digital transformation adopted by Subol in sending and receiving postal parcels, so that the work interacts with cultural concepts and artistic innovation, while merging the vision of the unique cultural visual arts with the ambitious vision of Subol, according to specific and announced sizes for these works of art.

All the entries shall be sent to the website: https://engage.moc.gov.sa/spl#smooth-scroll-top.

The Visual Arts Commission seeks to nurture the Saudi talent of art enthusiasts, practitioners and professionals, and support the production and exhibition of artwork in all its forms, locally and internationally.

The commission, an affiliate of the Ministry of Culture, launched last year its comprehensive strategy that sets the stage for the development of the visual arts sector in the Kingdom and supports its talents, partners and investors in line with the ministry's orientation as part of the objectives of Saudi Vision 2030.

The strategy includes the commission's vision, mission, objectives, programs, initiatives and operational model according to specific performance indices and integrated benchmarks.