President Joe Biden and Republican leaders have expressed cautious optimism that a deal to raise the US debt ceiling is within reach, following emergency talks at the White House.
But House of Representatives Speaker Kevin McCarthy told reporters the two sides are still far apart.

The standoff has forced Mr Biden to cut short a foreign trip.

Without a deal, the US could enter a calamitous default on its $31.4tr (£25tr) debt as soon as 1 June.

A failure by the US government to meet its debt obligations could trigger global financial chaos.

The Democratic president said Tuesday's hour-long Oval Office meeting was "good, productive", sounding upbeat about the prospects of an agreement.

Mr McCarthy said afterwards he believed a deal was possible by the end of this week.

Asked about the risk of the US falling off a fiscal cliff, the California congressman told BBC News: "The great thing about that question is we've already taken default off the table."

He also told reporters a Biden-appointed representative would negotiate directly with his staff, which he said was a sign that "the structure of how we negotiate has improved".

A number of senior Democrats were at the talks, including Vice-President Kamala Harris, Senate Majority Leader Chuck Schumer and House Minority Leader Hakeem Jeffries.

In exchange for support for raising the debt ceiling, Republican leaders are demanding budget cuts. They also want tougher work requirements on government aid recipients.

Citing sources familiar with the talks, the Associated Press news agency reports that this idea was "resoundingly" rejected by House Democrats at another meeting earlier on Tuesday.

Mr Biden has repeatedly said that a potential debt default and budgetary issues should be separate.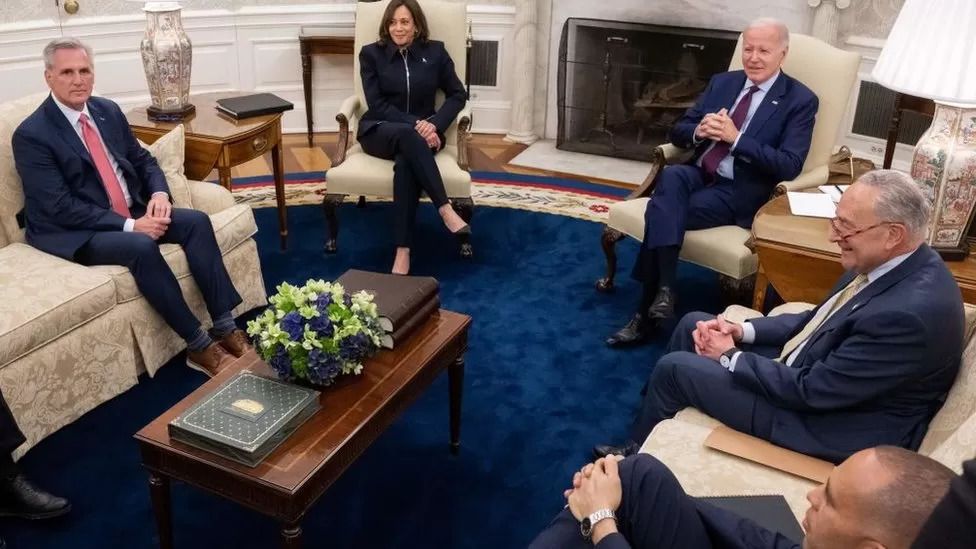 The president is due to fly to the G7 summit in Japan on Wednesday. He was then expected to head to Papua New Guinea and Australia for further meetings.

But he will now return after the 19-21 May summit ends in Hiroshima to "ensure that Congress takes action" to avert a default, the White House said in a statement.

The so-called Quad meeting in Sydney has now been cancelled, and the leaders will attempt to meet on the sidelines of the G7, Australian Prime Minister Anthony Albanese said.

Reaching the debt ceiling would mean the US government is unable to borrow any more money.

This means the government would no longer be able to pay the salaries of federal and military employees. Social Security cheques - payments that millions of pensioners in the US rely on - would stop.

Every so often the US Congress votes to raise or suspend the ceiling so it can borrow more.

A default - which would be a first in US history - could shatter trust in America's political ability to pay its bills.

Experts have warned it could also see the US spiral into recession and trigger a rise in unemployment.

Treasury Secretary Janet Yellen said at an event on Tuesday that "a US default would generate an economic and financial catastrophe".

Meanwhile, White House National Security Council spokesman John Kirby said: "There's countries like Russia and China that would love nothing more than for us to default."

A deal to avoid this scenario has so far proven elusive. In April, Republicans proposed an agreement that would suspend the debt limit by $1.5tn or until 31 March, whichever comes first.

In exchange, they would maintain spending at key government agencies at 2022 levels for the next financial year and limit spending growth to 1% annually over the next 10 years.

They argued this would lead to $4.8tn in savings.

The proposal, however, would scupper several of Mr Biden's legislative priorities, including student loan forgiveness.

The last time the US was approaching a default, back in 2011, lawmakers struck a deal hours before the deadline.

That standoff led to a downgrade in the US credit rating, sent the stock market plummeting and increased the government's borrowing costs.

"Nobody should use default as a hostage," Senate Majority Leader Chuck Schumer said at the US Capitol on Tuesday. "The consequences would be devastating for America."

The US debt ceiling has been raised, extended or revised 78 times since 1960.