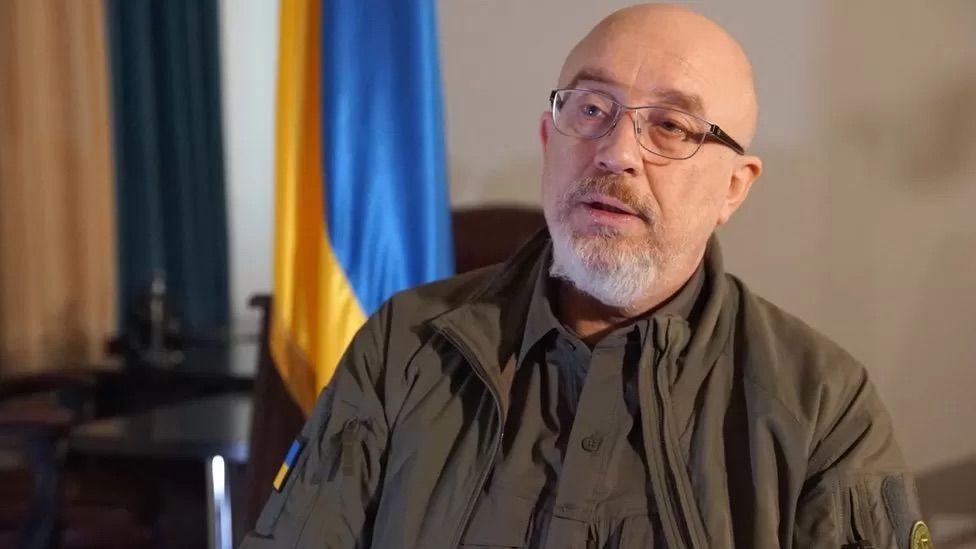 Ukraine defence minister: We are a de facto already member of Nato alliance
Ukraine has become a de facto member of the Nato alliance, the Ukrainian defence minister says, as Western countries, once concerned that military assistance could be seen as an escalation by Russia, change their "thinking approach".
In an interview with the BBC, Oleksii Reznikov said he was sure Ukraine would receive long-sought weapons, including tanks and fighter jets, as both Ukraine and Russia seemed to be preparing for new offensives in the spring.

"This concern about the next level of escalation, for me, is some kind of protocol," Mr Reznikov said.

"Ukraine as a country, and the armed forces of Ukraine, became [a] member of Nato. De facto, not de jure (by law). Because we have weaponry, and the understanding of how to use it."

Russian President Vladimir Putin has framed his invasion of Ukraine as an existential battle against Western countries that want to weaken Russia.

Russian figures have argued they are fighting Nato in Ukraine, as the West has supplied the country with weapons in what they call a war of aggression.

Ukraine, for years, has sought to join the military alliance between the US, Canada and 28 European countries, something President Vladimir Putin has described as a security threat for Russia.

Ukrainian President Volodymyr Zelensky has pushed for fast-track accession, but it is unclear whether full membership is something the alliance members will seriously consider even after the war is over, despite pledges of support.

Article 5 of the Nato Treaty says an armed attack against any member should be considered an attack against all.

Mr Reznikov, however, denied that his comments would be seen as controversial, not only by Russia but, perhaps, by Nato itself, as the alliance has taken steps not to be seen as a party to the conflict.

"Why [would it be] controversial? It's true. It's a fact," Mr Reznikov said. "I'm sure that in the near future, we'll become member of Nato, de jure."

The defence minister spoke in the capital, Kyiv, as Ukrainian and Russian forces continued to fight for the small town of Soledar, in the eastern Donetsk region, in some of the most intense battles in the nearly 11-month-old war.

The Russian offensive is led by the mercenary Wagner Group, whose founder Yevgeny Prigozhin, a long-time Putin ally, has become a vocal critic of the Russian army's performance in Ukraine.

On Tuesday, Mr Prigozhin claimed that his fighters had seized control of the town, an allegation that was dismissed by Ukraine and, remarkably, by the Kremlin, in what was considered a rebuff to Mr Prigozhin.

The situation in Soledar was "very difficult", Mr Reznikov said, but "under control". He said Wagner fighters were being used in "wave after wave after wave" of attacks, leading to a high number of deaths, and that Mr Prigozhin was interested in the possible economic benefits of seizing the town, home to Europe's largest salt mines.

"They'll earn money from blood," he said.

Soledar is about 10km (six miles) from Bakhmut, a strategic city where Ukrainian and Russian forces have been engaged in a months-long war of attrition that has caused widespread destruction and heavy losses on both sides. There, Wagner mercenaries have also been deployed in large numbers, and Mr Prigozhin is believed to have made the capture of Bakhmut a personal goal.

The group, Mr Reznikov said, "need to deliver some kind of proof to declare they're better than the regular armed forces of the Russian Federation". If seized, Bakhmut could pave the way for a Russian push towards Kramatorsk and Slovyansk, two Ukrainian strongholds in Donetsk, a region that has been a key target for President Putin.

Mr Reznikov was speaking before Russia on Friday claimed it had taken control of Soledar. Ukraine disputed this and accused Russia of "information noise".

Any gains would be, more than anything else, of extreme symbolic value for Russia. They would come after a series of humiliating setbacks, including a chaotic retreat from the north-eastern region of Kharkiv and the withdrawal from the southern city of Kherson, the only regional capital Russian forces had captured in the war.

Mr Reznikov claimed that "approximately 500 or 600" Russian fighters were being killed every day across the country, while Ukraine was losing a tenth of that, figures that could not be independently verified. He believed Russia could be trying to gather "forces, ammunition and weapons" for an offensive from areas it already occupies in the south and east.

Ukraine, in the meantime, needed time to regroup and rearm while it waited for the delivery of Western weapons. "Spring is the best period to refresh the movement for all sides," he said. "We understand they'll be ready to start and, surely, we have to be ready to start."

However, he did not repeat a claim that Russia could be preparing another invasion from Belarus, a warning that has been dismissed by the head of the Ukrainian military intelligence agency. The movement from the north, Mr Reznikov said, "would take a lot of time and they [Russia] have no resources".

Mr Reznikov spoke a day after the Russian defence ministry replaced the commander of its forces in Ukraine, a surprise announcement that was seen as a sign of a power struggle. Gen Valery Gerasimov, one of the architects of last year's invasion, would return to the post that was being held by Gen Sergei Surovikin, who had been appointed in October.

The change, Mr Reznikov said, was a result of the "conflict between Mr Prigozhin and the armed forces of the Russian Federation". Gen Surovikin oversaw the recent brutal attacks on Ukraine's energy infrastructure that, according to Mr Reznikov, "reduced the [Russian missile] stocks without any results", repeating a Ukrainian claim that "they're running out of missiles".

As Poland and Britain revealed plans to deliver battle tanks for the first time, Mr Reznikov said he was sure Ukraine would receive "tanks, fighting aircrafts or jets, and long-range weaponry to hit targets in 300km (186 miles) as well", because "things were changing" in Western countries.

He dismissed concerns that the announcements could trigger a Russian response, despite now-familiar threats from Moscow. "I have a war in my country," he said. "They're hitting my cities, my hospital, my kindergartens, my schools. They killed a lot of civilians, a lot of civilians. They're an army of rapists, murderers and looters. What's the next level of escalation?"