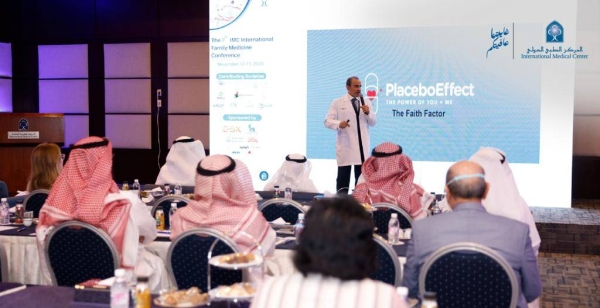 The International Medical Center inaugurates 7th International Family Medicine Conference
The International Medical Center launched the seventh edition of the International Family Medicine Conference, with the participation of 11 local, regional and international associations and organizations, in the presence of numerous doctors and researchers in the field of family medicine.
This conference is part of a series of successful conferences organized by the IMC to display and follow up on the latest developments in family medicine, where it received this year more than 53 scientific research and papers.

The current year's edition of the conference attracted wide participation from a number of local, regional and international associations and organizations that are concerned with family medicine. These participating in the event are namely: the Saudi Society of Family and Community Medicine, Saudi Commission for Health Specialties, Saudi Council of Health Insurance, Saudi Health Council, World Organization of Family Doctors East Mediterranean Region (WONCA EMR), Emirates Family Medicine Society, Kuwait Family Medicine Board, Joint Postgraduate Program in Family Medicine, Saudi Indian Healthcare Forum, and the Waey Association for Community Health.

In his opening speech, the Chairman and CEO of the IMC, Dr. Walid Fitaihi, emphasized the importance of the humanitarian aspect when it comes to enhancing the psychological and mental state of the patient. He addressed his message to family doctors and highlighted the significance of promoting such concept and putting it into practice, when providing healthcare services. Accordingly, the head of the Kuwait Family Medicine Board touched on the association's success in improving the performance of family doctors, taking into consideration the current challenges being faced, which shed the light on family doctors who are considered a cornerstone in improving the quality of healthcare services.

This year's conference saw the participation of WONCA EMR, which displayed its efforts in supporting family doctors within the context of the transformation being witnessed by the healthcare systems in the region. The conference also witnessed a large presence of specialists and professionals in the field of family medicine, which reflects the scientific and practical content of the conference's scientific agenda. In turn, it paid great importance to the applied, clinical, research and scientific aspects of all what is related to family medicine.