Organisers the Saudi Motorsport Company said that the race would take place on Sunday despite drivers expressing their concerns in four-hour meeting
F1 has confirmed the Saudi Arabian Grand Prix will go ahead as planned after Yemen's Houthi rebels claimed responsibility for a missile attack on an oil facility less than 10 miles from the circuit. But in a four-hour meeting with drivers that lasted until well past midnight local time on Saturday, several are believed to have voiced their concerns to F1's chief executive, Stefano Domenicali, with some lingering doubts over whether the race will still take place.

Discussions continued until 2.30am local time, over four hours after Domenicali had made assurances that all was well. Organisers the Saudi Motorsport Company had earlier confirmed that it would go ahead after all 10 team principals agreed to race. "We are aware of the attack on the Aramco distribution station in Jeddah earlier this afternoon and remain in contact with the Saudi security authorities, as well as F1 and the FIA, to ensure all necessary security and safety measures continue to be implemented, to guarantee the safety of all visitors to the Formula One Saudi Arabian Grand Prix as well as the drivers, teams and stakeholders," read a statement.

"The race weekend scheduled will continue as planned. The safety and security of all our guests continues to be our main priority and we look forward to welcoming fans for a weekend of premium racing and entertainments."

The Mercedes team principal, Toto Wolff, said: "It was a good meeting. We, as team principals, have been assured that we are protected here, that's probably the safest place in Saudi Arabia at the moment, that we're racing."

Red Bull's Christian Horner was also confident Sunday's grand prix would go ahead. "We'll be racing," he said and in a joint statement on Saturday morning, F1 and its governing body, the FIA, said they have been provided "full and detailed assurances that the event is secure" when they gave racing the green light to continue.

After the attack, huge plumes of black smoke rising high into the sky were clearly visible from the circuit. The Houthi rebels, who have been embroiled in war with a Saudi-led coalition for seven years, claimed to have carried it out, with Saudi state media saying the coalition had foiled a string of Houthi drone and rocket attacks. Last Sunday the Houthis attacked another oil facility in Jeddah as part of another wave of strikes.

Domenicali said he was assured by the Saudi authorities that the safety of the teams will be guaranteed. "We have received total assurances that, for the country, safety is first, no matter the situation – safety has to be guaranteed," he said. "So we feel confident and we have to trust the local authority in that respect. Therefore, of course we will go ahead with the event."

The team principals were unanimous in agreement at this stage that the race weekend should continue. Some drivers were understood to be less convinced, with a Saturday statement from the Grand Prix Drivers' Association confirming drivers will race on despite fears being expressed in discussions. "It is hard to comprehend if you have never driven an F1 car on this fast and challenging Jeddah track, but on seeing the smoke from the incident it was difficult to remain a fully focused race driver and erase natural human concerns," the statement said.

"Consequently we went into long discussions between ourselves, with our team principals, and with the most senior people who run our sport. A large variety of opinions were shared and debated and, having listened not only to the Formula One powers but also to Saudi government ministers who explained how security measures were being elevated to the maximum, the outcome was that we would practise and qualify today and race tomorrow."

Before the attack, Lewis Hamilton was unequivocal in demanding F1 does more to instigate reform in Saudi Arabia if the sport continues to race there. With the state accused of sportswashing and having recently executed 81 people in one day, the seven-times champion admitted he was shocked when he received a letter from a teenager sentenced to death for a crime he was alleged to have committed when he was 14.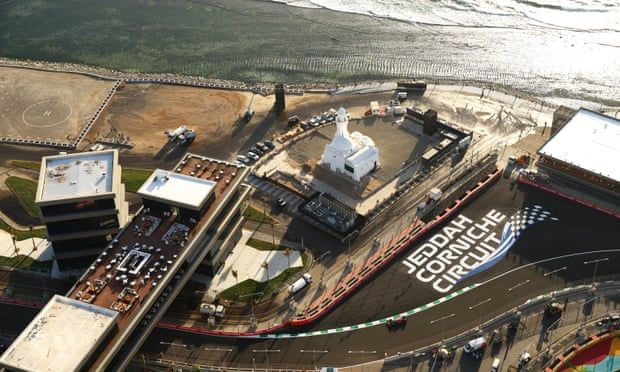 The Jeddah circuit is located approximately 10 miles from the site of the oil depot fire caused by a Houthi missile strike.

Saudi Arabia's human rights record has attracted enormous criticism – including allegations of indiscriminate bombing of civilians in Yemen – and placed F1 once more under the spotlight for assisting in legitimising the activities of the regime.

Hamilton placed the pressure firmly on F1 to make a difference since the drivers have no say on the countries his sport visits. "Ultimately, it is the responsibility of those who are in power to really make the changes and we are not really seeing enough, we need to see more," he said. "We don't decide where we go to race in Formula One, but while it is not necessarily our responsibility, we are duty-bound to try and do what we can."

Hamilton's unease at racing in Saudi Arabia had not changed from last year's race when he said he was "not comfortable" with F1 competing in the country. As revealed by the Guardian on Thursday Hamilton was written to earlier this week by the family of Abdullah al-Howaiti, who was sentenced to death for a crime they maintain he did not commit and was a minor when he was alleged to have done so.

Hamilton acknowledged he was aware of the letter and that its subject matter left him reeling. "It's mind-blowing to hear the stories," he said. "I've heard there is a letter sent to me from a 14-year-old on death row. When you're 14 you don't know what the hell you're doing in life."

Hamilton has attempted to ensure he is aware of human rights issues and has met representatives from some of the countries involved in an attempt to effect change. The British driver remains committed to doing so but questioned why the authorities in Saudi Arabia and F1 itself were apparently oblivious to the need for reform.

"It is important we try to educate ourselves and with a little bit of difference, we can try to make sure we are doing something," he said. "I am always open to having a discussion, to learning more and trying to understand exactly why things are happening and why they are not changing. It is 2022 and it is easy to make changes."