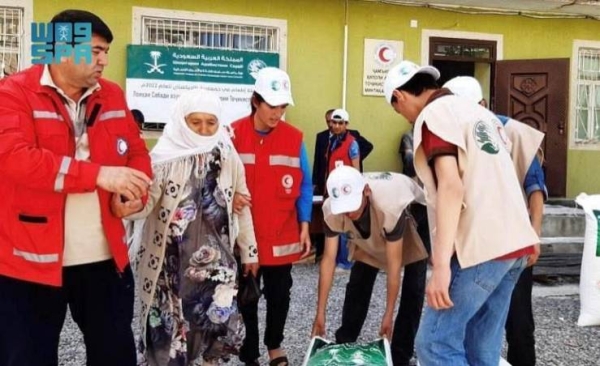 Saudi Arabia continues sending aids to all Muslims in the world
Saudi Arabia continues its act of charity for needy in people in the country and abroad.
King Salman Humanitarian Aid and Relief Center (KSrelief) has delivered Saudi gift containing 25 tons of dates to Albania.

The head of the Islamic sheikhdom in Albania Shaikh Boyar Sepahiu expressed his thanks to the Custodian of the Two Holy Mosques and theCrown Prince for their care of the Muslims of Albania, praising the historical stances and the unremitting contributions being provided by the Kingdom of Saudi Arabia, represented by KSrelief for the Albanian people.

The center has distributed 1,300 food baskets in Tajikistan, as part of Ramadan "Eatam" initiative.

The baskets were distributed in the regions of Dushanbe, Vahdat, Sanjpur, Rasht, Kulab and Dangarh, benefiting 6,700 people.

The initiative aims to provide the basic food needs of more than 51,000 beneficiaries from the neediest groups in Tajikistan during the blessed month of Ramadan for 2022.

Saudi Ministry of Islamic Affairs, Call and Guidance has distributed 450 Ramadan food baskets in Kosovo.

Saudi Ambassador to Kosovo explained that the implementation of the gift program of the Custodian of the Two Holy Mosques to break the fast of fasting people (food baskets) confirms the Kingdom's leadership's tireless endeavor to alleviate the suffering of thousands of Muslim families in Kosovo and the world, especially in light of the difficult living conditions experienced by some countries.

Islamic Affairs Ministry also held a Ramadan Iftar banquet in Kosovo, in the presence of the Grand Mufti and head of the Islamic Sheikhdom in Kosovo, Naeem Trnava and more than 100 Islamic figures there.

The donations received by the Saudi National Campaign for Charitable Work (Ehsan) have exceeded SR1,923,000,000, after more than 25,750,645 million donation transactions, benefiting 4,645,844 people.

Ehsan platform goes on receiving donations from individuals, companies, banks, donors and wealthy people via the platform's website and application.