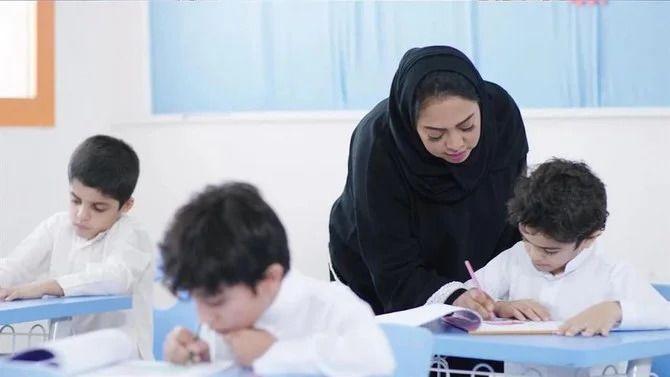 Praise, gifts and gratitude as Saudi Arabia celebrates World Teachers' Day
Saudi Arabia's Ministry of Education is marking World Teachers' Day, which falls on Oct. 5 each year, with three days of celebrations under the theme "The transformation of education begins with the Teachers."
The Islamic World Educational, Scientific and Cultural Organization tweeted a message about the event, saying: "ICESCO calls for placing teachers at the forefront of efforts aimed at transforming education. It also calls for strongly reconsidering the teaching profession to create creative and innovative minds and build balanced and capable personalities."

In line with the human capacity development program and achieving the objectives of the Kingdom's Vision 2030, Saudi teachers have taken part in training and development projects that have raised the level of professional qualification and the quality of education and learning.

Minister of Education Yousef Al-Benyan tweeted on his official Twitter account, praising the efforts of all teachers across the Kingdom.

He wrote: "I congratulate my fellow teachers on the occasion of #WorldTeachersDay. Appreciating their efforts, praising their contributions and their educational role in building humans and forming a competitive society that achieves sustainable development goals for the country."

Al-Benyan added that teachers are partners in the journey of work, effort and development to achieve the aspirations of wise leadership.

He said that teaching stands at the top of the humanitarian professions pyramid, and urged students to respect teachers.

Ghadeer Shaheen, an early childhood teacher from Alkhobar, told Arab News how she and her colleagues were treated on their special day.

She said: "The place was full of joy. We exchanged gifts. Giveaways were also distributed to us by our students as a gratitude gesture from the school principal."

Mariam Al-Shomrani, a chemistry teacher at the Gifted Secondary School in Jeddah, said: "Congratulations from the bottom of my heart to every teacher. You are the educators of generations and engineers of minds.

"I would like to also thank every teacher who taught me and made an effort to help me reach what I am now."

The Ministry of Education has contributed to the development of innovation in teaching methods, in particular in the STEM subjects (science, technology, engineering and mathematics).

Suliman Mukhtar, an English lecturer from Yanbu, said that being a teacher meant always learning more about the vocation and obtaining more professional development through exposure to different teaching methods.

He added: "We learn from our students and we get to have different perspectives when we face challenges.

"As we interact with different age groups and different backgrounds of students, this helps us to try new strategies and techniques, and it is all fun that we get to experience this and learn more from it."

The Ministry of Education continues to implement projects and programs for the educational professional, in addition to building a system for professional development in the public education sector.