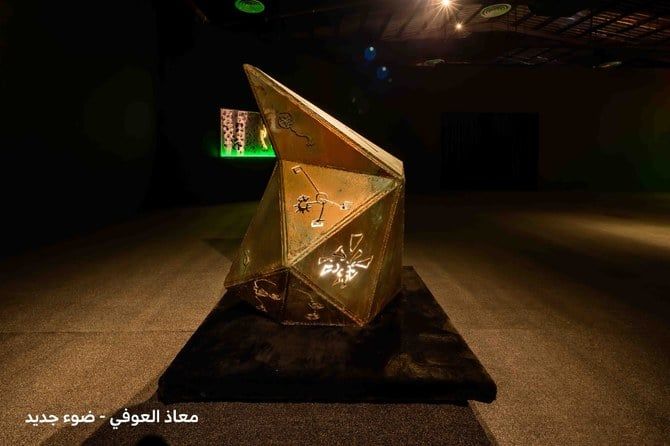 Noor Riyadh, Saudi artists collaborate to raise funds for upcoming charity auction
The second annual light and art festival Noor Riyadh, which began on Nov. 3, is bringing together four major Saudi artists and four charities to raise funds for an online charity auction this month.
Noor Riyadh has selected established artists Ahmed Mater, Moath Alofi, Rashed Al-Shashai and Saad Al-Howede and asked them to collaborate with the charities Aleradah Organization, Saudi Alzheimer's Disease Association, International Rehabilitation Team and Al-Nahda, respectively, to create artworks that will then be sold at the auction.

All proceeds from the auction will go toward enhancing the organizations' ongoing art programs, which will enrich the lives of beneficiaries through creative expression.

A total of eight artworks, two for each artist, were produced in October during dedicated workshops between the artists and the charity beneficiaries. The completed pieces range in materials and form, incorporating elements of painting, sculpture and light art.

The works will be on view to the public at Warehouse H04 in the JAX District until Nov. 19, from 6 p.m. to 1 a.m. (except for Nov. 9, when the exhibition will be closed for a private function).

The artworks will then go on sale online through the Saudi-based art market platform Atrum from Nov. 14-15. Individuals can register and place a bid on their artwork of choice. After the auction closes, the platform will automatically close the bidding and the artworks will go to the highest claim. A minimum bid of SR50,000 ($13,302) has been set for each lot.

Al-Shashai said: "I am delighted to participate in this special Noor Riyadh initiative, which increases the awareness of these notable charitable causes and is as important as the numerous cultural activities that the festival offers. Through the online charity auction, Noor Riyadh is ensuring more people than ever can stay surrounded by art and enrich their lives through the powerful possibilities that art offers."

Al-Shashai's piece, "Amenin," the Arabic word for "secure," features LED light mounted on canvas and speaks to the artist's personal vision for the country's future, one that embraces inclusivity and community participation. For the initiative, the artist collaborated with the International Rehabilitation Team, which provides daycare services to the severely disabled.

His second work, "Layan's Vehicle," a mixed media installation of a cleaved bumper car with a vibrant pink light attached, was inspired by an encounter with a young girl named Layan during the workshops. Struck by the child's lighthearted spirit despite her physical limitations, Al-Shashai created the work as a tribute to her and other individuals who remain resilient in the face of adversity.

Mater said: "I invite everyone to view the outstanding work of the creators in the online charity auction organized by Noor Riyadh. I am delighted to be part of such a purposeful initiative alongside other distinguished Saudi Arabian artists."

Mater's works include "Hope," which comprises toy gun caps transformed into a wall-mounted installation that spells a message of aspiration and unity. The artist's "Guncaps" series from 2012 utilized the popular toy gun caps as a way to reframe their symbolism from negative to positive.

In another work, Mater reappropriates bullet rings and removes their associations with violence, replacing them with uplifting expressions of culture and craftsmanship contributed by the participants. For the initiative, the artist collaborated with Aleradah Organization, which supports gifted people with disabilities.

Alofi said: "Art has always been an umbrella for discussion and a bridge to communicate. With Noor Riyadh, the bridge has been extended further."

Alofi, who collaborated with the Saudi Alzheimer's Disease Association, considered how the condition affects both the patients and their loved ones. In "A Novel Light," Alofi pays homage to the caregivers, drawing from their experiences and turning their stories into emotive symbols.

His second work, "Hands on Memory," was produced through sharing and cooperation, with the handprints of participants filling a canvas that has been overlaid with a hand-shaped neon LED. For the artist, the hand represents a human tool that has enabled our development but also allows us to wield creativity and connection.

Al-Howede said: "As an artist, I look at the human experience. I have tried to offer everything I can to help people and the participants of this initiative to get the support they need and to carry their lessons through life."

In Al-Howede's "The High Sky," towering light sculptures of flowers speak to underappreciated talents that could rise and bloom if recognized within an open and inclusive society. The aesthetic of the work is inspired by a drawing from one of the participants from the charity Al-Nahda, which aims to empower beneficiaries through its program.

"Ascent," meanwhile, is based on another participant's drawing, which the artist has used as the background base for numerous light tubes that illuminate various symbols of diversity and harmony in society.

Noor Riyadh and the online charity auction are part of the larger initiative Riyadh Art, which runs multiple programs that seek to enhance the city's artistic and cultural landscape with public art projects, events, exhibitions and workshops.