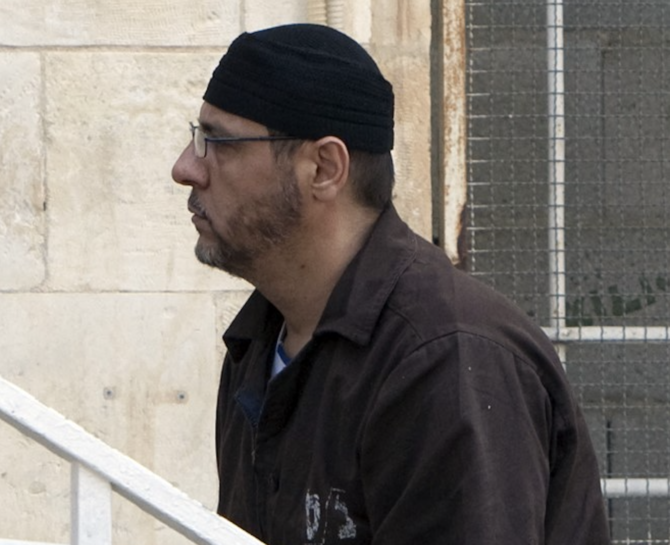 Israel offers to transfer Palestinian prisoners of Jordanian origin to complete sentence in Jordan
In a surprise move, Israel has offered Palestinian inmates with Jordanian citizenship the option of being transferred to prisons in Jordan to continue serving out their sentences there.
The National Committee for Jordanian Prisoners and Missing Persons in Israeli Detention Centers has revealed an agreement presented by the Israeli Prisons Administration to Palestinian prisoners of Jordanian nationality.

Four out of 18 Jordanian prisoners have so far accepted the offer of the prison administration, most of whom had been served with long sentences.

Others, including Abdullah Barghouti, are sentenced to life imprisonment.

Barghouti serves a prison term of 67 life sentences and 5,200 years — the longest in history.

He is entering his 20th year in Israeli prisons.

He was arrested on March 5, 2003, in the city of Al-Bireh in the central West Bank.

Israel accuses him of contributing to the killing of more than 60 Israelis.

Barghouti's family learned from a released Palestinian prisoner close to him that he agreed to the offer made by the prison administration to transfer him to Jordan to complete his sentence.

Um Usama, Barghouti's wife, confirmed this to Arab News.

She said that her husband, 50, was being detained in Eshel prison in Israel and that she, her two daughters and her son had only been able to visit him only four times since his arrest 20 years ago due to security obstacles.

His parents have not been able to see him since his arrest, except last summer, when they came from Jordan, despite their illness, for a visit that lasted 30 minutes.

Sources in the Barghouti family told Arab News that they had contacted the Jordanian Ministry of Foreign Affairs regarding Jordan's willingness to receive Barghouti and the other prisoners.

The ministry, however, told them it did not know anything about the matter.

Arab News contacted Mohammed, Barghouti's brother, who resides in Qatar and who obtained a copy of the agreement, which was extended to Barghouti in mid-2017 and which he agreed to this month.

He said his brother accepted the agreement after Hamas was informed of it and its opinion was taken into consideration.

"If Abdullah can be closer to his parents, that's better because he has been in jail for more than 20 years. They have only seen him once," he said.

Maj. Gen. Qadri Abu Bakr, head of the Palestinian Detainees and Ex-Prisoners Commission Affairs, told Arab News that he had no confirmation of the matter.

If confirmed, the move will alleviate the suffering of the prisoners' families, who have not been able to visit them for years.

A senior source in the Fatah movement told Arab News that the latest development indicated that a prisoner exchange between Hamas and Israel was imminent.

Under the agreement, Israel would be able to remove members of Hamas serving long terms within its prisons without appearing as if it made great concessions to the movement by releasing prisoners such as Barghouti.

A senior Palestinian official, who has dealt with security prisoners' issues and who spoke to Arab News on condition of anonymity, confirmed that Israeli jail authorities summoned a prisoner a week ago and asked him to sign a document that would allow him to be transferred to Jordan to complete the rest of his sentence.

The prisoner asked for advice from Palestinian officials.

The transfer of Barghouti and other Jordanian prisoners to spend the rest of their sentences in Jordan is conditional on the approval of the Israeli justice minister, the internal security minister and the defense minister, as well as on the acceptance of Jordan.