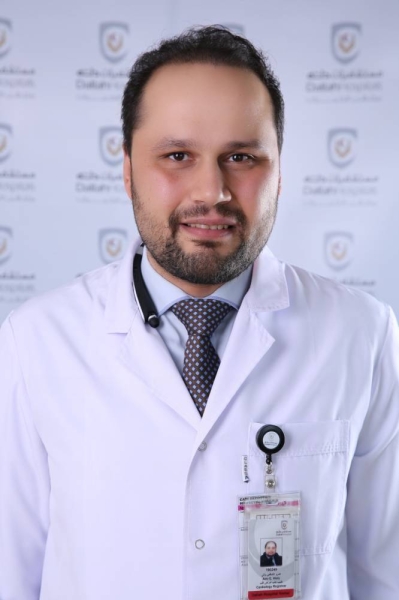 A cardiologist at Dallah Namar Hospital warns of the danger of the silent killer
Hypertension, known as "the silent killer", is one of the most prevalent diseases all over the world, including the Kingdom of Saudi Arabia, as its negative effects on the heart and its severe complications on all organs of the body lead to sudden death.
Dr. Amr El-Shafei Wali, a cardiologist at Dallah Namar Hospital in Riyadh, warned about the danger of high blood pressure, intensifying the necessity for an early examination of the disease before it worsens. He explained that both the department of kidney and the department of heart and internal medicine in the hospital provide the necessary treatment for high blood pressure, By highly experienced specialists and consultants.

Dr. Al-Shafei pointed out that the International Day of Hypertension, which falls on May 17 of each year, is a good occasion to spread the required awareness of the effects of this disease, which is extremely affecting and dangerous to humans.

Dr. Al-Shafei emphasized the importance of measuring blood pressure accurately and periodically to maintain the normal pressure level, pointing out that the higher the blood pressure is, the more difficult it is for the heart to pump blood, but when the heart beats normally, it pumps blood to all vessels smoothly.

And he revealed that two out of every five people in the Middle East have high blood pressure, which indicates that this disease is a major cause of premature death around the world.

About the symptoms of high blood pressure, Dr. Al-Shafei explained that most of people suffering from high blood pressure do not show any symptoms, although it has reached dangerous levels, and blood pressure may have been high for several years without showing any symptoms on the patient.

He continued, "However, a few people with high blood pressure may experience symptoms such as headache and shortness of breath, in addition to nasal bleeding. It usually only occurs when high blood pressure reaches a dangerous stage that threatens patients' lives.

Dr. Al-Shafei appealed Hypertensive patients, that it is a must to avoid meals containing high amounts of salts, because they elevate blood pressure, while patients should eat rich meals which are low in fat, cholesterol, and low-fat dairy products because they help them maintain the normal level of blood pressure, also the patients must adhere to a healthy lifestyle that includes eating and exercising, leaving bad habits such as smoking, and avoiding stress.

It is noteworthy that Dallah Health Group includes six leading healthcare facilities, serving more than 1.5 million patients annually, throughout the Kingdom, through more than 900 beds and 500 outpatient clinics, and the group employs more than 3 thousand employees, including about a thousand expert doctors, in an effort to provide the highest standards of health care in the Kingdom of Saudi Arabia.