Riyadh Gov. Prince Faisal bin Bandar sponsored on Friday night an award ceremony to honor the winners of the King Salman Award for the Holy Qur'an memorization, recitation and interpretation.
In its 23rd edition, the competition was organized by the Ministry of Islamic Affairs, Dawah and Guidance. Riyadh Deputy Gov. Prince Mohammed bin Abdulrahman bin Abdulaziz also attended the award ceremony alongside Prince Faisal, who led the proceedings on behalf of King Salman.

Prince Faisal was received by Islamic Minister Sheikh Abdullatif Al-Asheikh and his deputy Yusuf bin Mohammed, plus an entourage of officials from the ministry.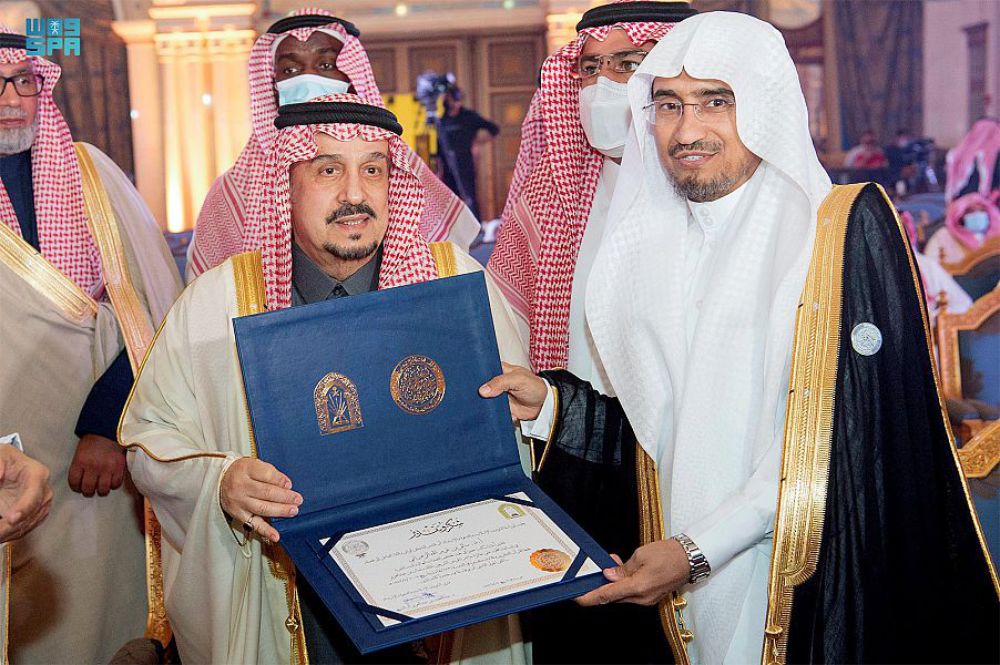 Sheikh Abdullatif said that the competition encourages girls and boys to memorize and read the Holy Qur'an, adapt the divine teachings as a way of life, practice moderation, obey their guardians, commit to Islam and reject groups and parties.

He noted that 3,500 contestants participated in the preliminaries and that 119 have made it to the finals, which were won by 18 boys and 18 girls. He also honored the competition's winners and judges.

Prince Faisal said: "I was honored tonight to sponsor on behalf of King Salman this ceremony that embraces the Holy Qur'an and its believers. This is the principle of the country since its establishment and we hope that the memorizers will have high standards in their next works and curriculum."

He thanked the Islamic minister, the judges and the organizers of the competition for their efforts.

The ceremony was also attended by Grand Mufti of Saudi Arabia Sheikh Abdulaziz Al-Asheikh and Commerce Minister and acting Minister of Media Majid Al-Qasabi and other senior officials.

Al-Qasabi said that this competition is a reflection of the original approach on which Saudi Arabia was founded.

He added that the care of the Holy Qur'an and the upbringing of generations to memorize, recite, interpret and work by it are beneficial deeds, praising the spirit of honorable competitiveness shown by the contestants in all branches of the competition.