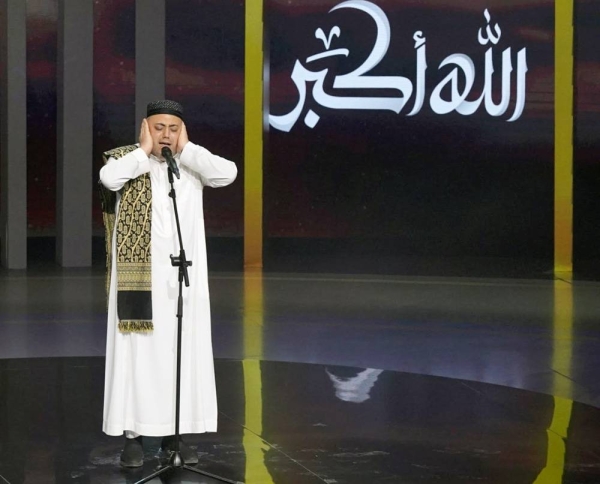 Visually impaired contestant first to qualify for Otr Elkalam semifinal
The International Holy Qur'an and Call to Prayer competition in the quarterfinals witnessed the participation of a visually impaired Moroccan contestant Younes Gharbi, who has been memorizing the Holy Qur'an by listening and repeating it all his life, and has become a strong competitor in the Qur'anic competitions he has been participating in.
Gharbi became the first contestant to qualify for the semifinals in the Holy Qur'an recitation category. His performance was distinguished in the application of the provisions of tajwid, taking into account the maqams, and the use of sound layers in their appropriate positions.

He gave a beautiful recitation that impressed the viewers and the jury, which increased its members to 13 after the Secretary-General of the competition, Dr. Fahd Al-Andas, joined it in the quarterfinal round.

The only competitor for Younes at this stage, which includes two contestants for each round, was the Yemeni reciter Osama Abu Zeid, who was born in Madinah and was a student of the Imam of the Prophet's Mosque, Sheikh Ibrahim Al-Akhdar.

He is one of the most distinguished contestants in recitation and performance, and has won the votes of many members of the jury, but the largest share of votes Sunday was for his Moroccan competitor Gharbi.

In the Call to Prayer category, Libyan contestant Abdul Fattah Ali Jehider competed with his Syrian counterpart Khalil Benshi, who was a muezzin in many major mosques in Syria and recited the Holy Qur'an in many mosques in Bahrain. He qualified for the semifinal of the competition, which is the first of its kind in combining the Holy Qur'an recitation and the Call to Prayer in one competition.

The Holy Qur'an recitation and Call to Prayer competition, which is the first of its kind in the world, has educational dimensions because it evaluates the contestants and highlights observations related to their participation for the benefit of those interested in reciting the Holy Qur'an and delivering the Call to Prayer.

The quarterfinal qualifiers for the international Holy Qur'an and Call to Prayer competition began Sunday on Otr Elkalam (Scent of Speech) TV show, which is broadcast on the Saudi TV channel and the Shahid platform at 5 p.m.