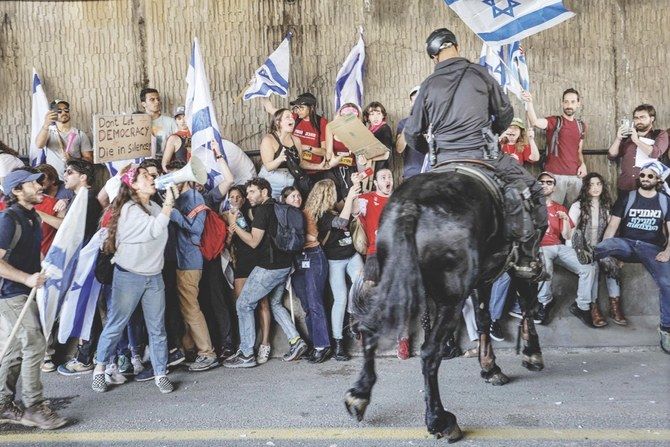 UAE collision course with Israel over torched Palestinian town
The UAE was on a collision course with Israel on Thursday over a Palestinian town torched during a rampage by radical Jewish settlers.
Sheikh Mohammed bin Zayed Al-Nahyan, the UAE president, pledged $3 million for the reconstruction of Huwara in the occupied West Bank, days after a minister in Israel's new far-right extremist government said the town should be destroyed.

One Palestinian died and dozens of homes and cars were set on fire when gangs of radical settlers rampaged through Huwara on Feb. 26, and settlers have tried to attack the town on several occasions since then.

After the Feb. 26 attack, Israel's Finance Minister Bezalel Smotrich, who also has ministerial responsibility for civil administration in the West Bank and is effectively Israel's "governor" of the territory, said: "Huwara needs to be wiped out."

Smotrich is a notorious religious bigot accused of hate crime, who himself lives in an illegal settlement. His comments were condemned by the US and the UN, throughout the Arab world, and within Israel.

Now the UAE has taken action with "the provision of $3 million to support the reconstruction of the Palestinian town of Huwara and those affected by the latest events," Emirati authorities said. The aidreflected "the UAE's humanitarian efforts to support the brotherly Palestinian people."

Anwar Gargash, a senior adviser to the president, said the $3 million pledge was an "authentic expression of the country's consistent and firm support for the Palestinian people."

The UAE is a key signatory of the Abraham Accords, the historic 2020 agreement normalizing relations with Israel, but ties have become strained since the formation in December of the most far-right extremist government in Israel's history. Israeli violence has killed 81 Palestinian adults and children since the start of this year.

Prime Minister Benjamin Netanyahu is also facing growing opposition inside Israel. Protesters returned to the streets on Thursday to rally against proposed judicial reforms that critics describe as a power grab by Netanyahu, after he rejected a compromise proposed by President Isaac Herzog.

The changes would give politicians control over the appointment of Supreme Court judges and wide powers to overrule the court's decisions. They are "the end of democracy," according to a placard at demonstrationsin Tel Aviv on Thursday.

"I am afraid we will become a religious state, that the laws of Judaism will come first and the democratic freedom we have will not be there any more," said protester Liat Tzvi, a researcher at Tel Aviv University.

Herzog said the reforms could spark violent conflict. "Anyone who thinks that a genuine civil war, with human lives, is a line that we could never reach, has no idea what he is talking about," the president said.