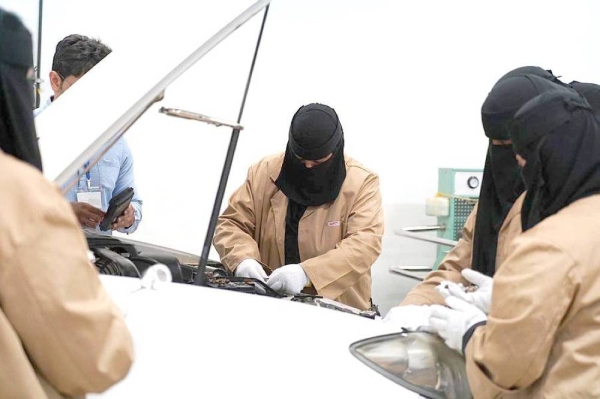 Training for women in vehicle maintenance will be expanded soon to all Saudi regions
The Technical and Vocational Training Corporation (TVTC) plans to expand vehicle maintenance training program for Saudi women in all regions of Saudi Arabia after the success of the first phase of the program in the southern Jazan region and the Northern Border Region. This was announced by Fahd Al-Otaibi, spokesman of the corporation.
Speaking to Okaz/Saudi Gazette, he said that the TVTC launched two months ago women's training initiative (Etqan) in several professions such as refrigeration, air conditioning and vehicle maintenance in the Jazan region and that was a great success. "The first phase of the women's training initiative for the initial maintenance of vehicles was launched in the Northern Border Region also. The training program focuses on developing the knowledge and skills of the trainees in several aspects, most notably safety of vehicles, and identifying electrical and fuel faults in engines," he said while revealing that the corporation is working to expand these initiatives for women to other regions of the Kingdom.

Al-Otaibi noted that the number of specializations of the corporation exceeded 580 specializations in all its programs offered in various training facilities.

According to the questionnaires measuring the satisfaction of the female beneficiaries of the TVTC training programs in the Northern Borders region, the results showed that the proper selection of applied skills by the female trainees accounted for 89.5 percent.

The TVTC, represented by its specialized committees, works on a permanent basis to develop and update training plans and programs with the participation of the competent authorities and their partners in the business sector to keep pace with the current and future needs of the labor market.

Al-Otaibi said that TVTC has developed and expanded a number of training programs through specialized academies and colleges that are operated in partnership with the business sector, most notably logistics services, entertainment, tourism, renewable energy, transportation, and mining, with the aim of keeping pace with the development being witnessed in the Kingdom and in a way achieving the goals of the Saudi Vision 2030.

The TVTC, in cooperation with its partners from the business sector, is currently carrying out precise and comprehensive studies related to provide specialized training programs in those sectors, most notably industry, retail and consumer goods.