What are the reasons behind Arab countries sudden normalisation of the Assad regime, after years of isolation?
While most Arab countries declared their opposition to Syrian President Bashar al-Assad brutal suppression of protests early on in the Syrian uprising, the trend has reversed in recent years with Arab countries warming to the regime.

Bahrain and the UAE have both reopened embassies in Damascus, while Omar Rahmoun, a spokesman for the Assad regime's "National Reconciliation Committee" has recently been on a Saudi Arabia-focused charm offensive on Twitter, repeatedly emphasising historic ties between Riyadh and Damascus and the importance of the kingdom in Arab affairs.

In a recent picture on Twitter, Rahmoun said that Syrian and Saudi intelligence officials had met on the side-lines of the Arab Intelligence Forum in Egypt. He added that Syria and Saudi Arabia were "opening a new page," though Saudi officials did not issue any similar remarks.

Saudi Arabia had previously been seen as a key backer of the Syrian opposition. It was one of the earliest Arab countries to condemn Assad's deadly crackdown on peaceful protests and broke off relations with the regime in 2012. Rahmoun's recent Twitter comments and videos praising the kingdom contrast starkly with previous regime media coverage of Saudi Arabia, which was consistently negative.
    "By normalising relations with Gulf countries and the Arab world, the Assad regime hopes to restore the status quo which existed before 2011"

In mid-October, Bashar al-Assad spoke on the phone with Abu Dhabi Crown Prince Mohammed bin Zayed, widely considered the UAE's de facto leader, following a notable warming of relations between the two countries. The Syrian and UAE economy ministers met earlier in the same month on the sidelines of the Dubai Expo 2020 World Fair. The UAE's previous participation in trade fairs in Damascus led to warnings from then-US President Donald Trump's administration.

By normalising relations with Gulf countries and the Arab world, the Assad regime hopes to restore the status quo which existed before 2011. Before the 2011 revolution, its authority over Syria was unchallenged.

When the Gulf countries cut ties with the Assad regime in the early days of the Syrian conflict, there were serious doubts over the regime's survival. Today, however, Assad seems more secure than any time in the last decade, with only small areas of Syria under the control of anti-Assad rebels.

However, while recent developments may give the impression that there is a concerted Arab effort to normalise relations with the Assad regime and rehabilitate it, there is no organised strategy to deal with the regime and its rehabilitation is still very much connected to US and international policy.

The US has recently expressed approval of an agreement to supply Egyptian natural gas to Lebanon via regime-held territory, saying that its Caesar Act sanctions do not apply. Some analysts have interpreted this as a sign that the US could soon give a green light to a wider rehabilitation of the regime and render its own Caesar Act sanctions, imposed by the Trump administration in 2019, ineffective.

However, US Secretary of State Anthony Blinken recently said that the Biden administration does not support efforts to normalise relations with the Assad regime.

It appears that for the United States, the European Union and much of the international community, any significant move to rehabilitate or normalise relations with the Assad regime, given the atrocities, mass killings, and human rights abuses it has committed during the Syrian conflict, remains unpalatable.


Why is Jordan normalising with Syria?

Despite US reticence to allow Bashar al-Assad back onto the international stage, Jordan has recently made unprecedented steps to repair its relations with the Syrian regime.

After King Abdullah II's visit to Washington in July, where he reportedly presented Biden with a plan to bring Syria back into the diplomatic fold, the thaw between Amman and Damascus has sped up. In October, King Abdullah and Syrian President Bashar al-Assad spoke on the telephone for the first time in the over ten years since the Syrian revolution broke out.

Amman is not the first to launch a détente with Damascus – it is preceded by Abu Dhabi – but the sharp 180 from Jordan's previous vocal opposition to the Assad regime took many by surprise.

The motivations behind Amman's rapprochement with its northern neighbour is primarily driven by economic and political factors.

From the economic angle, Syria holds immediate value as a trading partner given its geographic proximity to Jordan. It also offers Jordan future profits through regional initiatives, such as the recently announced Egypt-Jordan-Syria-Lebanon electricity and natural gas deal.

Prior to the outbreak of the Syrian revolution in 2011, Syria was Jordan's fourth largest trading partner in the Arab World. The ensuing civil war, however, had a chilling effect on trade between the two countries.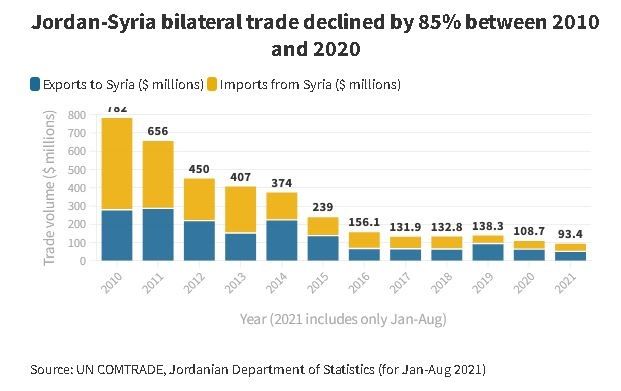 In 2010, bilateral trade stood at $782 million; a decade later the number stood at just over $108 million, a drop of over 85 percent. Syria mainly exports produce and unfinished materials like textiles to Jordan, while Jordan sends finished plastics, processed wheat products and tobacco to Syria.

Jordan is also a gateway for goods coming from Syria, Turkey and Europe destined for the Gulf countries. The civil war has interrupted this trade to a large degree, both due to lines of conflict cutting off Syria's highways and because of Jordan's sporadic closure of its land borders with Syria.

The Nassib-Jaber border crossing, which links Jordan to Syria's M5 international highway, was closed between June 2015 and October 2018 after Syrian rebels seized the crossing. The crossing was again closed in August 2020 due to the COVID-19 pandemic and was re-opened in August 2021.

Jordan is also well positioned to profit off of Syria's reconstruction – the country needs to make about $117 billion in repairs due to its ongoing civil war. Jordan not only has historical trade ties with the country on a business-to-business level, but also can provide Syria with certain services due to its geographical proximity and technical expertise.

Specifically, Amman can capitalise on Syria's energy deficit, both by acting as a conduit for natural gas coming from Egypt, and through electricity generation. The well-publicised energy deal where Egyptian natural gas will be pumped through Jordan, to Syria and finally to Lebanon, provides a good example of Amman's ability and willingness to act as an energy transporter.


"For the last decade, Amman has bordered a state with which it could essentially not communicate, with few exceptions"


In addition, though Amman also suffers from its own domestic energy deficit, it has excess capacity for electricity generation. With some repairs, Amman can use its already existing power hook-ups with Syria in order to sell it electricity as needed.

Besides trade benefits, Amman stands to benefit from rekindling political ties with its northern neighbour. For the last decade, Amman has bordered a state with which it could essentially not communicate, with few exceptions.

In practice this has meant that previous accords signed between Amman and Damascus have not been respected. Chief among these is the 1987 transboundary water agreement between the two countries, which sets terms for the usage of the Yarmouk river and Wehdeh dam.

The agreement stipulates that Jordan should receive 200 million cubic meters of water from the Yarmouk, which Syria is an upstream state. Throughout the civil war, Syria has throttled the flow of the Yarmouk to its downstream neighbour, mainly through its use of dams (the agreement allows Syria to build 25 dams on the Yarmouk – in reality, it has built 42).

To Jordan, which is the second-most water scarce country in the world, the Yarmouk is a vital source of water, especially for its agriculturalists. In a sign of Jordan's eagerness to return to the deal, Amman and Damascus agreed in September to reactivate a joint water committee meant to oversee the implementation of the 1987 deal.

Jordan also is eager to bolster security cooperation between the two countries, as Syria has been a source of destabilising activity in recent years. Specifically, Jordan will want Syria to help it crack down on drug smuggling along its border and to keep a lid on jihadist and Iranian activity in southern Syria.

Jordan is well aware that the Syrian regime is the likely source for the narcotic trafficking along its border, but could have concluded that proactive engagement with the regime could stem the flow of drugs where diplomatic isolation has failed.

Similarly, the presence of Iranian-led militias in southern Syria is a product of the regime, which relied on them to provide much of the ground support for its push into southern Syria in the summer of 2018. Since then Iranian militias have maintained a presence there, and despite promises to the residents of restive Daraa province, they have yet to withdraw.

It could be that Amman has extracted some promises from either the Syrian regime or Russia that Iranian militias will be kept off Jordan's border, though there has been no public indication of this. This could be a sort of quid pro quo in exchange for Jordan's bringing Syria back in from the cold.

Or, similar to Jordan's view of engagement with Syria on drug smuggling, Amman could have concluded that proactive engagement with the regime on the presence of the Iranians is more productive than silence.

Regardless of why Jordan is pushing for normalisation, the trend is clear. As Jordan's intelligence chief said in a rare sit-down with reporters in October, the country is dealing with the Syrian file as a "fait-accompli." The official emphasised Jordan's interests vis a vis Syria quite clearly, saying the Kingdom must be "realistic" in its approach to Syria "in order to preserve security and stability."