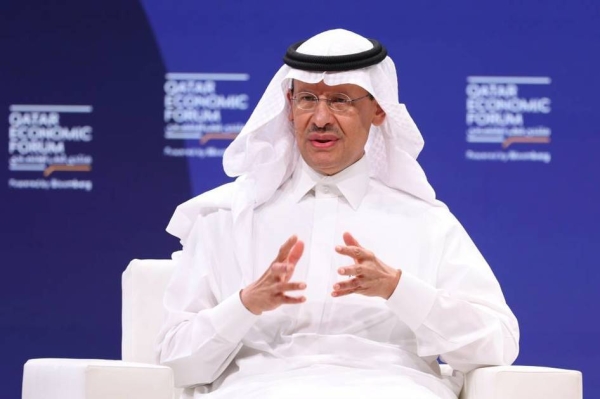 Saudi energy minister warns market speculators to 'watch out'
Saudi Arabia's Minister of Energy Prince Abdulaziz bin Salman on Tuesday told market speculators to "watch out," reiterating his warning that they could face pain ahead.
Addressing an energy-focused panel of the Qatar Economic Forum in Doha on Tuesday, the minister warned saying: "Speculators, like in any market, they are there to stay. I keep advising that they will be ouching. They did ouch in April. I don't have to show my cards, I'm not a poker player ... but I would just tell them, watch out."

The Qatar Economic Forum, powered by Bloomberg, kicked off in Doha on Tuesday under the theme, "A New Global Growth Story." The event is discussing several topics on energy, trade, and technology with high-level participants, including heads of state and government, ministers, and CEOs.

While blaming volatility for consumer forecasts and policies, Prince Abdulaziz said that expectations are the cause of most fluctuations in 2022. He warned that short sellers would remain "in pain." He said that there are three goals for the OPEC+ group, which are vigilance, initiative, and hedging of what may come in the future.

The OPEC+ members are meeting on June 4 in Vienna to decide on their next course of action. Most recently, several members of the OPEC+ alliance voluntarily announced they would cut their crude oil production by a combined 1.6 million barrels per day.

"We were, as OPEC+, blamed in October, blamed in April. Who has the right numbers? Who gauged the situation in a much more, I would say, responsible way, but attentive way?" Prince Abdulaziz said while addressing the forum. "I think over the last six-seven months we have proven to be a responsible regulatory institution," he added, while observing that the market is experiencing ongoing volatility and requires OPEC+ to stay proactive and pre-emptive.

Prince Abdulaziz also emphasized the risks of market uncertainty, along with the progressive depletion of spare capacity in producing countries. "Look at where we are now: energy security is being shackled, running out of capacities because countries are not investing both in oil and gas," he said. "We have a very funny trajectory of where demand will be. So if you are a hedger, as we are, we'll have to take action to pre-empt any possibility of further volatility ... but we are forthrightly accepting the challenge, and we will continue attending to the challenge," he pointed out.