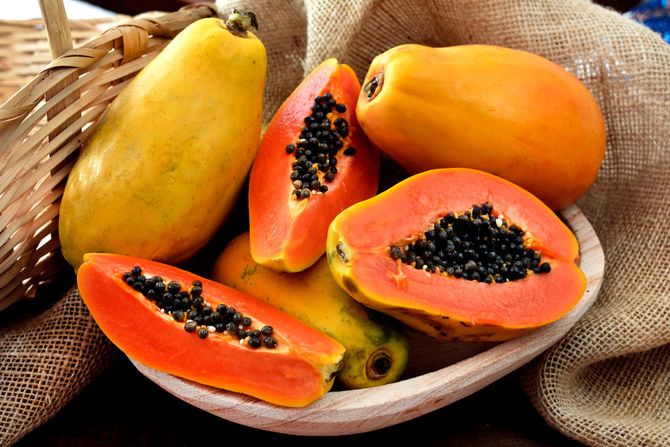 Saudi Arabia's annual papaya production exceeds 4k tons amid self-sufficiency efforts
Saudi Arabia is on course to becoming self-sufficient in papaya, with the production of the tropical fruit increasing to 4,717 tons annually, as the Kingdom pushes to raise the rate of cultivation as part of achieving food security under Vision 2030.
With 95 percent self-sufficiency, the Kingdom's papaya exports reached 296 tons, and re-exports hit 3.8 tons, while imports of the fruit stood at 571 tons, according to a report released by the Ministry of Environment, Water and Agriculture.

Papaya fruit production season begins in May and continues until August in Saudi Arabia, with the cultivation mainly concentrated in the Eastern Province and Jazan region, according to the report.

The Kingdom cultivates and produces many types of papaya such as the "Red Lady" hybrid which is the most popular and widely cultivated variant in the Kingdom.

Other variants include "Red Bella," and "Tainung," in addition to several local and imported variants.

Highlighting the health benefits of papaya, the report said the fruit helps improve digestion while providing a good source of nutrients such as vitamin C, folic acid, and vitamin A.

According to the ministry, tropical fruit crops like papaya and mango have high economic returns to the Kingdom.

In April, the ministry announced that Saudi Arabia reached 60 percent self-sufficiency in mangoes as its production rose to 88,600 tons annually. The Kingdom managed to hit this number as it has been working to increase the cultivation of mangoes by planting an area of more than 6,880 hectares.

This comes as the ministry is keen on further strengthening its agriculture sector by increasing the production of various vegetables and fruits. It is working toward raising the efficiency of locally produced fruits, especially in their production season, boosting their quality, and elevating their safety standards. In return, this is expected to back and support local farmers and increase their financial returns altogether.

The Kingdom's agriculture sector witnessed massive improvements since the launch of the Sustainable Agricultural Rural Development Program in 2019.

The program seeks to boost the production, processing, and marketing of fruits, fish, livestock, Arabic coffee, and rain-fed crops.