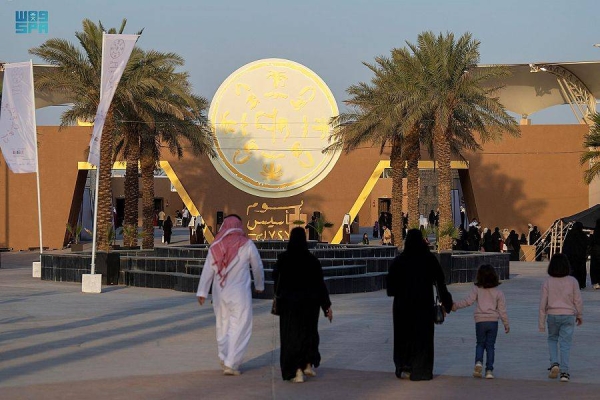 Saudi Arabia marks Founding Day on Wednesday, celebrates 3 centuries of pride
The Kingdom of Saudi Arabia observes on Wednesday, Feb. 22, 2023, its Founding Day. The Kingdom was founded in mid-1130s by Imam Mohammed Bin Saud. This national occasion, held under the theme "Our Story," embodies pride in the deep roots of this blessed state and the close connection of its citizens with their leadership since the founding of the first Saudi state three centuries ago, with Diriyah as its capital and the Holy Qur'an and the Sunnah of Prophet Muhammad (PBUH) as its constitution.
Saudis are proud of this historical legacy, founded by Imam Mohammed Bin Saud in a vast country that has seen social, political, economic, and cultural events throughout its history. The first Saudi state was through the reign of Imam Turki Bin Abdullah Bin Mohammed Bin Saud and the second Saudi state until the unification of the Kingdom of Saudi Arabia by King Abdul Aziz Bin Abdulrahman Al-Faisal Al Saud.

King Abdul Aziz is credited with its development, progress, and internal renaissance, leading to its distinguished status at the Arab, regional, and international levels until the prosperous reign of Custodian of the Two Holy Mosques King Salman Bin Abdul Aziz and Crown Prince and Prime Minister Mohammed Bin Salman.

The anniversary of the Founding Day provides an opportunity to remember the three centuries since the founding of the Saudi state and the events and positions described in history books, highlighting its landmarks across the Arabian Peninsula. The state was formed over centuries and instilled the rules of the coherent state, making society's security a top priority, serving the Two Holy Mosques, and realizing welfare for the people amidst several challenges.

The role of state's leaders and deep national solidarity and strength were a reason for the continuation of the Saudi state since 1727 and for combating any external attack or attempt to destabilize the social fabric in the Saudi state, contributing to successes until the present, despite the circumstances the state has faced in the past.

On this occasion, several cultural, artistic, and popular events will take place in the Kingdom's cities, showcasing creativity, love, and loyalty, reflecting the depth of this great history inherited by the present generation from the leaders of this country and its people.

These events will reflect various conditions of the state in good and bad times, where it managed to stand against hardships and preserve its indigenous Arab identity during the first and second Saudi state until the founding of the Kingdom of Saudi Arabia, where cohesion has remained the top headline for the relations between the people and the wise leadership.