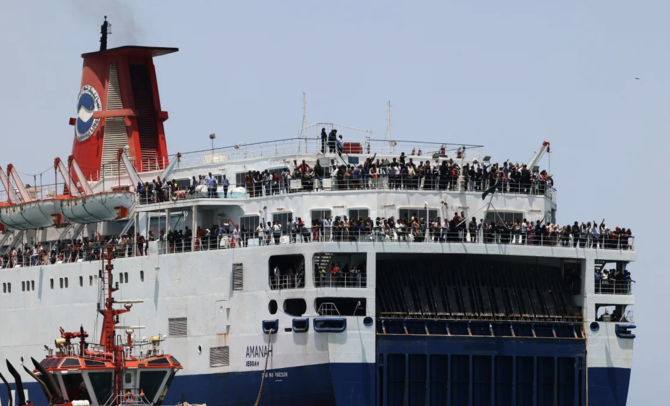 Saudi Arabia evacuates dozens of Russians from Sudan
Saudi Arabia has evacuated several dozen Russian citizens from Sudan, it was announced on Sunday.
The press-attache of the Consulate General of the Russian Federation in Jeddah, Ruslan Usmanov, confirmed the evacuation in an interview with state news agency TASS.

"Russians are not evacuating on their own, they are being taken out by Saudi Arabian warships," the diplomat said. "They took over the issue, they are taken out of the port of Sudan, then they are brought to the port of Jeddah to the naval base, we meet them there," he added.

"At the moment, about 40 Russians have arrived, most of them have already left, some to Russia, some to other countries, depending on who has what destination," he continued.

Russian citizens travel on to their homeland through transit countries such as Egypt, the UAE and Qatar, Usmanov clarified.

According to the press-attaché, Saudi Arabia is evacuating Americans, citizens of EU countries, as well as Russians.

The authorities of the country, he continued, provide the Consulate General of the Russian Federation with information on the lists of evacuees.

"The Saudi side, in principle, still pays them for two-day hotel accommodation with meals," Usmanov said. "After that, the citizens of the Russian Federation leave for Russia. If necessary, we accompany them to the airport, solve some issues, but as a rule everything goes smoothly and clearly. There are no problems yet."

Recently, Russian Foreign Ministry spokeswoman Maria Zakharova confirmed in an interview with Arab News that Moscow is in contact with Riyadh about the evacuation of Russian citizens and diplomats from Sudan.