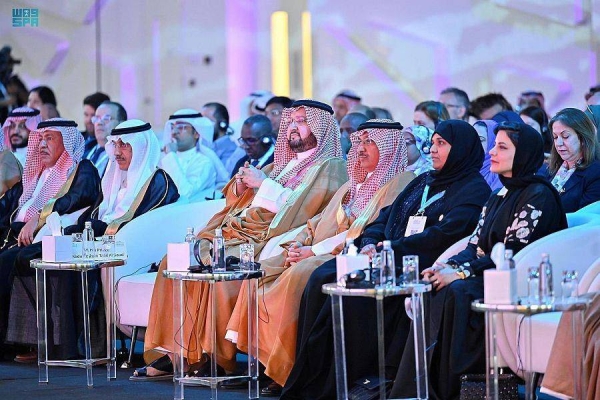 Riyadh conference highlights sustainable cultural future
Minister of Education Yousuf Al-Banyan commended the efforts of international organizations that contribute to spreading global peace, help bridge communication and launch enablers of education, culture and science to achieve the Sustainable Development Goals.
He said this in a speech delivered on behalf of Minister of Culture and Chairman of the Saudi National Committee for Education, Culture and Science Prince Badr bin Abdullah bin Farhan at the Future of Education, Science and Culture International Organizations Forum (FESCIOF) here on Wednesday. More than 100 regional and international organizations are attending the . conference with the theme of "Together for impact in the 21st century." In the speech, Al-Banyan emphasized that the forum is a great opportunity to shape a sustainable cultural future for societies' prosperity through education, culture and science, and to shape a common vision through the cooperation of all, as well as to explore global opportunities and benefit from them. He noted that the conference also coincides with the International Women's Day, observed on March 8 every year, saying "a day on which we are proud of the social, political, economic and cultural achievements of Saudi women." The minister said that the Kingdom, under the leadership of Custodian of the Two Holy Mosques King Salman and Crown Prince and Prime Minister Mohammed bin Salman, supports all efforts to develop and utilizes new global opportunities to achieve the envisioned integration and sustainable development, and boost the role of educational, cultural and scientific fields, which have a major influence and are main drivers of development. "The conference aims to develop cooperation and sustainability among international organizations through dialogue, quality initiatives and new partnerships, and to build an incubating global platform for an expanded system of organizations with diverse disciplines, common visions, and new pathways for cooperation and sustainable partnerships," he added. Addressing the conference, Director General of the Arab League Educational, Scientific and Cultural Organization (ALECSO) Mohamed Ould Amar thanked King Salman and the Crown Prince for their continuous support to ALECSO, the biggest joint Arab action institution, for their generous support for science and knowledge. "The Kingdom had adopted the ALECSO initiative by holding the conference, and praised its rapid, active and motivating response and its acceptance to host this event that will help strengthen the organization's role and help it pursue a new phase, at regional and international levels, to keep up with the requirements of the 21st century and to assess the opportunities that "we must all take advantage." He said that this conference managed to combine the past, present and future into a smart equation, and that it plays a role in creating a new system that is bound to expand the horizon of organizations working in education, culture and science. He noted that the conference covers six different fields, namely: communications and information technology, private sector, financial organizations, development banks, academia, non-profit sector, venture capital and social investment, all of which help "boost our conviction that the international community is shaped only by visions shared by all stakeholders." The first session of the forum was held under the title: "What is the role of international institutions in the changing landscape of the 21st century." ALECSO Director General Dr. Mohammed Ould Amar, Director of the UNESCO Regional Bureau in Beirut and Representative of UNESCO to Lebanon and Syria Costanza Farina, and Director General of the Islamic World Educational, Scientific and Cultural Organization (ISESCO) Dr. Salim M. Al-Malik participated in the session. Dr. Amar highlighted the organization's mission and work to bring about the intellectual unity of the Arab world. Farina said that UNESCO plays an important role in serving regional countries to enhance cooperation and work on finding solutions to hardships, in a bid to reach required goals and realize the Sustainable Development Goals. In his address, Al-Malik said that each country has its own national commissions that monitor the work of organizations to get acquainted with the distinctive features of each organization.