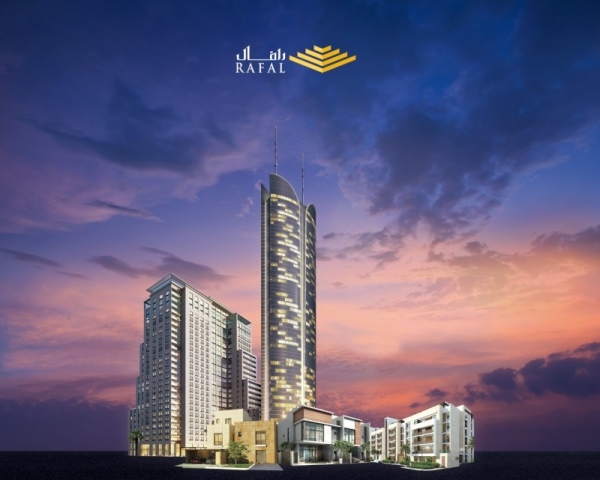 Rafal records solid operating and financial performance in H1 2022, confirms resilience of the business model
As it prepares to launch new residential communities and mixed-use developments in Riyadh, RAFAL Real Estate Development Company, a renowned high-end private real estate developer in Saudi Arabia, has reported strong financial performance in the first half of 2022.
RAFAL Real Estate Development Company recorded high EBITDA, net income, and ROCE performances, underpinned by strong momentum and Rafal's transformation plan. During the first half (H1) of 2022, the overall debt declined by 35%, with a 1% D/E debt-to-equity ratio that is projected to fall below 0.5 % by the end of 2022.

"Given the outstanding success in the first half of 2022, together with a more resilient operating model, a progressive strategic plan, and a dedicated team with commendable skills, we are set for a an exceptional turnaround year". Elias Abousamra the CEO of Rafal added that Rafal has land bank of around 1.1 million square meters and high liquidity levels to fuel a promising pipeline of residential communities and mixed-use developments in Riyadh, in addition to partnerships with a number of mega projects under Vision 2030.

The statement clarified that one of the most prominent current projects is Al-Nayfa, which is in the north-east of Riyadh, where the company is currently preparing to deliver the ready units from phase one, which has been fully sold; on the other hand, the units of the second phase of Al-Nayfah project will be made available for sale in the coming weeks. Al-Nayfah is a fully gated community consisting of 204 residential units of four types of duplexes, which offers modernity, comfort, and excellence.

Rafal is also launching a unique retail project adjacent to Al-Nayfah community with a different character and modern designs, under the name " The Last Exit," a complex with unique and distinct restaurants, cafes, shops, libraries, and other entertainment venues, designed with the latest international and local specifications in mind.

The residential project "Alegria" within the Al Narjes neighbourhood, which will be unveiled in the last quarter of this year, plans to build 114 villas and 126 apartments. "Rafal" mentioned numerous other projects that are in the pipeline as well. It is noteworthy that the company has completed the development and execution of the project's infrastructure and has taken into account neighbourhood humanization in line with the objectives of Kingdom's Vision 2030.

Elias Abousamra added that he strives to support Vision 2030's goal of increasing Saudi home ownership by 70% through its current and future landmark projects and is committed to developing young Saudi talents by establishing "RAFAL Academy," which strives to build and hone the talents and skills of the local youth.

It is noteworthy that "Rafal Real Estate Development Co" is one of the leading companies providing integrated and cutting-edge solutions to the real estate sector in the Kingdom of Saudi Arabia. The company works in residential, hospitality, and commercial real estate development, providing primary support services, including selling, leasing, investment, and project management.