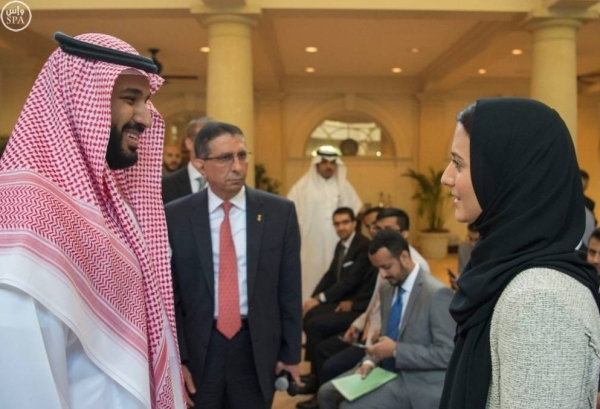 Princess Reema, Al-Qasabi highlight Crown Prince's remarkable role in elevating status of Saudi women
Saudi Arabia's Ambassador to the United States Princess Reema Bint Bandar and Minister of Commerce Dr. Majed Al-Qasabi highlighted the remarkable role of Crown Prince Muhammad Bin Salman in elevating the status and prestige of Saudi women within a short span of time.
They noted that the decision to allow women to drive and give them more participation in commercial activities are the two major areas that were handled effectively by the Crown Prince in this regard.

Attending a program on MBC television channel, Princess Reema said that Saudi Arabia has made giant strides with regard to participation of women in trade, and enacting laws related to women's empowerment in the Kingdom.

She pointed out that Crown Prince Muhammad Bin Salman had asked about the actual reason for the low status of Saudi Arabia in the World Bank report, despite all the great efforts made by the Kingdom to upgrade the status.

Princess Reema elaborated that a team headed by Al-Qasabi made great efforts and worked hard to raise the status of women and that has already been achieved within a short period of time.

Referring to the role of Crown Prince in this regard, she said: "The Crown Prince spoke to all of them to find out, 'Where is the failure?', and asked them: Have we really changed women's lives in a radical and institutional way? Have we seen this change and is it sufficient?

"The Crown Prince explained to them that the efforts to empower women had not to be made for the sake of the World Bank, but rather to further improve the standard of living of Saudi women."

She highlighted the remarkable achievements that have been made in this regard under the directive of the Crown Prince.

For his part, Al-Qasabi recalled that after his appointment as minister of social affairs in 2015, his daughter asked him when will a woman drive a car, claiming that it is one of her rights.

He replied that women's driving is important, but there are more important issues to be addressed, and I understand that this will happen within seven to 10 years.

Al-Qasabi explained that after a while, the Crown Prince was asked when will a woman be allowed to drive? The Crown Prince replied then that women would start driving in the coming year.

He also noted that the infrastructure must be prepared, such as teaching women to drive and preparing driving schools, in addition to other related procedures and regulations.

The Crown Prince also drew attention to the fact that women were not present in the public security sector and their presence limited to only certain office jobs.

Al-Qasabi indicated that he did not expect the goal would be achieved in such a short period of time but it was accomplished.

After the decision to allow women to drive, the Crown Prince met them and was assured that no problems would occur, stating that the community had accepted it successfully as the issue now was more social than religious.