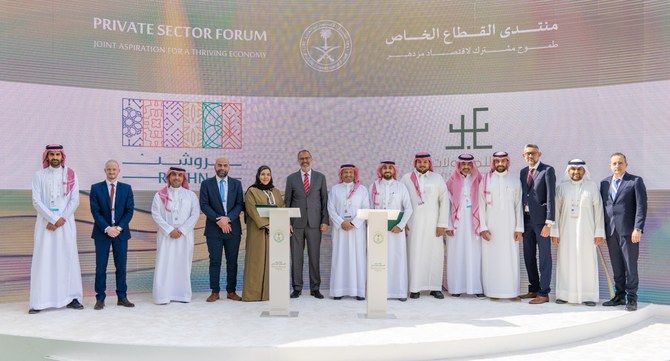 PIF-owned ROSHN signs agreements worth $2.1bn to develop its communities
ROSHN, the Saudi real estate developer, signed eight giga contracts worth SR8 billion ($2.1 billion) to develop modern infrastructure and facilities across the several projects it is developing across the Kingdom.
The Public Investment Fund-owned company signed the deals at the Private Sector Forum that concluded in Riyadh on Wednesday.

"The pace of work at ROSHN's project encourages us to partner with the private sector to achieve our goals, these types of partnerships are core to what we do at ROSHN, as we are mandated to uplift the industry and raise the bar in the real estate sector by providing new modes of living that contribute to raising the quality of life in Saudi Arabia and Vision 2030 goals," said Oussama Kabbani, the group's chief development officer.

The real estate developer signed agreements with China Harbor Engineering Co., Shapoorji and Balooni Co., Ansab Contracting Co., Cityscape Group, Al Kifah Precast Co., Haif Co., and Trans Contracting Co.

The Kingdom's leading real estate developer's mission is to make long-term investments in the future of cities across Saudi Arabia by developing great communities with best-in-class homes.

The two-day gathering was aimed at boosting existing connections and forming new ones between the PIF, portfolio companies, local private sector players, and government leaders.

Various partnership opportunities were showcased, alongside several announcements regarding deals already struck.

More than 4,000 private sector participants attended the event, alongside more than 50 exhibitors.

"As a key growth engine for the Saudi economy, PIF and its portfolio companies are looking to further develop long-term partnerships with the local private sector to realize Vision 2030 objectives, which will result in diversifying the economy and enhancing its competitiveness, increasing local content, as well as unlocking new sectors," PIF Gov. Yasir Al-Rumayyan said.