A football tournament for teenagers forced to work to provide for their families brought some joy to Syria's Idlib.
While the world tuned into the European UEFA Champions League final between Liverpool and Real Madrid on Saturday, hundreds of Syrians in opposition-held Idlib province were focused on something else: the final of a youth football tournament in the middle of an industrial district.

The two teams that made it to the final walked out onto an astroturf field to a cheering audience. "The Dreams" beat "The Stars" 2-1, lifted their winners' trophy, and celebrated with confetti and firecrackers.

The tournament was organised by the Violet Organization charity, which over the years has worked on projects to renovate schools, parks and public spaces in the opposition enclave. The teenagers taking part in the tournament all have to work to help provide for their families.

The United Nations estimates that 97 percent of people in Idlib live in extreme poverty. Many families have had to put their children to work to survive.

Violet Organization hoped that a football tournament that brought child workers together from different parts of the province would "bring joy" into their lives.

"All these kids work in industrial areas, and work dangerous jobs that are a risk to their wellbeing," the charity's programme coordinator, Ibrahim Sarmini, told Al Jazeera.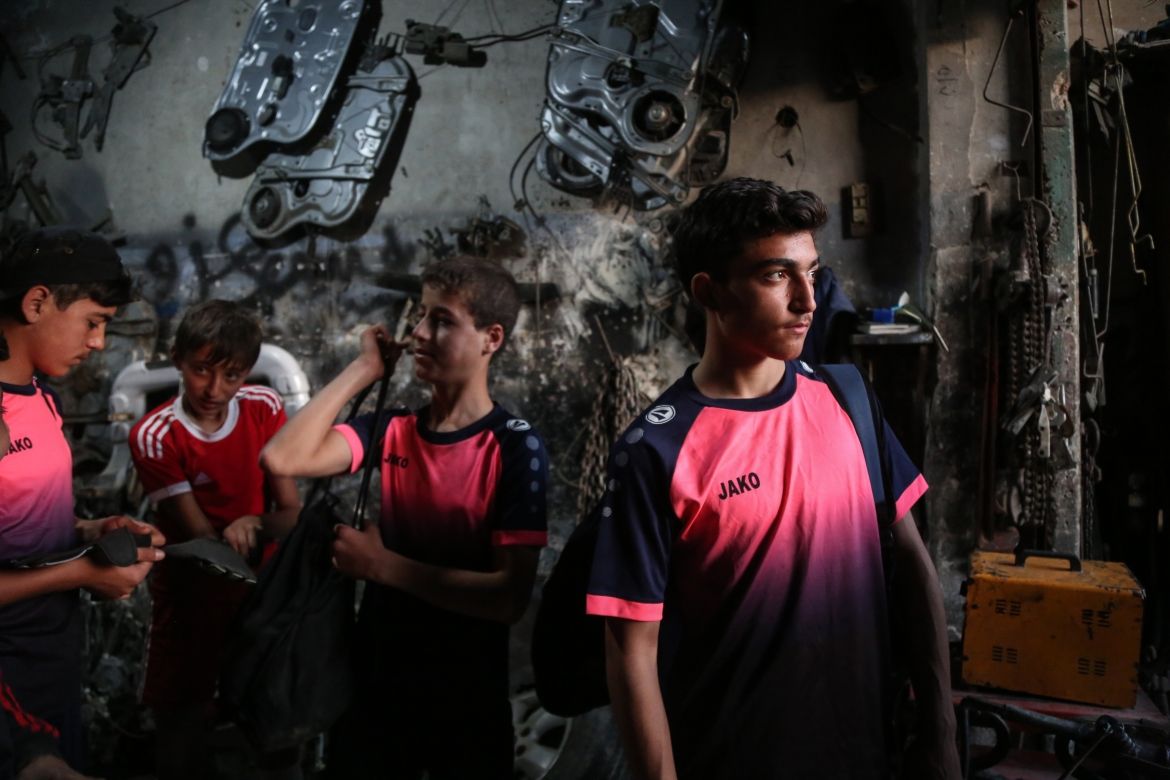 Many of the boys who played have had to drop out of school to work as petrol station attendants, mechanics and street salesmen to help their families survive. Football is a rare respite from the harsh realities of war and economic collapse.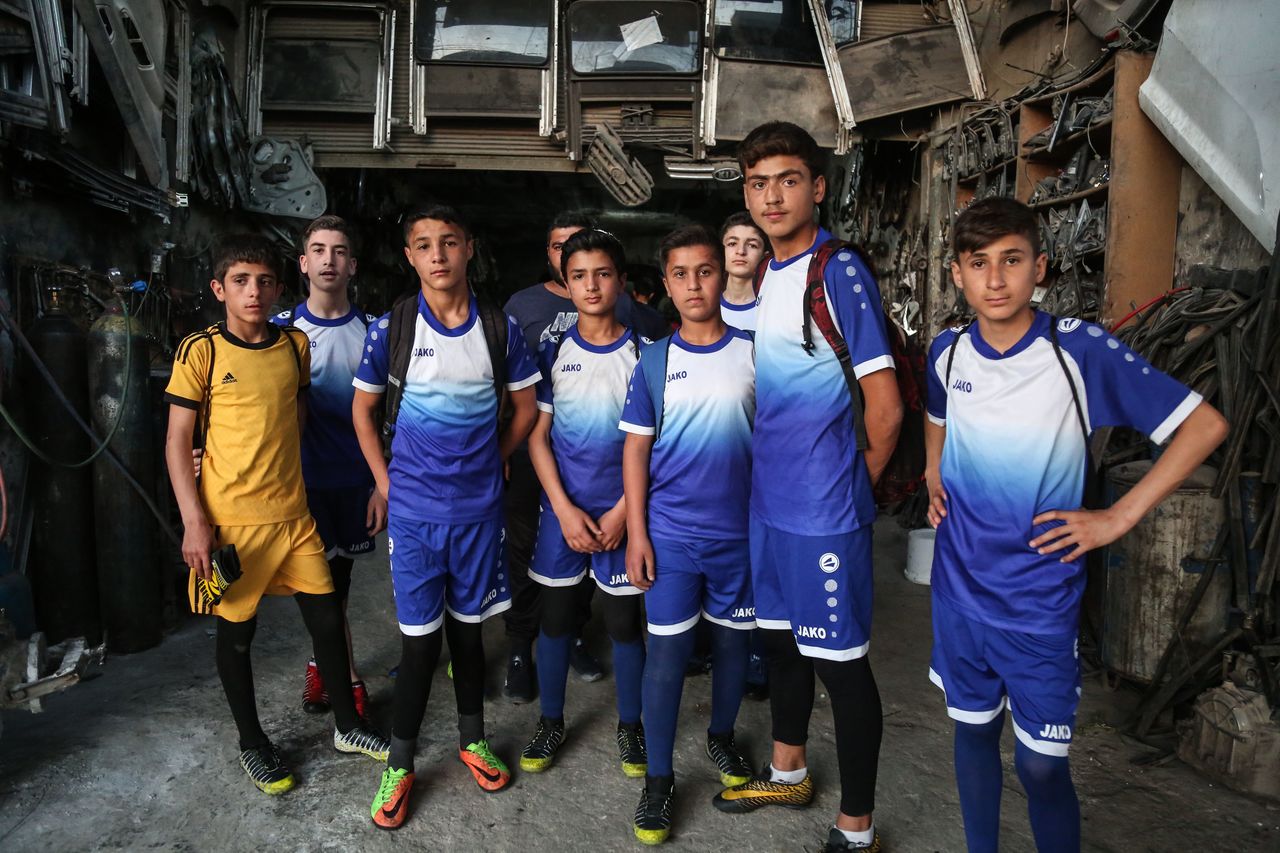 Samir Diab (second left), is a 15-year-old mechanic who has been playing football since he was 12. 'I've been watching football my whole life, so playing helps me get away from the situation,' Diab, who supports his three siblings and parents with his earnings, told Al Jazeera. 'I'm still buzzing about the winning goal.'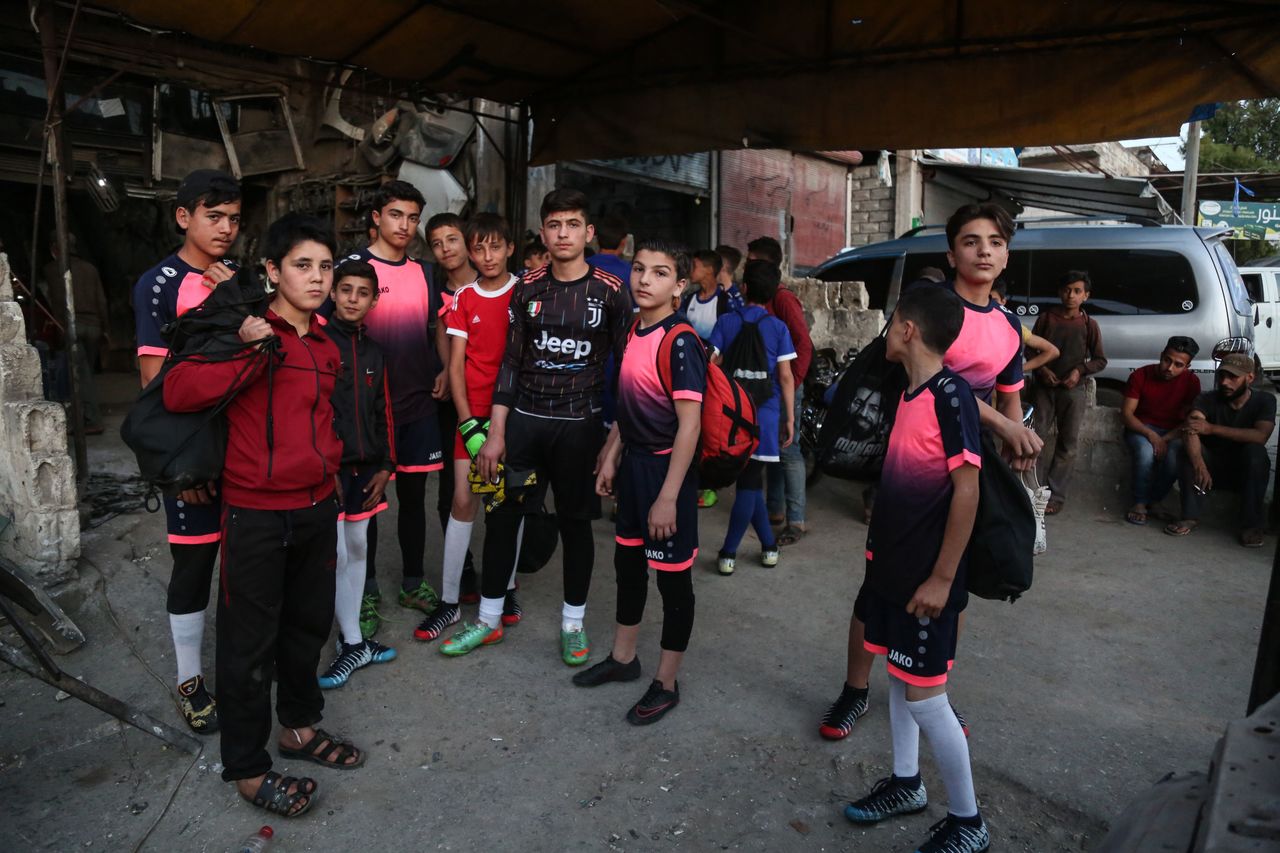 The boys have trained for this tournament for more than a year, and Violet Organization helped provide them with experienced trainers to help hone their skills. Diab and the other boys woke up early to start work and then spent the rest of their days and evenings helping their families.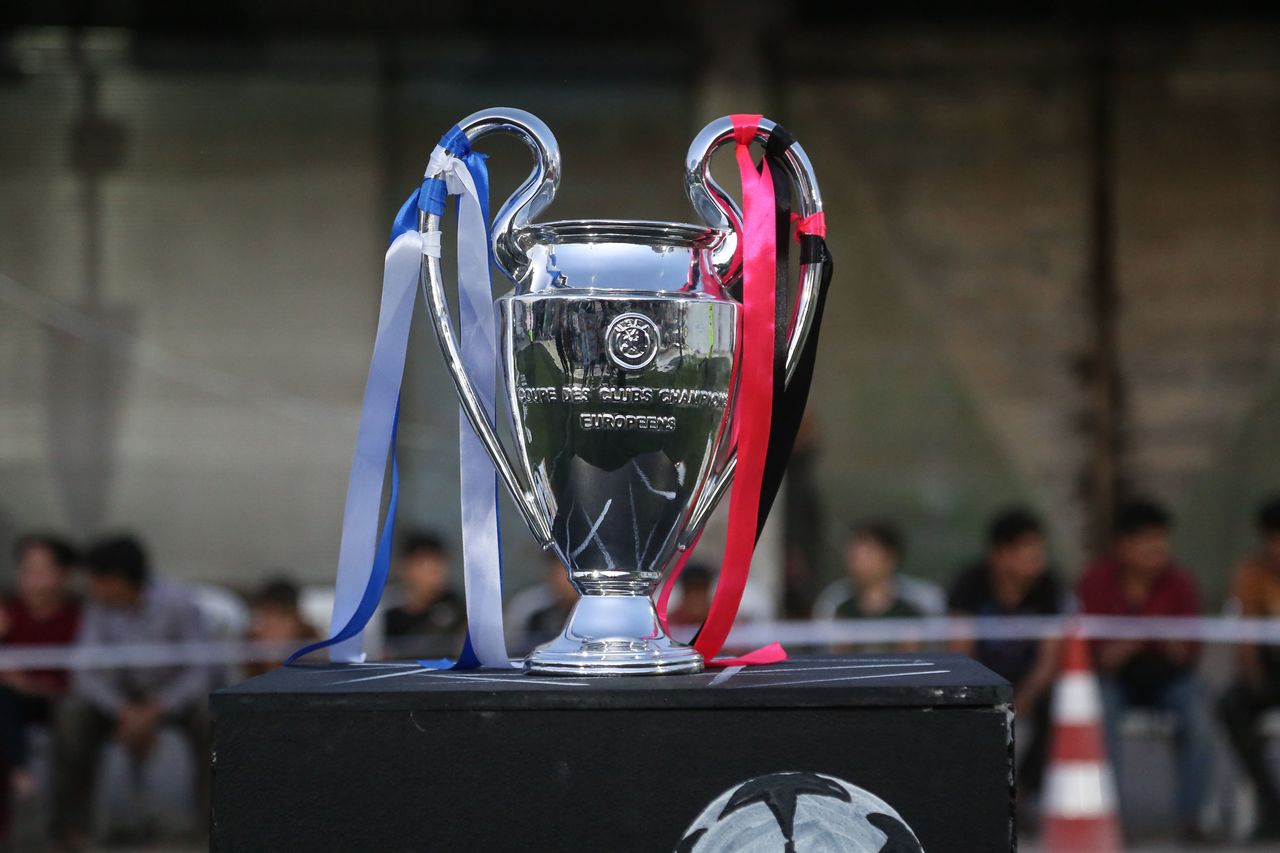 The charity used similar branding to the UEFA Champions League for their tournament, which coordinator Sarmini said excited the boys. Charities and aid agencies in Idlib have struggled with continuing funding cuts, making life even more precarious for millions.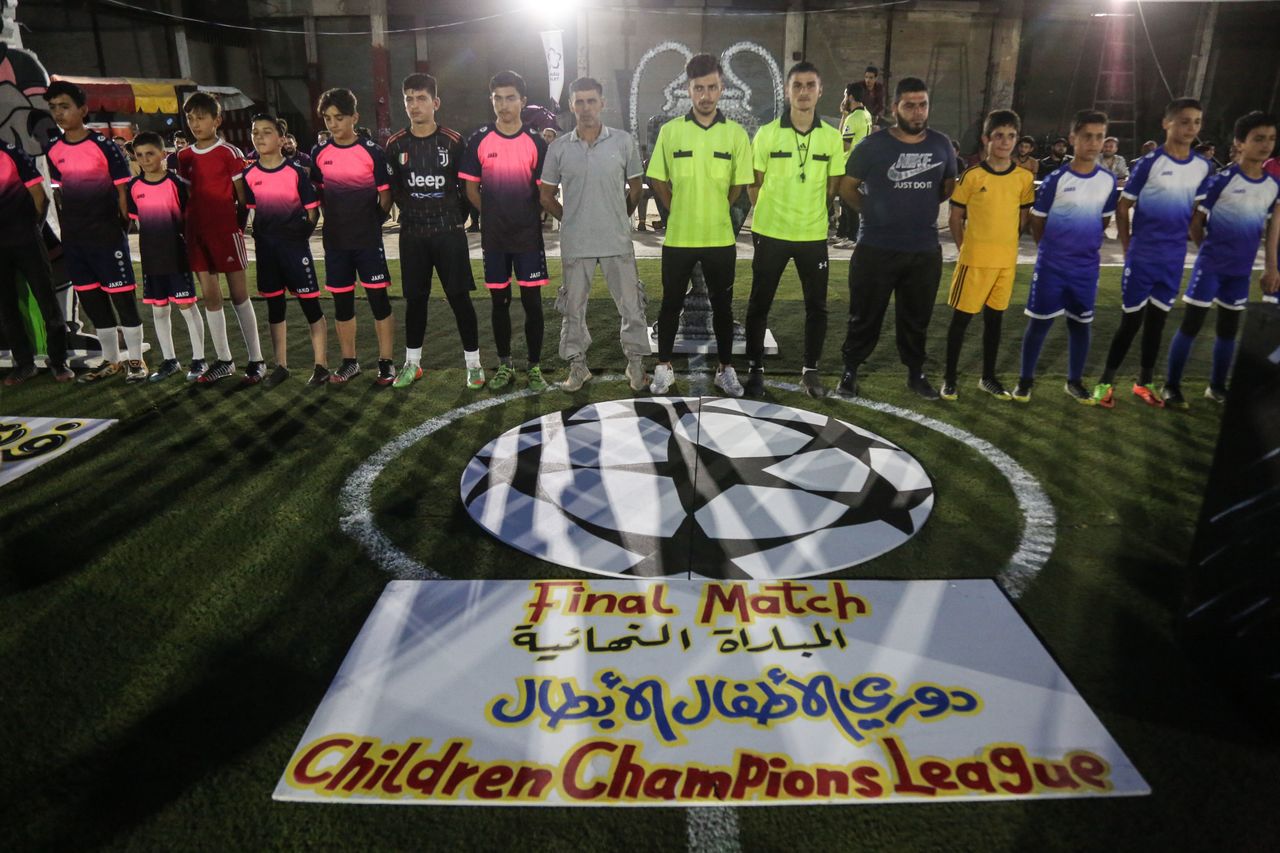 Eleven-year-old Hussein Moutaweh dropped out of school to sell biscuits and blankets to help support his five sisters and mother. His father was killed in a Syrian army air attack seven years ago. 'I've been playing football since I was four years old and play whenever I can,' he told Al Jazeera. 'I just forget about work and everything else.'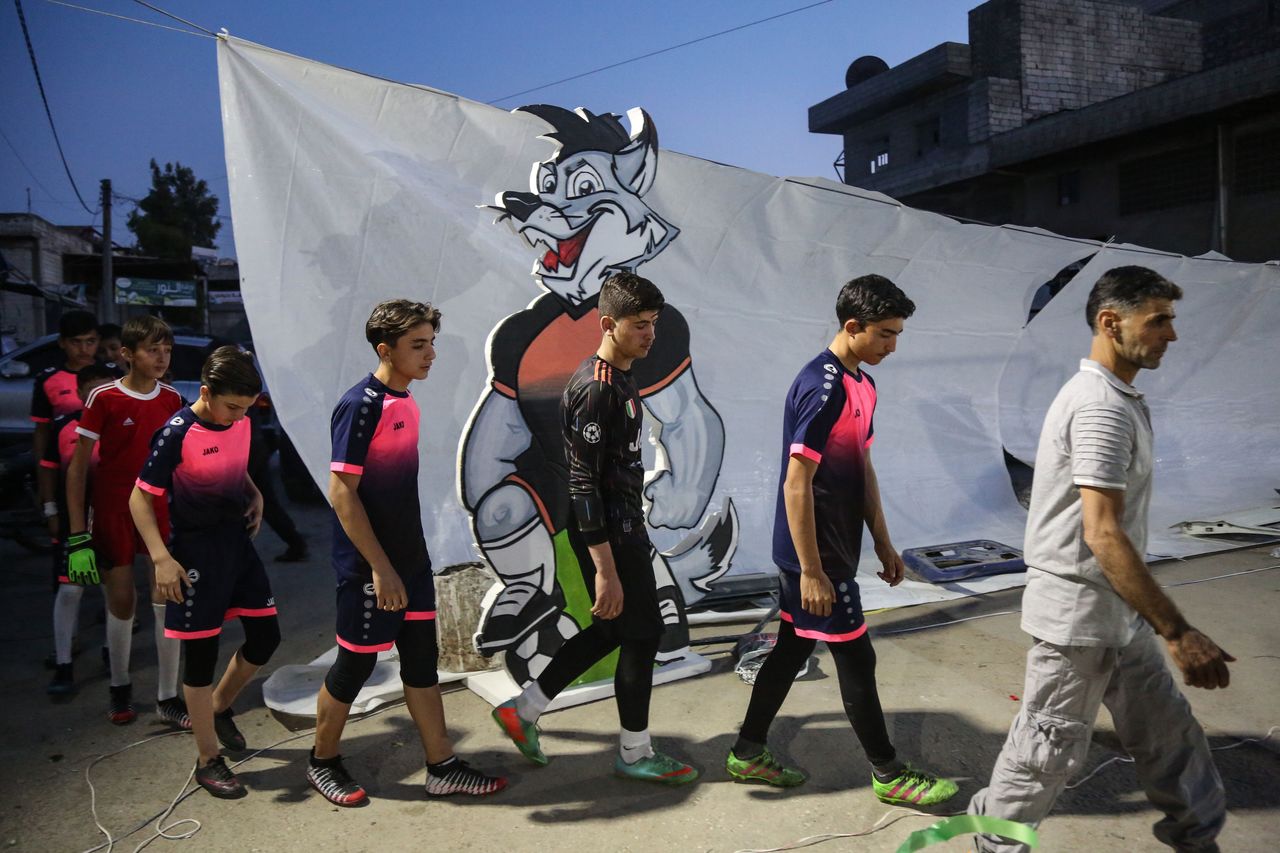 The boys walked stoically on to the makeshift pitch in Idlib's industrial district. It was not Camp Nou nor Old Trafford, but it meant everything to them.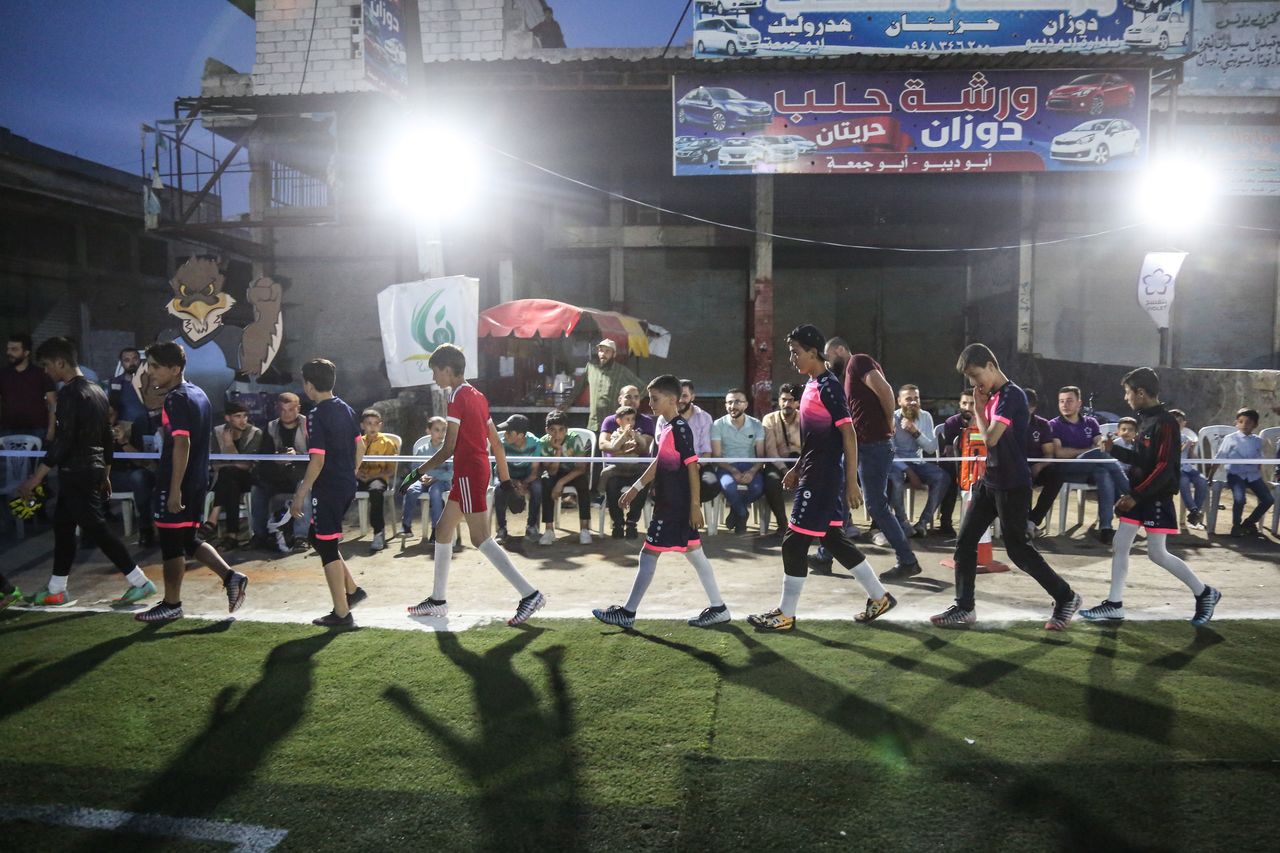 While many Syrians were glued to their televisions watching the UEFA Champions League final on Saturday with friends and family, some decided to watch this game instead. Mohammad Samara, a self-proclaimed football fanatic, was among the 300 spectators. 'What's more important than this tournament is the joy these children have,' Samara told Al Jazeera. 'They all have to work to survive, so this is an experience that will be etched in their memory.'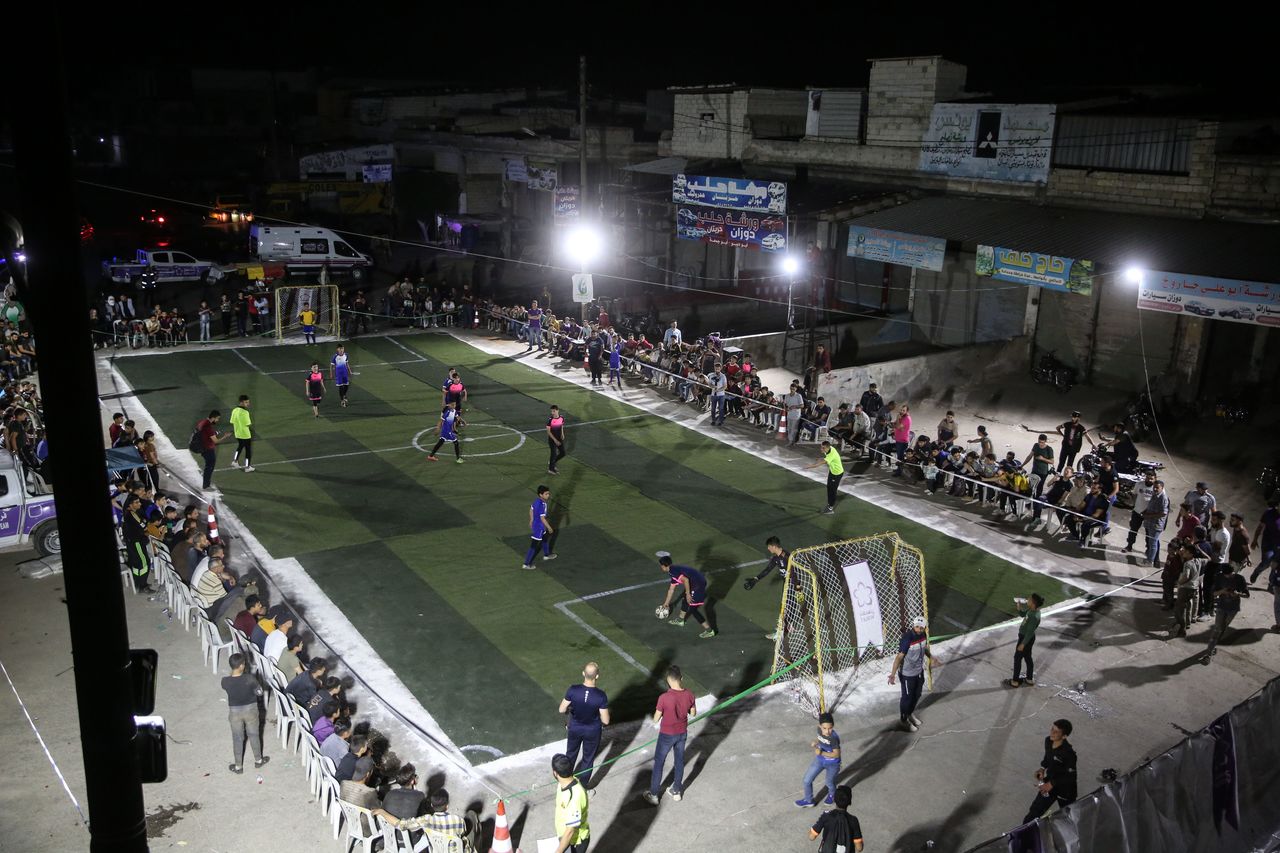 The two five-a-side teams kicked off in the evening and played two 20-minute halves. Samir Diab was excited but anxious as he was waiting to kick off. 'God willing we will win,' he told Al Jazeera.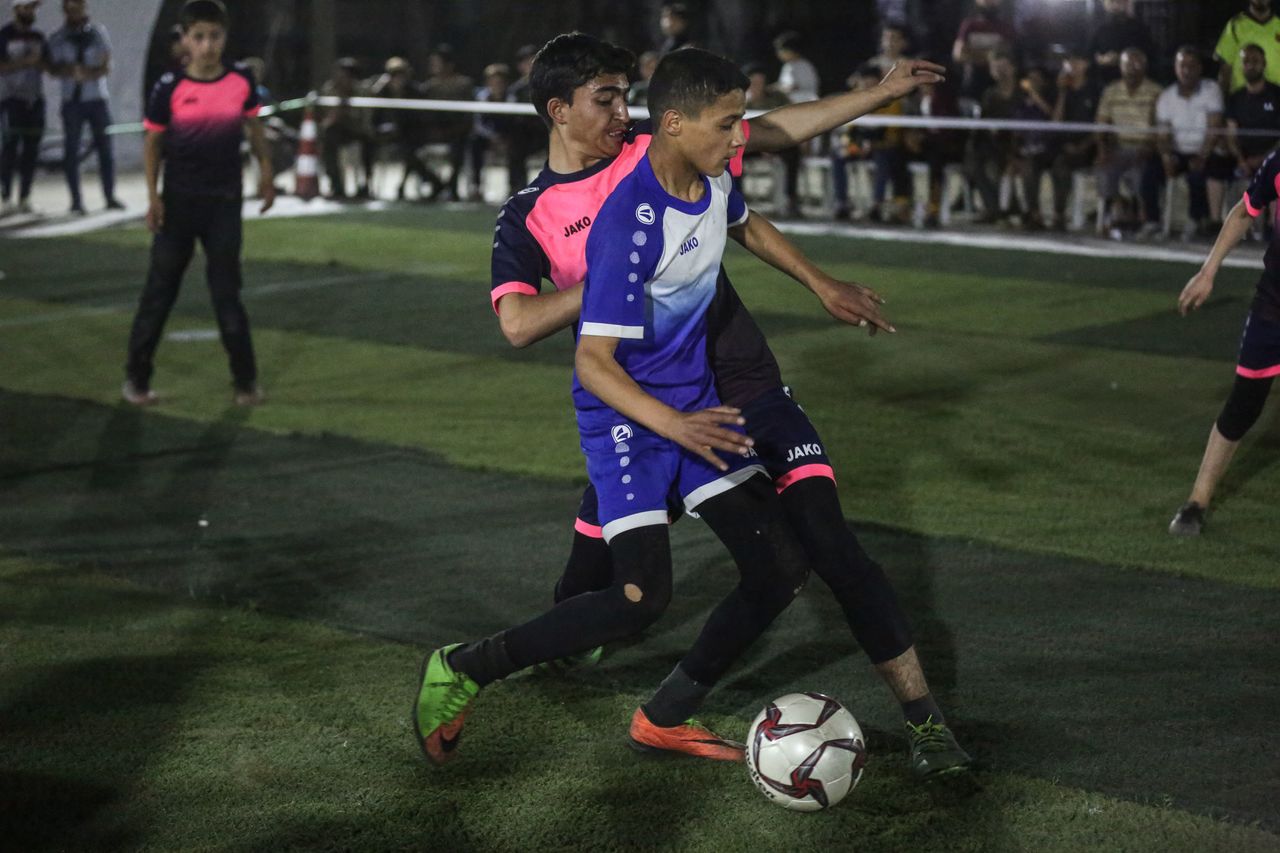 Hussein Moutaweh bolts through the opposition. He wishes his deceased father was there to see him. Playing with his team has helped him get through difficult times. 'We all cooperate and are on the same page,' he said.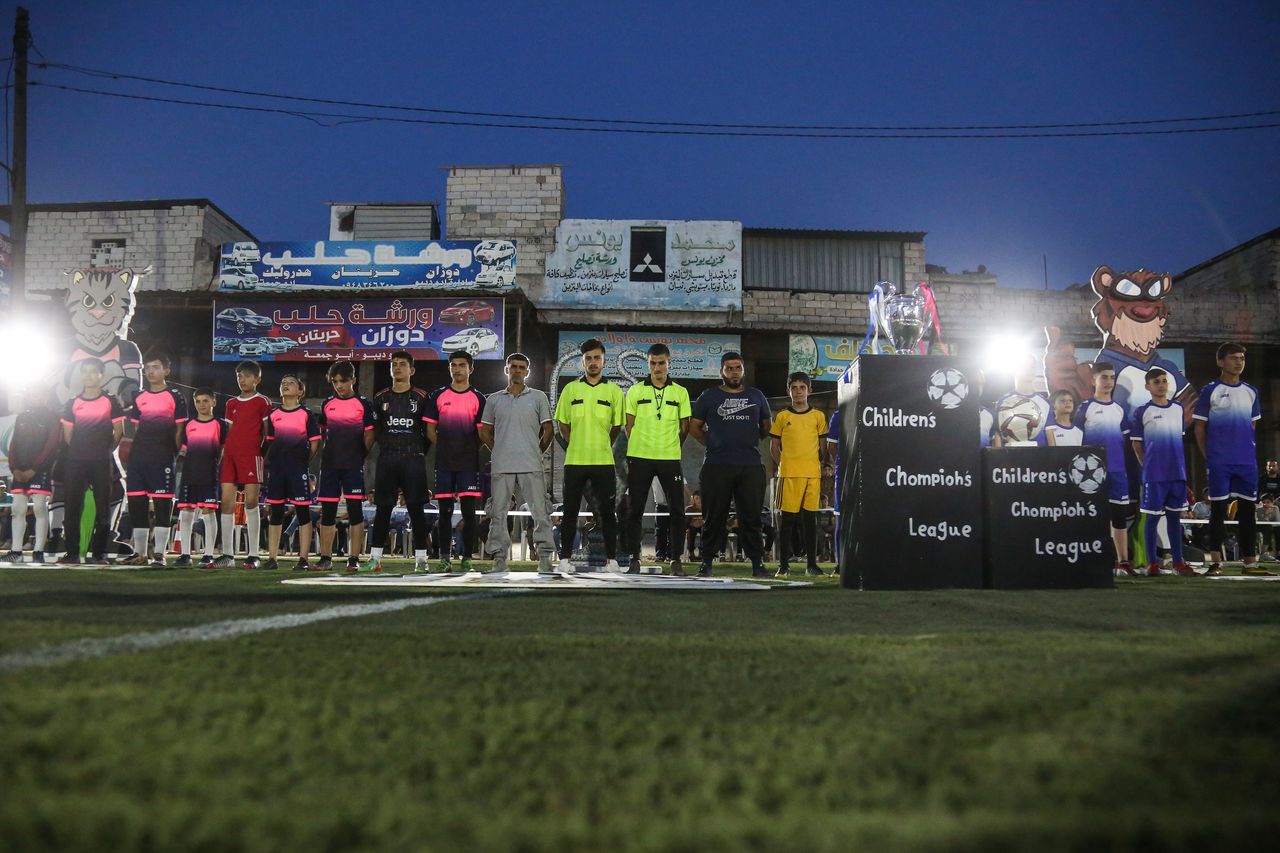 Violet Organization coordinator Ibrahim Sarmini hopes that providing opportunities for young people to play sports and properly train can help give them opportunities to showcase their talent. 'We want to show that despite the circumstances, we have talented youth who can represent our country on the global stage,' he said.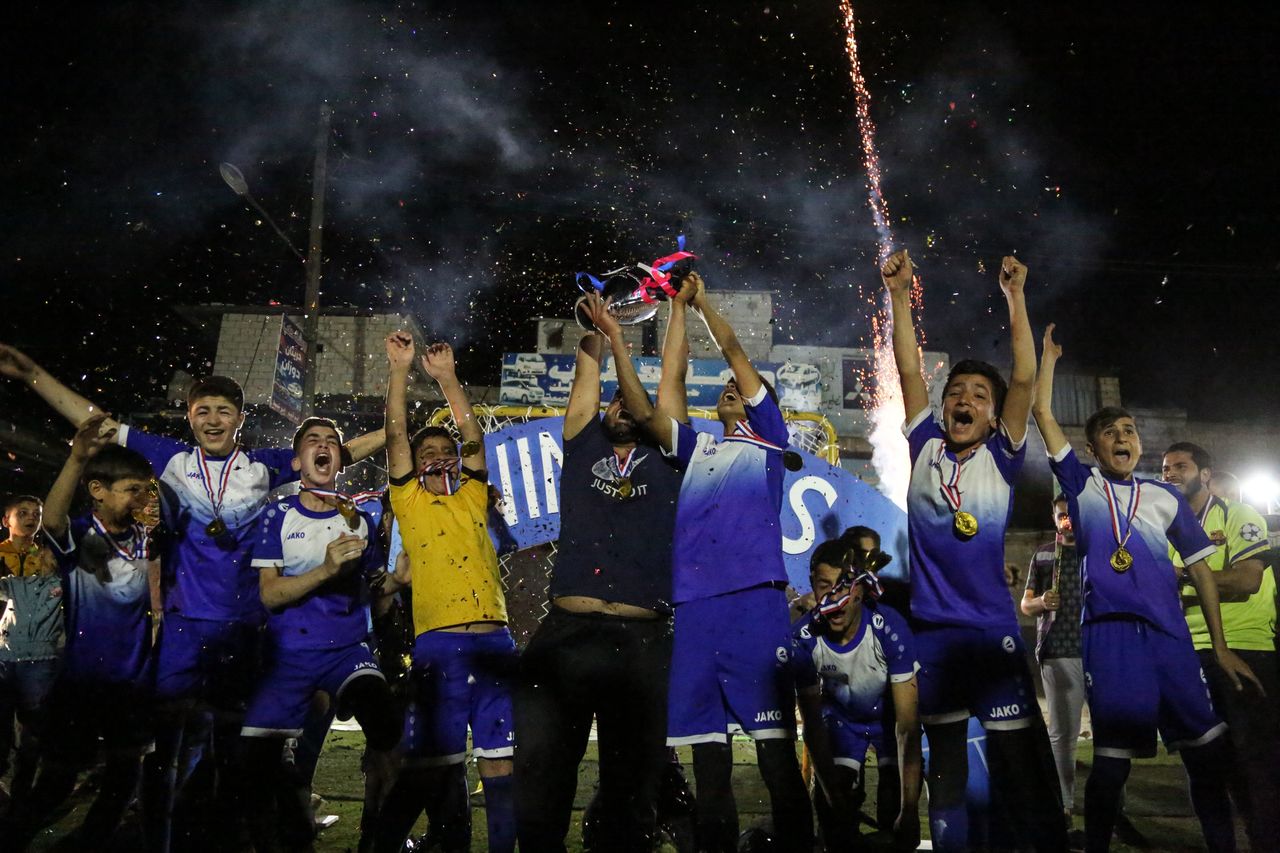 Moutaweh, Diab, and the rest of 'The Dreams' celebrate winning the tournament the way their idols in Europe would. Eleven-year-old Moutaweh was player of the tournament, adding to his tally of medals and trophies. 'I think this is the best award I have gotten yet,' he said with a smile.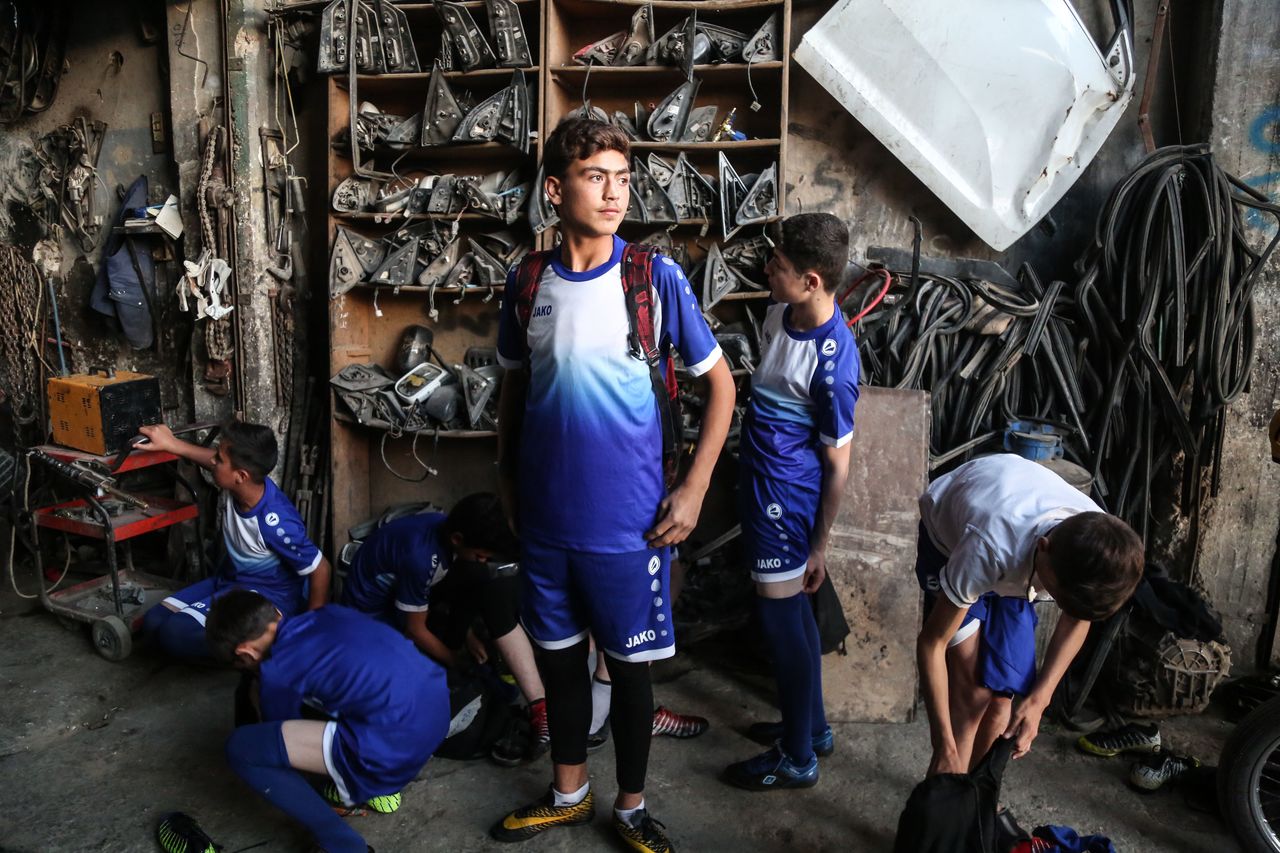 'The Dreams' get ready ahead of their final match in Idlib's industrial district, in a workshop used as a makeshift locker room. The boys in the tournament were all between the ages of 10 and 15.