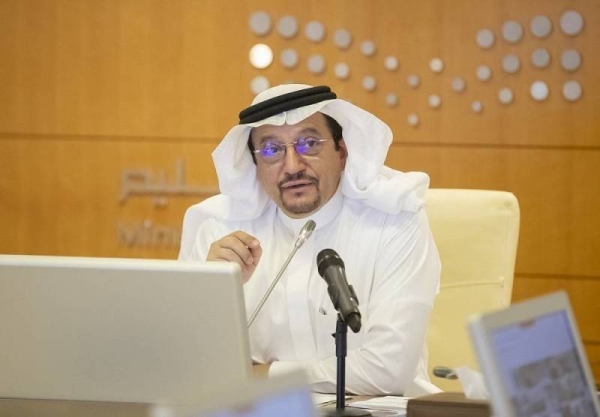 Minister of Education launches flexible learning pathways initiative
The Minister of Education, Chairman of the Board of Directors of the National eLearning Center, Dr. Hamad Al Sheikh, launched the flexible learning pathways initiative to improve professional skills for K-12 education, Higher Education, and professional development.
The initiative is set to be launched through the National eLearning Platform "FutureX", in partnership with the international platforms: Coursera, Edx, Udacity, and FutureLearn. This skill development initiative provides access for stakeholders to more than 10,000 courses, programs, and professional certificates from +300 leading international universities and corporates.

Al Sheikh said that the Flexible Learning Pathways is a breakthrough initiative in the eLearning and training sector to contribute in building a globally competitive citizen with capabilities and skills related to the needs of the labor market.

In its first phase, the initiative's learning pathways are divided into three main paths focusing on meeting the labor market needs, First, K-12 Pathway which is designed to enhance the skills of high school students, which targets 150,000 students. Second, Higher Education Pathway that is designed to enhance the skills of higher education students, which targets 250,000 students. Finally, The Professional Development pathway, which provides flexible career pathways for upskilling and reskilling, targeting 150,000 employees and job seekers.

The initiative covers several key skills, including digital skills (cloud computing, application development, programming, information systems, systems analysis, cybersecurity), design skills, arts, and music (graphic design, user experience design, product design, music and arts, fashion, multimedia), engineering and science skills (civil engineering, robotics, electrical engineering, software engineering, physics, chemistry, biology, mathematics), in addition to thinking and life skills (critical thinking, psychology, public health, work ethics, emotional intelligence, thinking design) and business skills (accounting, marketing and sales, entrepreneurship, finance, marketing, insurance, financial technology, banking services).

The initiative contributes to achieving integration by linking the learning pathways to skills, jobs, and labour market needs, in addition to the participation of universities and employers in designing, approving, and recognizing pathways. These transferable learning pathways will be implemented at the national level and recognized by related entities.

The initiative is flexible, and it enables the institutions to design learning pathways for interdisciplinary specializations and offers stackable Micro-credentials. The initiative also uses learning analytics to improve the learning experience and provides a unified learner record, in addition to enhancing the financial aspects through the integrated efforts.

It is noteworthy that the National eLearning Platform "FutureX" is one of the initiatives of the National eLearning Center, which aims to enhance trust in eLearning and enable equitable access to reliable and accessible eLearning for all.