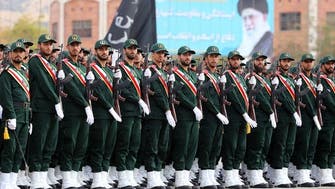 Listing IRGC as terrorist group would be costly for EU, warns Iran lawmaker
An Iranian lawmaker and former Islamic Revolutionary Guard Corps (IRGC) commander warned on Wednesday that listing the IRGC as a terrorist group by the European Union would be costly for the bloc and would not go unanswered.
Tensions between Iran and Western nations, including EU member states, have been high in recent months over Iran's alleged provision of weapons to Russia and its deadly crackdown on domestic protesters.

European Commission President Ursula von der Leyen said on Tuesday she supported listing the IRGC as a terrorist organization, a main demand of the Iranian opposition, which accuses the IRGC of leading the violent crackdown on the months-long protests in Iran.

"Europeans should know that sanctioning the IRGC will cost them a lot and they will suffer a lot of losses in this regard," Mohammad-Esmail Kosari said, the semi-official Fars news agency reported.

Listing the IRGC as a terrorist group would not "go unanswered and we would give the necessary response to their action; first through their embassies and in the next stage we will take actions against their interests," he added, without elaborating further.

Iran's interior minister, Ahmad Vahidi, also a former IRGC commander, said listing the IRGC as a terrorist group would be "contrary to international rules" and a show of the West's "intellectual, moral and political weakness."

"The European Parliament's proposal to declare the IRGC as a terrorist group is not a concern and the IRGC will continue on its way with strength," said Vahidi.

The IRGC was established following Iran's 1979 Islamic Revolution with the purpose of protecting the theocratic regime. It wields significant power in Iran, controlling significant portions of the economy and is responsible for the country's ballistic missile and nuclear programs.

Designating the IRGC as a terrorist group would make it illegal to belong to the group, participate in its meetings, or display its symbol in public.