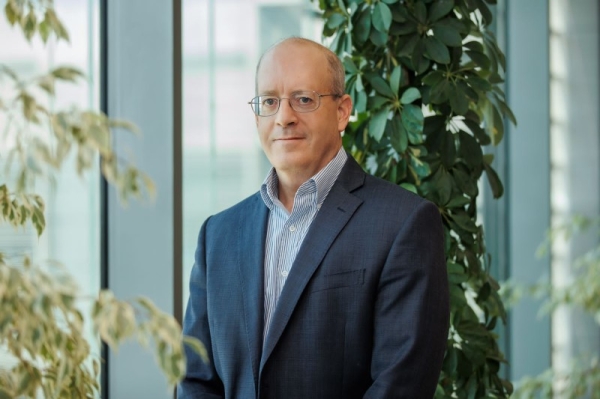 KAUST Academy building on its successes: Carin
The King Abdullah University of Science and Technology (KAUST) in Thuwal, north of Jeddah, has recently launched KAUST Academy with the aim of providing a continuous learning environment in Saudi Arabia.
As an enabler of innovations in higher education, the Academy supports Saudi Arabia's Vision 2030 in achieving world-class excellence in blended learning, especially in the areas of artificial intelligence (AI) and machine learning.

Commenting about the inception and mission of the Academy, KAUST Provost Lawrence Carin said, "The KAUST Academy is a first for us in several ways.

"It is bringing the best of KAUST to people around the Kingdom, delivering education in a very accessible way that allows participants to develop the skills required to be competitive in work and in higher education."

In an interview with Saudi Gazette, the Provost said the Academy has so far achieved the desired success with its current initiatives. It is now building on this success with a growing portfolio of STEM-based course offerings and training designed to boost the labor market in the country, he added.

The full text of the interview follows:

Q: In the past few months, you launched the KAUST Academy, whose mission is to provide continuous learning initiatives to support development in Saudi Arabia. What are the features of this academy? Did you achieve the desired success in your first initiatives?

A: The main aim of the KAUST Academy is to provide training courses targeted at undergraduate and graduate students and early career professionals in order to enhance their academic and professional training.

The KAUST Academy training is short and condensed and is in the areas of artificial intelligence, machine learning and data science with more STEM subjects to be added. The current courses on offer are micro-credential courses, diplomas, and part-time master's degree courses.

The Academy has achieved the desired success so far and is continuing to build on this in order to expand the provided training.

Q: What are your goals for this academy? How was it received by the Saudi youth (men and women)? What was the level of engagement?

A: The main goal of the KAUST Academy is to make it one of the finest outreach organizations in the Kingdom. The Academy is focusing on creating partnerships with universities and organizations in the Kingdom and contributing to the growth of National Talent Development in line with Vision 2030.

The student feedback on the micro-credential courses has been hugely positive despite the condensed nature of the training courses. The courses are usually 8 hours long and for 5 days, and the students seem engaged and put in their best effort for the duration of the course.

In some of the Academy's earlier courses, a small portion of the students struggled with the pace of the courses. This is one of the areas where the Academy is trying to improve by providing a range of Python Programming and Mathematics for AI courses.

This is to better prepare the students to take up the AI micro-credential courses. Furthermore, we are also providing students with pre-course training where the students can attend optional online sessions with the instructor to prepare for the in-person training.

The level of engagement is university-to-university engagement, as well as, with professional private-sector organizations.

Q: How long will the Academy continue to offer its programs? What type of collaboration does it have with national scientific institutions?

A: The Academy aims to grow and cover a larger portion of the students and the workforce in the Kingdom by providing training and collaborations with KACST, KAPSARC, SDAIA, KSU, KAU, and PNU.

Q: After a long practice in teaching AI academically and in research, how do you see the future of this field in the next decade?

A: AI is maturing quickly as a field. The fundamental science is now largely in place, and now a key focus is on applying it to solve real-world problems, such as text analysis and generation, language translation, medical predictions, etc.

There are so many areas where AI can be applied, and before new science in AI is developed, a key challenge is to push current technology as far as it can go, so we can understand the full potential of existing methods. The limitations uncovered through that exercise, which will take years, would help uncover gaps, and motivate new research directions.

Q: How do you see KAUST's effort in supporting AI, and do you think it has accomplished anything in this field?

A: KAUST is trying to create a critical mass of highly skilled individuals in the field of AI and this approach should create a startup culture as part of the natural progression for the Kingdom's future.

Q: You have vast strategic leadership and management experience in all matters related to faculty, students, and educational programs, including talent development, curricula, online education, continuous education, and new academic programs. How did you employ AI to facilitate all of this?

A: There is an emerging educational field with new pedagogical and teaching tools being introduced which are powered by AI, particularly to provide tailored curriculum and training to individuals rather than a single standard approach that has been used in traditional classrooms and training so far.

Q: You have published hundreds of papers in AI; what is the one that you consider the most prominent in this field?

A: • Bayesian Compressive Sensing (1732 citations)

• Sparse multinomial logistic regression: fast algorithms and generalization bounds (733 citations)

• Multi-Task Learning for Classification with Dirichlet Process Priors (427 citations)


Q: How to employ AI to improve quality of life and sustainable development?

A: From robotics to climate change studies, AI is transforming and improving various scientific fields. AI tools can better predict diseases, produce better medicines, predict weather patterns and discover stars and galaxies. AI is making this easier for researchers by providing fast significant portions of heavy data and statistical calculations.

However, the AI community is grappling with a variety of issues and among them is the issue of ethics. I am quite optimistic that the field will eventually be able to balance ethical concerns with the speed and impact of the advancements in the field.

Q: You are now undertaking the task of communicating with Saudi universities; what are the main challenges of this task? What are the most important projects you seek to implement?

A: Saudi Arabia has developed strong universities that are producing good graduates and KAUST Academy is focusing on developing collaborations with these universities to establish academic training collaborations.

These collaborations will cover joint curriculum development and teaching, guest lectures, short student exchange visits, joint workshops and conferences, and collaborations to conduct national events like PyCon and AICon. So far, the Academy is targeting KSU and KAU as our first partners but will eventually partner will other universities as well.

Q: Can you at KAUST, in partnership with Saudi universities, help Saudi Arabia transform its economy into a knowledge economy and succeed in achieving real innovation?

A: The answer is an emphatic yes, and this is in line with the new digital thematic priority at KAUST. Currently, there are top young leaders in the Kingdom who are KAUST graduates. We need to build on this success and increase our footprint to reach a larger population of students and professionals in the Kingdom. KAUST academy was created with this as the primary goal.

Q: What is your opinion about the performance and specializations of Saudi universities? What are the closest to KAUST objectives, in your opinion?

A: Saudi universities have done an excellent job historically at the undergraduate level and are now focusing on graduate studies. Saudi universities will excel to become among the top graduate schools in the future.

Q: KAUST has ranked highly since its inception. Do you have plans to establish University branches locally and internationally? How close are Statistics and Computer Engineering to your current research fields?

A: Machine Learning (AI) in some sense is statistics done on a large scale. Computer science is essential for AI since AI is built on computing resources.

Q: How do you see your time at KAUST compared to your previous academic experiences, especially at Duke University? What is your opinion about the Global AI Summit held recently in Riyadh under the patronage of Crown Prince Mohammed Bin Salman? How would you describe the Kingdom's contribution to AI utilization and development?

A: The Global AI summit is a great step to highlight the Kingdom's achievements to top organizations and Global research in AI.

It provides Saudi organizations, companies and startups an opportunity to showcase their research and solutions and present it to the Global AI community for collaborations and feedback. This is vital to ensure the Kingdom's position as a leading player in the field of AI and other areas of accomplishment.