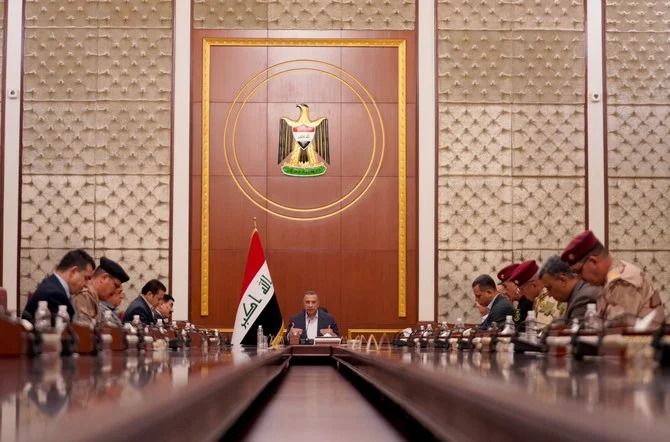 Iraq PM condemns Iran attacks on Kurdistan, calls on forces to maintain security
Iraqi ministers on Saturday condemned an Iranian drone bombing campaign targeting bases of an Iranian-Kurdish opposition group in northern Iraq on Wednesday, which killed at least nine people and wounded 32 others.
The comments came during an extraordinary ministerial council meeting for national security, which was chaired by Iraq's Prime Minister Mustafa Al-Kadhimi, and attended by the defense and interior ministers, as well as a number of security leaders.

"The attendees affirmed their rejection of the Iranian bombing, which caused great damage, stressing their rejection of attempts to use Iraq as an arena for settling scores," the prime minister's office said in a statement.

"The meeting recommended that the government and the responsible authorities continue to take all necessary measures to stop these behaviors."

The meeting also recommended that the country addresses "all that contradicts the principle of good neighborliness which Iraq believes in," pursues relations with its neighbors, and deal with security challenges through diplomatic channels and joint security cooperation.

Al-Kadhimi called on "security committees in the governorates to bear their full responsibility for maintaining security, not to allow chaos to terrify citizens, and cause security disturbances that negatively affect the activities and daily life of the people there."

The Iraqi leader stressed the need for all political forces to confront their national responsibility, adopt a national dialogue to resolve crises, strengthen the rule of law, address the issue of uncontrolled weapons, and eliminate armed militias that threaten people's security and civil peace.

He also praised "the peaceful demonstrators who were keen to advance their legitimate demands for a country free of corruption and reform, and to preserve freedom of expression from any extraneous practices that harm its constitutional and human essence."

Al-Kadhimi was referring to demonstrations in the capital, Baghdad, to mark the anniversary of anti-government unrest that erupted in 2019.