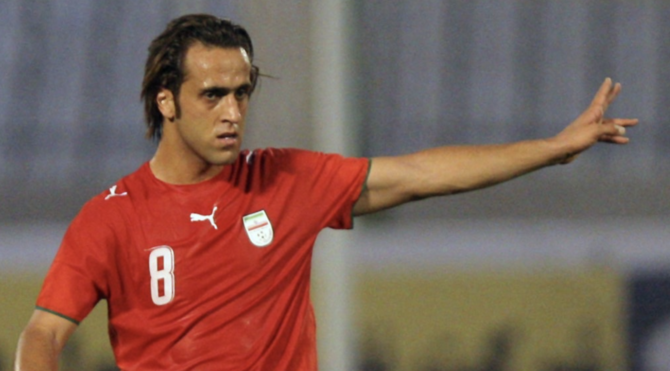 Iranian footballer Ali Karimi target of kidnapping attempt
Former Iran international footballer Ali Karimi has been the target of a kidnapping attempt by the Tehran regime, according to British newspaper The Times.
The 43-year-old Dubai-based ex-player has in recent weeks become a major critical voice against the Iranian government's handling of the protests sweeping the country.

Earlier this month he was charged in absentia and a warrant was issued for his arrest over his support via social media of the demonstrations.

Karimi had condemned the death in custody of 22-year-old Mahsa Amini — which sparked the protests — by urging security forces to avoid "innocent blood to be shed." His comments led to him being charged with unlawful "assembly and collusion with the intention of acting against national security," Mehr News Agency reported.

A friend of the ex-Bayern Munich player, Mehdi Rostampour, posted online an account of how a suspicious series of events may have led to Karimi's kidnapping.

Rostampour wrote that another celebrity with links to the Tehran regime — under the pretence of wanting to escape Iran — had contacted Karimi and asked to meet him in the UAE city of Fujairah. Karimi, who received the message via another Dubai-based footballer, was unconvinced.

In the post, Rostampour said: "Karimi was not keen on meeting him in any case but just before the set time, he received a text from a friend saying, 'Fujairah is a trap.'

"Who was the sender? Someone from within the intelligence ministry."

Rostampour went on to allege that the plan was, according to The Times, to "force Karimi on to a boat and return him to Iran, where he would be compelled to make a false confession on state television."

The fact that the celebrity who contacted Karimi was said to have had his passport confiscated by the Iranian government but still managed to travel to the UAE, added to the suspicion of his intentions. He has since returned to Iran and continues to post messages of support for the regime.

"Fortunately, Ali Karimi is in good hands and safe. He has committed no crime other than standing by his people," Rostampour's message added.

In a statement on Monday, Karimi, who has remained in Dubai, said: "I thank my countrymen who are worried about my humble self. I and my family have been threatened and are threatened in various ways. But I am not important.

"I still mourn my countrymen across Iran and all my pain and sorrow is the safety of the people in my homeland."

Karimi is considered one of Iran's greatest players, having scored 38 goals in 127 matches for the national team, and represented his country at the 2006 World Cup in Germany.