The small northern European nation of Estonia is one that does not often make headlines. With an estimated population of only around 1.2 million, the country, which sits on the Baltic Sea, is sometimes overshadowed by its larger eastern neighbor, Russia.
The war between Russia and Ukraine is raging just outside Estonia's borders, opening old wounds in a country which for decades suffered greatly under Soviet rule. Estonia has long been a staunch ally of Ukraine, which was one of the first countries to recognize Estonia's independence from the Soviet Union in 1991.

Estonia has led the call for the provision of aid to Ukraine and its accession to NATO and the EU. Earlier this year, it expelled Russia's ambassador to the country in response to Moscow's order for the Estonian ambassador to leave the country by Feb. 7.

The Kremlin accused Tallinn of being Russophobic and of deliberately destroying its relations with Moscow. Tensions had risen in January after representatives from 11 NATO nations gathered at an army base in Estonia to discuss a range of new packages to help Ukraine recapture territory and fend off any further Russian advances.

Estonia, one of three Baltic states (the other two being Lithuania and Latvia), has provided over EUR429 million ($473.7 million) in defense aid, humanitarian assistance, and reconstruction efforts for Ukraine since the start of the Russian invasion in February 2022, and set aside approximately EUR220 million ($242.9 million) out of its 2022 budget for the accommodation of Ukrainian refugees.

Estonia has been a member of the EU and NATO since 2004, and maintains close diplomatic and political ties with EU and Western countries. Its support for Ukraine and open condemnation of Russian actions there have drawn Moscow's ire. This year, Estonian intelligence services gave warning that Russia poses an increasingly significant threat to the Baltic states, including Estonia.

Despite its small size and unfriendly relations with Russia, Estonia is set to become one of the world's digital powerhouses. The country's digital transformation, which began two decades ago, has turned it into an example for other smaller nations looking to digitalize their own economies and government institutions.

While separated by a great distance, Saudi Arabia and Estonia share an important characteristic: both countries have undergone a complete digital transformation. Just as in Saudi Arabia, nearly all of Estonia's government services are digitalized.

Estonia's relationship with technology is nothing new. The software used by the famous telecommunications application Skype, which is used by tens of millions every day, was invented by a team that included Estonian programmers. In 2000, the country's parliament declared internet access a fundamental human right.

In 2014, Estonia became the first country in the world to launch an e-residency initiative, allowing people from across the world to become digital residents of Estonia. Those with Estonian e-residency can open and manage companies completely online, and Estonia now has more than 84,000 e-residents and over 16,000 e-resident companies.

Former Estonian president Toomas Hendrik Ilves told the International Monetary Fund's Finance and Development magazine in 2018 that only marriages, divorces, and the sale of real estate require Estonian citizens to show up to a government bureau in person.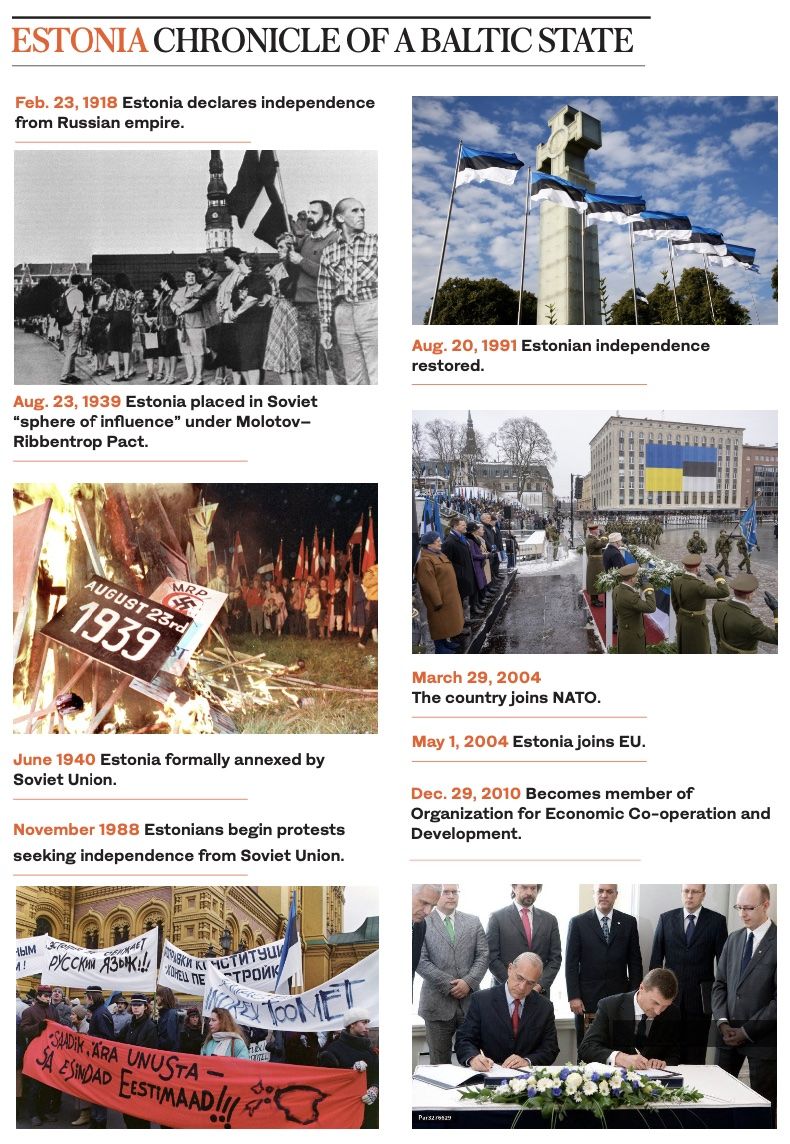 Estonia has also made great efforts to maintain diplomacy with the Arab world. Jaan Reinhold has been Estonia's ambassador to the UAE since 2019, and is also the accredited ambassador to Kuwait, Bahrain, Saudi Arabia and Qatar.

In recent years, Estonia has engaged heavily in the promotion of trade with Gulf nations. In 2020, Estonian company Nortal carried out the first-ever digital census in Oman.

Two years later, the firm would be the first Estonian company to join the Digital Cooperation Organization, a Saudi-led international initiative which aims to boost coordination in several technological fields, including artificial intelligence, cybersecurity and cloud computing.

In 2021, the Saudi-Estonian Business Forum in Riyadh brought together government ministers, ambassadors, and business leaders to discuss international trade, defense, entrepreneurship, and digitalization.

Last year, the Estonian Business and Innovation Agency sent a trade mission to the UAE and Saudi Arabia to establish and improve relations in the food and beverage sector.

Digital and economic cooperation has been growing by leaps and bounds. In March this year, Estonian pharmaceutical company Chemi-Pharm announced its attendance at a business mission of Estonian health and technology companies in Saudi Arabia.

Estonia's future seems to be a bright one, and the country has consistently found itself at the top of world indexes ranking economic freedom, prosperity and living conditions.

This year, the Heritage Foundation ranked Estonia third out of 44 European countries, and sixth in the world, in terms of economic freedom; and the Washington-based Freedom House gave Estonia a 94 out of 100 score in its Freedom in the World 2023 rankings.

However, with great success also comes responsibility, something that Estonia's Prime Minister Kaja Kallas has touched on.

"We have been so successful in building a well-being society that it sometimes makes us feel that we do not have to ensure this well-being ourselves, but that we can simply enjoy what has been created elsewhere here," she said in a February speech marking the 105th anniversary of the Republic of Estonia in the city of Tartu.

"Believing that only strawberries and flowers will grow in Estonia is naive. If we want to slide down the hill, we have to first pull the sled up the hill."