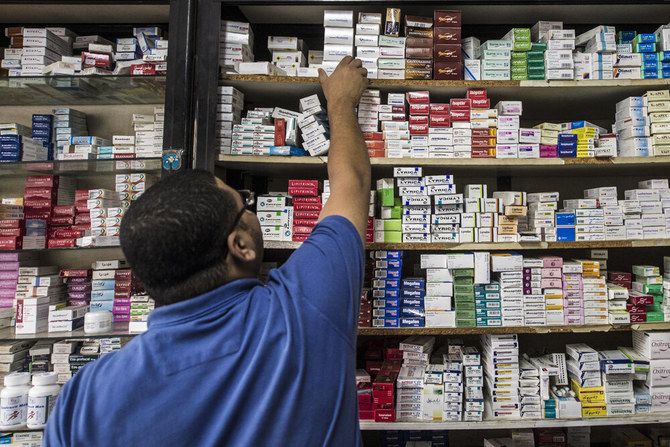 Health warning for Egypt's pharmaceutical industry
Urgent action is needed to safeguard the future of Egypt's pharmaceutical industry, a specialist has warned.
Ahmed Galal, a leading figure in the industry, told Arab News the pharmaceutical sector faces significant challenges adapting to the global market, as well as "aligning with modern technology to deliver effective medicine at an affordable price."

His comments came after a parliamentary session on Saturday in which MPs discussed a specialist report outlining a strategy to "future-proof" the pharmaceutical industry.

The report urged the government to adopt new financing policies for the sector, warning that current exchange rate fluctuations are hindering the industry, particularly small and medium-sized companies.

"National drug security and the well-being of the Egyptian patient are most affected in the event of the pharmaceutical industry's collapse," Galal said.

"Urgent action is needed to preserve this industry. This should be a priority and must be supported by every patriotic Egyptian," he added.

"Drug consumption in Egypt has seen a significant rise recently due to the increasing population numbers, improved health awareness, and development of health care programs. While the pharmaceutical industry in Egypt is among the most successful, its primary market is local due to its focus on producing traditional medicines. These lack innovative elements that could secure a place in the new global market."

He highlighted the need to "strike a balance between purchased technology and that which can be self-developed, to ensure the provision of safe, effective, high-quality medicine in adequate quantities, and at a price that is affordable to all."

Egypt's pharmaceutical industry has a rich history going back decades, and has played a vital role in the country's economy and health care system.

However, the industry's future will depend on how successfully it can navigate a host of challenges and adapt to changing market conditions.

Key issues, such as adopting modern pharmaceutical technology, providing high-quality medicines at affordable prices, and maintaining a balance between domestic production and imports, need to be addressed.

Recommendations laid out in the report provide a blueprint for the industry's development and present an opportunity for stakeholders to work together toward a sustainable sector.

Dr. Mona Salem, a physician and pharmaceutical activist, said: "Egypt must implement policies consistent with the World Health Organization's recommendations to ensure the appropriate use of medicines. It should work toward providing the necessary infrastructure to supervise and regulate the use of medicines, and train and monitor prescribers to guarantee the provision of safe, effective, and high-quality medicine."

Egypt's drug industry dates back to 1939 with the establishment of Misr Pharmaceuticals.

The country is one of the largest drug producers in the Middle East and Africa, and is ranked as the fourth most attractive drug market in Africa.
The report said that the high quality and reasonable prices of Egyptian medicines make the country a coveted destination for investment in the
pharmaceutical sector.

The industry also benefits from low labor costs and a large number of skilled pharmacists.

According to the report, there are about 170 licensed drug-producing factories in Egypt, with another 254 under construction.

The private sector owns 152 factories, the public and business sector controls nine, and multinational companies own another nine.