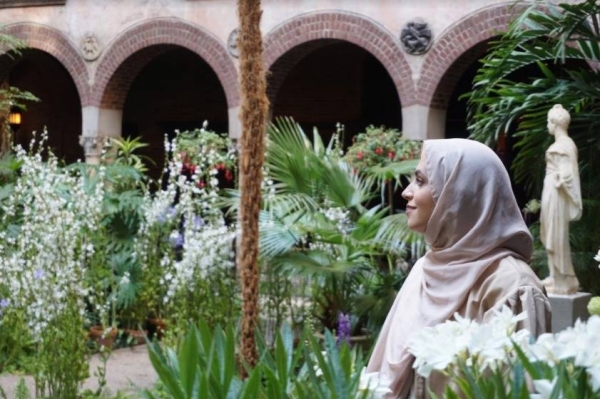 Ghadeer Sadeq: A researcher with a mission to fill gaps of Saudi Art History
Ghadeer Sadeq is an art history aficionado and cultural researcher who recently won the inaugural Art Jameel grant for her paper titled: Mapping the Arts in KSA 1940-2000, which will be completed in about a year.
Born and raised in a small Saudi village, Ghadeer began her academic journey abroad by studying political theories at Suffolk University in Boston. She then pursued her first master's degree in public policy at Northeastern University.

Ghadeer's life changed course after taking an elective art history subject in her undergraduate course and made her realize that art and politics are intertwined in so many levels. Especially when it comes to Arts in the Middle East where it is inherently political and reflective of political unrest and social change.

This course piqued her interest in the field and inspired her to apply for her second master's degree in Cultural Management at Pratt Institute in New York. It was the only program for which she applied and was accepted.

Ghadeer began interviewing Saudi artists for her research, including Abdulrahman Solaiman, who sold the most expensive Saudi painting, 'Worshippers Leaving the Mosque' in Sotheby's auctions. It went for £137,500. She quickly became friends with him, and he generously welcomed her into his studio to conduct interviews with him and learn more from him about the early days of art in Saudi Arabia, he also gave her access to his archival materials, art library to help her more with her research topics and interest.

As a researcher, she realized that she has come across something that is bigger than her. "I discovered throughout my research that there isn't many written content, books, and papers about the history of art in the Kingdom. I soon realized the urge to start writing and documenting the art movements, the first exhibitions, the institutional history of arts education, and the lives of the early pioneers needs to be properly documented."

Ghadeer sought to fill these gaps, "I decided to start interviewing more Saudi artists, write more about them, and spread knowledge about them to other people. Knowing more about our history of art allows us to reconnect with our visual heritage and strengthen our sense of identity. Throughout my very new journey as a researcher the more I knew about these artists and their great contribution to forming our visual modern culture here in the Kingdom the more I feel an immense pride in my identity as a Saudi."

The cultural researcher continues, "Mohammed Al Saleem and Abulhaleem Radawi were the early pioneers who laid the foundation for art in Saudi Arabia and forming Saudi aesthetics and visual culture during the oil boom before the 1960s. They were among the first to be sent abroad to study art in Italy. They had a deep, profound appreciation for their culture, and they were determined to create an authentic form of art and style that celebrated their heritage rather than simply imitating European artists."

"For example, Abulhaleem Radwi, most of his paintings centers around celebrating Hijazi culture, like 'Raqsat Almzmar' (The Flute Dance) and 'Hajj Day' painting, where he paints pilgrims around Kaaba."

"And Mohammed Al Saleem, who was a shepherd, that was greatly inspired by the desert nature. He created a whole artistic style, a whole school of aesthetic, called Al Afakyiah (horizonism style), where he wed abstraction with Arabic calligraphy and the nature of the desert. It is a wonderful reflection of his upbringing."

"Another leading painter, Safeya Binzagr, whose whole practice as an artist is research-based. She traveled to villages and areas in Saudi Arabia and met with people so she can make sure that she was painting traditional Saudi attires for women accurately. Her work is deeply influenced by social realism where it reflects the domestic lives of women in Hijaz in addition to Hijazi wedding's, festivities, and the architecture of Al-Balad historical district where she spent her early years of life before moving to Egypt then returning to Saudi later."

Ghadeer believes that documenting the Saudi Art history is important for the current and future generations as well, "I feel like it is important for the new generation to reconnect with their history and know more about the art movements that took place in the 60's, 70', 90's. The history of modern art in Saudi is a missing piece of the puzzle that we desperately need to study, document, and shed light on its importance in laying the foundation for the contemporary art movements to take place.

"The more we know and reconnect with our history, the better we understand our present and shape our future. It is important to know more about how our visual culture came about. Through the stories I write about Saudi artists I attempt to spread knowledge about some forgotten stories about modern Saudi art. The more one knows about their art the more they connect and value their culture."

She is very optimistic about government support and empowerment of Saudi artists and celebrating their work. "I love how Crown Prince and Prime Minister Mohammed Bin Salman always has paintings of Saudi artists in his office and meeting rooms. When someone with his status and position does such a move, it really inspires everyone to follow his footsteps and support Saudi artists."

Ghadeer currently works as a research assistant at the Ministry of Culture. Through her work, she was exposed to a diverse set of projects such as UNESCO world heritage projects, cultural policy, and documentation of art history in the Kingdom.