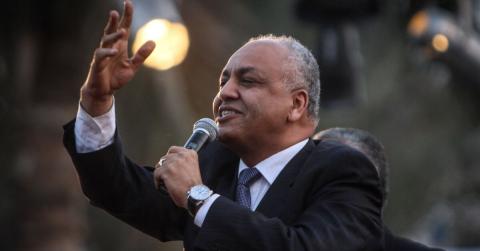 Egyptian MP, Mubarak's Son Exchange Accusations After Church Fire
Egyptian authorities are trying to restore Abu Sifin Coptic Christian church in Giza after fire swept through it during Sunday's Mass, killing at least 41 people, mostly children, and injuring many others.
Following the incident, lawmaker Mustafa Bakri demanded authorities investigate prominent Egyptian businessman Naguib Sawiris after his tweet about the church incident.

Bakri had accused Sawiris of "striving to create sedition" after the latter wrote that he would not accept condolences before uncovering the details of the accident.

"We in Upper Egypt do not accept condolences before we know the details," he added.

Sawiris sparked criticism that amounted to a call for a judicial investigation of him.

Some social media users saw that his tweet was suspicious. Others considered that he was questioning the statement of the Interior Ministry, which announced that an electrical malfunction caused the fire.

Later, Alaa Mubarak, eldest son of former president Hosni Mubarak, accused Bakri of spreading lies, saying that it would have been possible for anyone else but the lawmaker to demand an investigation.

In response, Bakri warned Mubarak, saying he was aware of his reasons for defending Sawiris.

The two continued the exchange, and Alaa wrote several posts that carried "strong criticism" of Bakri.

During an interview with Ten Channel, Bakri continued his criticism of Sawiris and attacked the businessman, wondering if he thought about restoring the church or attending the funerals of the dead.

After the disaster, the head of the Coptic Orthodox Church, Pope Tawadros II, referred to "lies" being spread about the church fire.

In telephone statements to a local Egyptian channel, Tawadros said social media pages and some television channels are spreading false reports, unsuitable of the incident, and some claim the incident was caused by negligence.