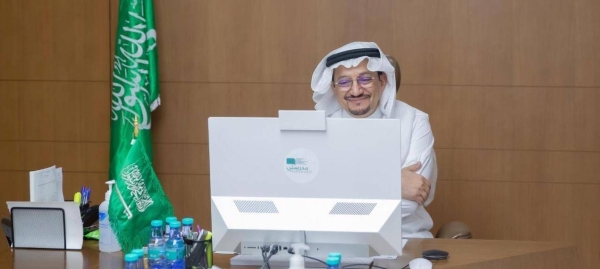 Dr. Al-Sheikh seeks to improve quality of education as part of strategic Saudi-British partnership
Minister of Education Dr. Hamad Bin Mohammed Al-Sheikh Wednesday in a virtual forum, sought to activate scientific and educational cooperation between the Saudi and British ministries of education with the aim of improving and developing the quality of education.
He was speaking at the "Sustainable Development in Special Education" forum, which was held in cooperation with the British Cultural Council as part of the Saudi-British Strategic Partnership Council.

British Prime Minister's Special Representative for Education Professor Sir Steve Smith attended the event.

Dr. Al-Sheikh stressed that the Saudi Vision 2030 has granted special education to programs to realize the vision, in a bid to support and develop services for people with disabilities.

He noted that through initiatives on identifying students with disabilities and the policy on their right to comprehensive education in public education, the two strategic goals related to improving equal opportunities for students with disabilities will be achieved and enable them integrate in the labor market.

It would also enhance their positive impressions through innovative educational experiments and expertise that can meet their needs, where these services will be offered by professional teachers to realize distinguished qualitative outcomes through these initiatives.

He added that the Ministry of Education has sought to prepare the "Education and Training Strategy" that guarantees students with disabilities receive education, training and rehabilitation.

This is in addition to supportive assisting services and transitional services that qualify them to integrate in education and the society, as well as their full integration in public education classes and special integration in public education schools through classes attached to schools.
Also specialized curricula are offered depending on the needs of students with disabilities, and offering educational, training, rehabilitation and professional institutes and special centers.

The minister also referred to the private sector's support for students with disabilities and offering them 4,008 educational vouchers to receive education at private schools and opening the Teibah Educational City for Special Education in Madinah, establishing partnership with Al-Fouzan Center in the Eastern Region, and inaugurating the Sanad City in Makkah.

He also said that the ministry, within one year, under the remote education system, has issued 21 curricula for students with disabilities and developed their study plans according to three semesters in addition to offering extra classes that were offered through the Teams Platform and receiving educational service through the Madrasati Platform just like their peers.

In addition they were granted the opportunity to optionally attend school and dedicating educational channels for education of students with autism and mental diseases, while other educational channels offering the sign language to facilitate access to education for the deaf and those with hearing difficulties.

The ministry also prepared guidebooks for teachers and families of students, publishing six e-guidebooks for teachers in the field of aural disability, learning difficulties and autism.

The minister also stressed that the forum is one of the activities that seek to create new opportunities for students with disabilities in the future, enhance their educational capabilities, and empower them to reach competitiveness tools in the market of the future.

For his part Sir Smith expressed gratitude to the minister, stressing that the event represents an opportunity to exchange knowledge and expertise on how to support students with disabilities and offer assistance to their families, review the course that Saudi Arabia offers to support them.

He noted that the forum has granted him an opportunity to get engaged with the educational system in the Kingdom of Saudi Arabia, which meets the aspirations of Saudi students under the Saudi Vision 2030.