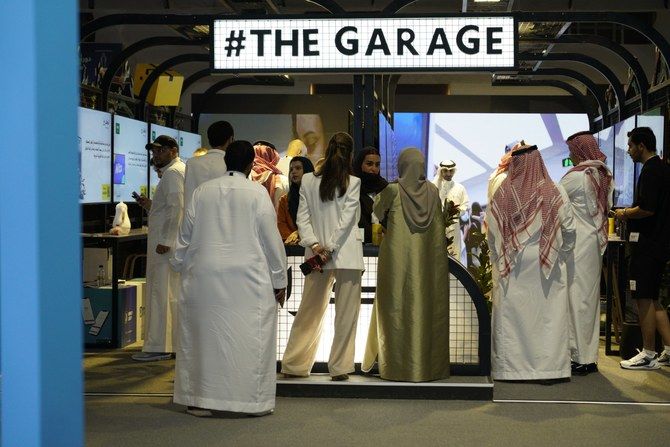 Biban sees signing of deals worth billions of dollars to propel Saudi SME sector
The Biban 23 Forum witnessed the signing of more than 10 deals and memorandums of understanding worth over SR10.6 billion ($2.8 billion) on its third day.
The agreements aim to contribute to the growth and sustainability of Saudi Arabia's pioneering SME sector.

During the forum, the Small and Medium Enterprises Bank announced the provision of financing products for enterprises with a value of SR10.5 billion for a period of 3 years.

The Saudi Export and Import Bank signed an agreement with the Saudi National Bank with the aim of providing financing solutions for the export of non-oil commodities with a value exceeding SR99.3 million.

In addition, the Small and Medium Enterprises General Authority — also referred to as Monsha'at — signed an MoU with Riyadh-based business management consulting firm Accenture Saudi Arabia Ltd.

Monsha'at also signed another MoU with the Youth Club Investment Co. to propel cooperation in providing initiatives and projects supporting SMEs specifically in the field of sports.

Nusaned Investment Co. and Banque Saudi Fransi signed an SR200 million cooperation deal with the objective of financing emerging SMEs in which the company invests and in the companies that benefit from SABIC's localization initiative, also known as NUSANEDTM.

Moreover, Monsha'at sealed a deal with King Faisal University to provide a set of programs and projects supporting entrepreneurship and innovation, in addition to an agreement with GoDaddy to enhance the capabilities of SMEs in the field of e-commerce.

"We have seen exceptional entrepreneurial resilience, determination, and creativity in Saudi Arabia and GoDaddy would like to support their potential every step of the way to help them create and grow their businesses online with the aim of achieving Saudi Arabia's '2030 Vision', which envisions a sophisticated digital infrastructure to boost fundamental competitiveness of the Saudi economy," said Selina Bieber, GoDaddy commercial strategy senior director, International Markets.

A cooperation agreement was signed between Monsha'at, SEDCO Holding Co., and the Agricultural Tourism Association to provide training programs for entrepreneurs through the Monsha'at Academy platform.

An MoU was also signed with Zoho Trading Software Ltd. to accelerate 30,000 SMEs' digital transformation and e-commerce adoption.

This partnership aims to make Saudi businesses more digital-savvy and lead a smooth transition to a fully digitized and cashless ecosystem.

"By leveraging Monsha'at digital platforms and reach, we will work with Zoho to accelerate the digital transformation of Saudi SMEs, providing them with a set of cloud-based solutions, self-based learning, and services of added value," General Manager of Retail at Monsha'at Mahmoud Mazi said

Another similar MoU was signed with Global Digital Solutions Co. to provide financing solutions and electronic payments to retail and online stores.

The authority also launched a cybersecurity challenge with the Saudi Information Technology Co. and announced the launch of the program for developing the capabilities of SMEs in the export field in cooperation with the Saudi Export-Import Bank and the International Islamic Trade Finance Corp.

On the fourth day of the event, Diriyah Gate Development Authority signed an MoU with Monsha'at to boost entrepreneurship in and around the city of Diriyah.

"This MoU's importance lies in its potential to promote collaboration, data, and information exchange, and greater coordination across several joint initiatives," said Guy Perry, president of Diriyah Development Co.

On the fourth day of the event, Sadara Chemicals signed an agreement with Monshaat to join the authority's Jadeer portal to facilitate the access of SMEs to purchasing opportunities at Sadara to develop local content and achieve economic diversification in line with the Kingdom's Vision 2030.

"These partnerships highlight Monsha'at's keenness to enhance cooperation with the public and private sectors and to create an environment that stimulates the growth and prosperity of small and medium-sized enterprises," Mohammed Alamro, general manager of entrepreneurship planning, at Monsha'at said.