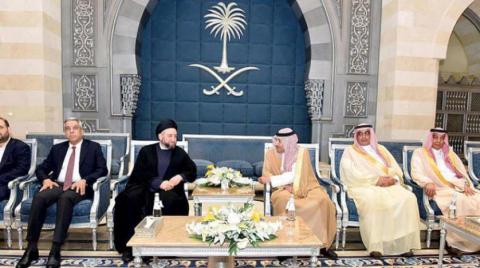 Al-Hakim in Riyadh...Sadr Calls for Public Dialogue
Well-informed Iraqi sources expressed their optimism about the visit made by the leader of the Wisdom Movement, Ammar al-Hakim, to Saudi Arabia and considered it a positive sign for Baghdad.
In remarks to Asharq Al-Awsat, the sources said that Al-Hakim's trip to the Kingdom was of great importance at the level of bilateral relations as well as Iraq's relationship with its Arab surroundings.

Saudi Deputy Foreign Minister Eng. Walid bin Abdul Karim Al-Khuraiji received on Thursday the leader of the Wisdom Movement at King Abdulaziz International Airport in Jeddah.

The reception was attended by the Ambassador of the Custodian of the Two Holy Mosques to Iraq, Abdulaziz Al-Shammari, the Director-General of the Ministry of Foreign Affairs branch in the Makkah region, Mazen Al-Hamali, and the Ambassador of the Republic of Iraq to the Kingdom, Dr. Abdul Sattar Hadi Al-Janabi.

In this context, Professor of International Media at the Iraqi University, Dr. Fadel Al-Badrani, told Asharq Al-Awsat that the visit highlighted the new orientation of the Shiite political forces towards the Arab axis, especially the Kingdom of Saudi Arabia.

He described the talks with the Saudi leadership as a good turn in Iraq's relations with the Arabs, following nearly two decades of rupture.

"Openness to the Arab environment gives Iraq an opportunity to advance its Arab role," Al-Badrani added.

Meanwhile, the leader of the Sadrist movement, Muqtada al-Sadr, thanked Iraqi Prime Minister Mustafa al-Kadhimi for his initiative to hold a national dialogue.

However, he noted that the outcome of the dialogue failed to resolve the problems faced by Iraq.

Saleh Muhammad Al-Iraqi, who is known as "Al-Sadr minister", published a tweet, criticizing the outcome of what he called the "secret dialogue" and saying that the session resulted in only some points that failed to meet the aspirations of the Iraqi people.

Despite Al-Sadr's harsh criticism of the outcomes of the dialogue, he did not reject its final statement, which calls on holding early elections.