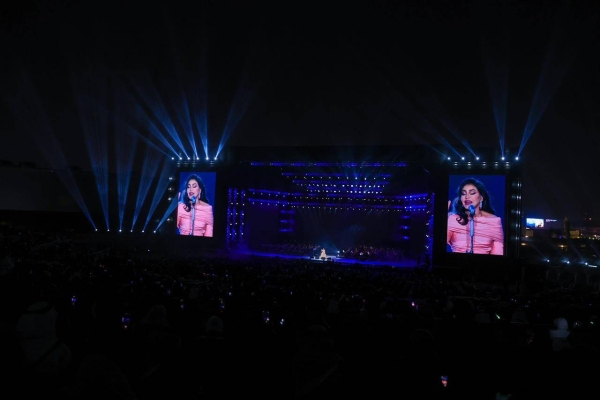 Ahlam revives night of dreams in Riyadh Season
Emirati singer Ahlam performed a huge concert on Thursday night as part of the activities of the Riyadh Season amid standing ovations from her Saudi fans, who received her with a warm heart.
Speaking to Okaz/Saudi Gazette, Ahlam expressed her great admiration for Ushaiqar as she was the first artist to shoot a video in the old town in Saudi Arabia.

Ahlam said, with its sweet buildings and unique smell, Ushaiqar was one of the most beautiful areas she ever visited.

She also said she intended to shoot another video in other regions of Saudi Arabia soon.

Ahlam presented many of her most well-known songs, which ignited the enthusiasm of the audience, who reacted by dancing and repeating her lines back to her.

Ahlam thanked her fans in Saudi Arabia and expressed how happy she was to be among them at this distinguished ceremony.

Also, the Emirati singer is scheduled to participate in a large concert held on New Year's Eve in Riyadh.

Titled "Riyadh Trio Night," the concert will bring together 13 renowned artists from the Arab world. In addition to Ahlam, the participants include Muhammad Abdo, Asala, Angham, Asma Munawar, Abdullah Al-Ruwaished, Majed Al-Muhandis, Nabil Shuail, Aseel Abu Bakr, and others.