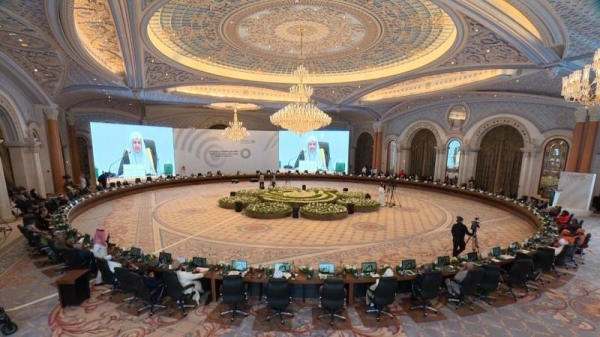 100 religious leaders gather in Saudi Arabia for ground-breaking conference
The Muslim World League (MWL) has completed the Forum on Common Values among Religious Followers event in Riyadh, Saudi Arabia from 11 to 12 May 2022.
The Forum, for the first time in history, convened within Saudi Arabia Christian, Jewish, Hindu and Buddhist religious leaders alongside Islamic leaders to explore shared values and a common global vision for interfaith cooperation.

Approximately 100 religious leaders attended the first of its kind conference, including over 15 Rabbis.

Attendees and speakers included, Mohammed Al-Issa, Secretary General of the Muslim World League; Chief Rabbi Riccardo Di Segni (of Rome); Cardinal Pietro Parolin, Vatican Secretary of State; Bartholomew I, Ecumenical patriarch and spiritual leader to 300 million Orthodox Christians worldwide; Eminence Ivan Zoria, Archbishop of the Orthodox Church of Ukraine; Rev. Father Daniil Matrusov, Representative of the Patriarch of Russia; Banagala Upatissa Thero, President of the (Buddhist) Mahabodhi society of Sri Lanka; Pastor, Rev. Walter Kim, President, National Association of Evangelicals (United States); Ven Swami Awdheshanand Giri, Chairman, Hindu Dharam Acharya Sabha (India); Rabbi Moise Lewin, Special Adviser to the Chief Rabbi of France; Sheikh Dr. Shawki Allam, Grand Mufti of Egypt; Rabbi David Rosen, Director, International Interreligious Affairs, AJC (American Jewish Committee) and others.

The Conference recommended launching of a global forum called: "Religious Diplomacy Forum for Building Bridges" based on the influential role of religions in human societies, and the important role of religious followers in bridging the relationship between religions and cultures for the purpose of peacebuilding.

Also, it was recommended to work on issuing an international compilation under the name: "The Encyclopaedia of Common Human Values".

The conference invited the United Nations General Assembly to adopt an international day for "Common Human Values" that celebrates the commonalities between religions and cultures around the world.

Amongst the key goals, establishing a set of values common to all major world religions, and a vision for enhancing understanding, cooperation, and solidarity amongst world religions.

Mohammed Al-Issa, Secretary General of the host organization, the Muslim World League, said: "The aims of this conference aligns to the values of Muslim World League, which strives to build humanitarian partnerships for a more cooperative and peaceful world and more harmonious communities."

"This conference tackles some of the major issues of our day. As the largest Islamic NGO, headquartered in the birthplace of Islam in Saudi Arabia, we have a special responsibility to do this work. Whether it is to tackle climate change, to support refugees and vulnerable communities around the world, or simply to spread messages of peace and co-existence, the kind of interfaith trust and cooperation this event is fostering is desperately needed to support those real-world goals."

The forum supports the Muslim World mission to strengthen its global role as an independent international non-governmental organization dedicated to promoting Islamic values that call for peace, as stated in its statute and bylaws.