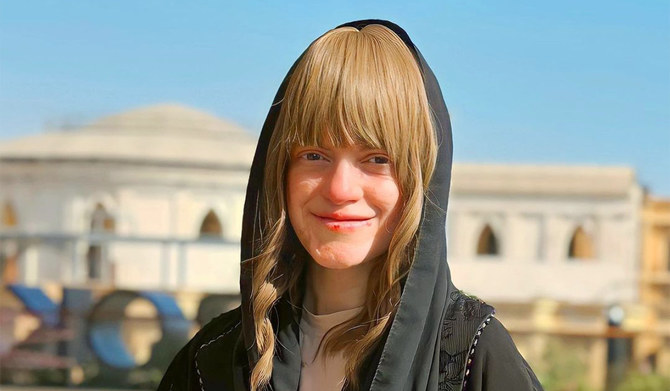 Saudi Woman with Rare Skin Disease Becomes Inspiration for Others Despite Years of Bullying and Isolation
Abrar Al-Othman, a 26-year-old Saudi woman, has been battling a rare skin condition since birth.
Despite this, she has become an author of three books, and a social media sensation.

Al-Othman has Epidermolysis bullosa, a condition that causes the skin to blister easily, and can lead to serious complications.

Despite the challenges, Al-Othman has remained optimistic and determined, and has become an inspiration to many.

Al-Othman's first book, "There is Life in Every Heart," was published in 2016, and is a collection of her thoughts and experiences.

In 2019, she released her second book, "EB: My Other Half," which is a memoir about living with the condition.

Her latest book, "There is One Soul Between Us," was published in 2021, and explores human emotions from her perspective.

Al-Othman's writing has touched the hearts of many, and she has gained a large following on social media.

She uses her platform to spread positivity and inspire others.

Al-Othman's impact has been felt beyond the online world, and she has appeared on TV shows and at book fairs, connecting with her audience and sharing her message.

Despite the challenges she has faced, Al-Othman remains determined and optimistic.

Her message of hope and resilience has inspired many, and she continues to be an inspiration to all who meet her.

A Saudi woman with a rare skin disease has become an inspiration for others after enduring years of bullying and isolation.

The woman, who wishes to remain anonymous, was diagnosed with epidermolysis bullosa (EB) -- a rare genetic disorder that causes the skin to blister and tear easily -- when she was a child.

Despite the challenges she faced, she was able to complete her education and even graduated from the King Abdulaziz University.

Growing up, the woman recalled some positive experiences she had in school.

"My friends at school helped open the water bottle or sharpen my pencil," she said.

"They would also help me do a variety of tasks, from carrying my backpack to helping me walk up the stairs." However, she also had some embarrassing moments, such as when the pencil used to cut her skin and she bled on the paper while taking a test.

Things became more difficult for the woman after secondary school, as she became the target of bullies and other students would avoid sitting next to her due to her condition.

This isolation took a toll on her, and she said she didn't go to school for many days and had no friends in college.

But now, the woman has become a beacon of hope for others.

She refers to herself as the "EB butterfly," and has established a group for mothers of children with the same disease, to whom she offers a wealth of guidance.

The group provides support to mothers, sharing advice on how to care for their children and offering experiences, whether in hospitals or treatments, and each one in accordance with their personal knowledge of the disease.

A dermatologist is also present in the group to provide medical advice and support.

The woman's resilience and determination to help others despite the challenges she faced is a testament to the power of human spirit.

Her story serves as an inspiration to those who are facing similar struggles and reminds us that there is always hope.