Vegan chef Ola Kayal, a trilingual Saudi national with two degrees, has trained at a three Michelin star restaurant in Europe and successfully launched a plant-based ice cream business in the US — all before the age of 30.
Now, she is bringing her knowledge and passion for sustainability back to her hometown of Jeddah, with dreams of starting a food revolution and creating a healthy-eating haven.

Kayal opened her first shop, Nabati, in Miami, Florida, six months before the pandemic hit and managed to stay in operation amid the restrictions. She is launching her second outlet in Jeddah.

"I chose the name Nabati because I wanted the name to really be a representation of my roots. I decided to start this brand not in Saudi Arabia, so I really wanted to have that Arabic connection and a name that would represent where I'm from and what I'm bringing to the world," she told Arab News.

Since returning to the Kingdom full time a few months ago, she has run a pop up at a popular local space.
From baking cakes in her childhood to training at a Michelin starred restaurant in europe, Ola Kayal's culinary journey has culminated into nabati, a vegan ice-cream brand that is spreading the message of sustainable, plant-based diets.

"Homegrown at Hayy Jameel felt like it was the right place to start since I was coming back to my hometown. I wanted it to be a place that represents Saudi artists. It's a hub where like-minded people can learn from each other and work together," she said.

Her ice cream is cashew and coconut based, sweetened with maple syrup and coconut sugar, and is guilt-free indulgence. There is no refined sugar, gluten or soy, so the all-natural treats are nutritious as well as delicious. Since she avoids using starches and emulsifiers, her ice cream is a little bit temperature sensitive.

"But, you know, the good things in life are worth waiting for. So, the benefit of that is that you can travel long distances without it melting. But the little bit of a downside is that you do have to wait a little bit before you eat it from your freezer," she told Arab News. "It does teach you patience."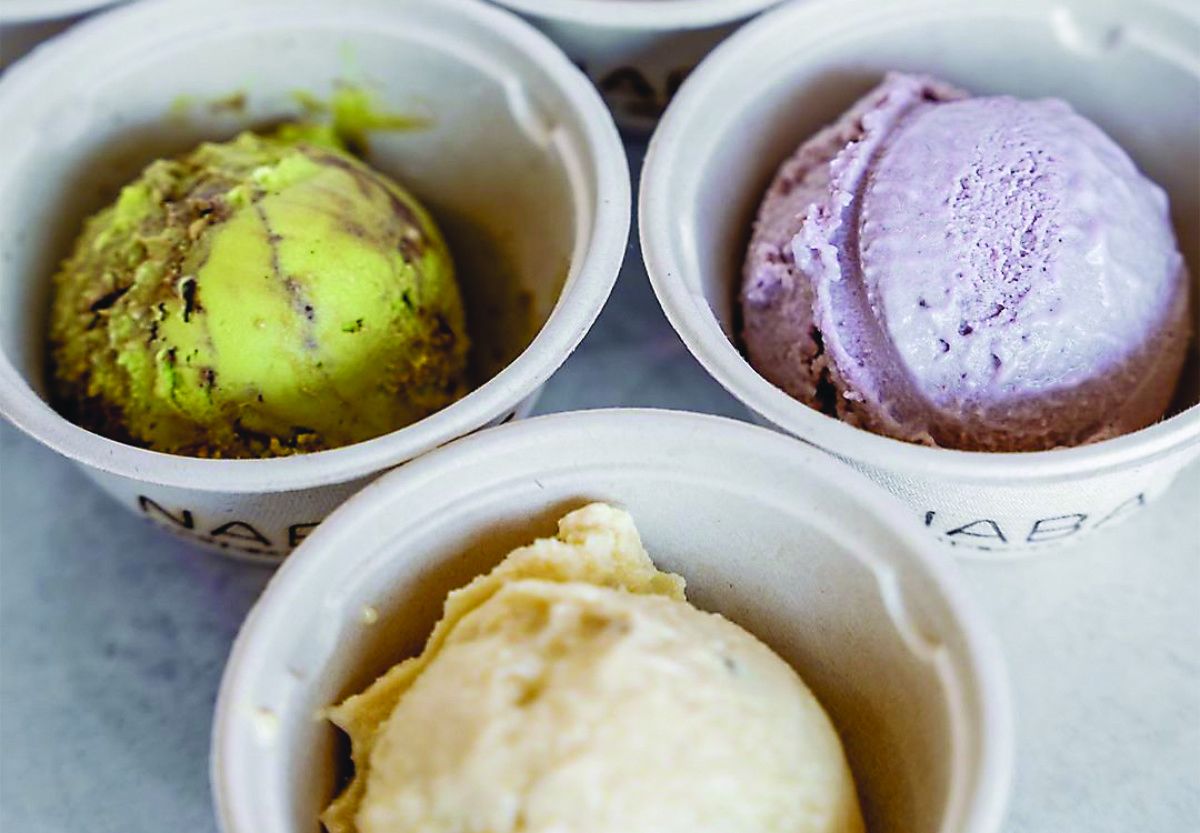 From baking cakes in her childhood to training at a Michelin starred restaurant in europe, Ola Kayal's culinary journey has culminated into nabati, a vegan ice-cream brand that is spreading the message of sustainable, plant-based diets.

Recalibrating unhealthy eating habits is only one part of her mission. There is also another benefit to doing things her way.

"I've had a few people tell me that they have diabetes type II and they're like, you know, I had a full serving of your ice cream and I didn't have to adjust my sugar levels," she said. "My ice cream is diabetic-friendly. I mean, I don't recommend you consume large amounts — the key in life is balance."

While she is now the new kid in the vegan space in Jeddah, her story started decades ago.

The first thing Kayal ever baked was a boxed cake. She was about 8 and her father took a bite and proclaimed: "This is terrible."

She took the criticism in her stride and used it as fuel to delve deeper into the world of baking. She began to study her own family's recipes — her aunt was known for baking — and started to build a dessert database. Soon, she could bake with her eyes closed, but made sure never to lose sight of her goals.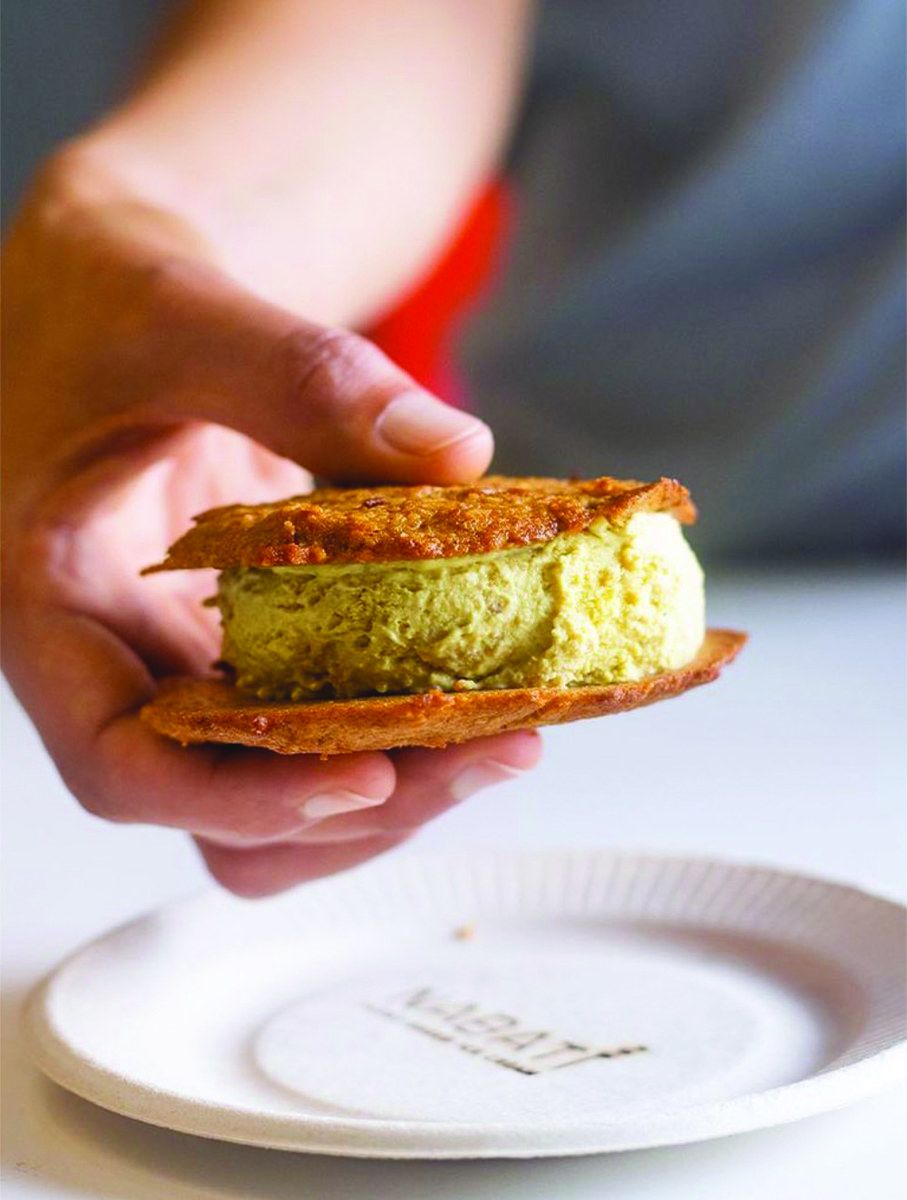 The all-natural Nabati ice cream is cashew and coconut based, and sweetened with maple syrup and coconut sugar.

Kayal knew from the beginning that she communicated through gastronomy; it was just how she expressed herself.

"My favorite moment is when the food is on the table and everybody is just quiet for the first 10 to 15 minutes because they're just really enjoying themselves," she said.

Her eating habits may have become more refined since childhood, but even as a youngster she ate few animal-derived products.

"I was a very picky eater. I was allergic to eggs at a very young age, so I wasn't able to eat — not like a cake that has one or two eggs, that is fine — but I couldn't digest a whole egg dish; it was too heavy for me to consume," she said.

That also meant that mayonnaise and many dishes with eggs as a base were automatically left off her plate.

Despite that, Kayal knew she wanted a career in the culinary world. However, her loving grandfather tried to talk her out of it. He was adamant that the straight-A student and prized grandchild pursue a more practical endeavor. He had big hopes for her and thought she might want to work at a bank.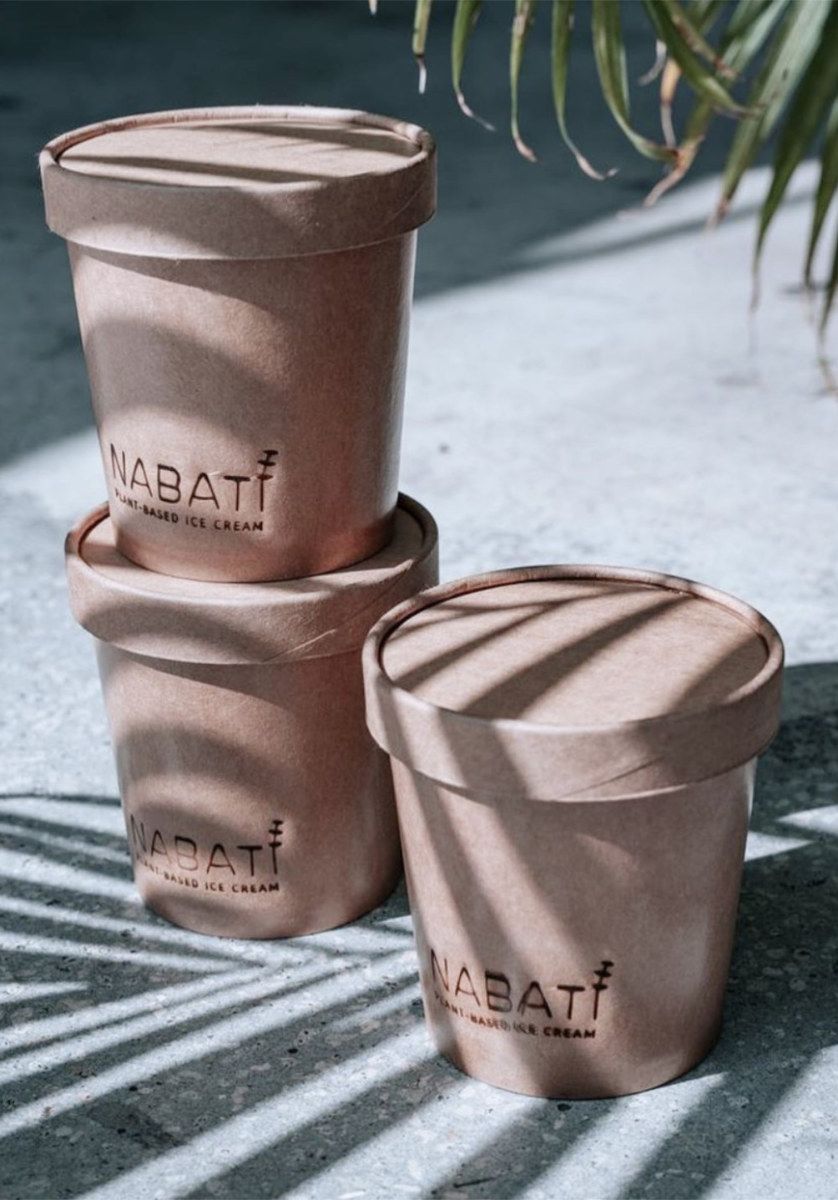 The all-natural Nabati ice cream is cashew and coconut based, and sweetened with maple syrup and coconut sugar.

She left Saudi Arabia at 16 to attend an all-girls' boarding school in Switzerland. After graduating, she honored her grandfather and enrolled at a local business school.

In two years, she completed her intensive degree. It was there that she learned to analyze businesses and understand what it entails for a core business to become sustainable. As part of the coursework, students had to create a business project and see it through.

Her choice was a restaurant.
The all-natural Nabati ice cream is cashew and coconut based, and sweetened with maple syrup and coconut sugar.

"I graduated with honors. I got my grandfather the degree he wanted and I was like, OK, this is your degree. I'm going to culinary school now."

Her culinary school, the Culinary Arts Academy Switzerland, required students to get practical experience in the form of several months-long internships.

Kayal's first internship was at a rehab center in Switzerland. With the saying "an apple a day keeps the doctor away" in mind, she began to use food as a source of healing.

During her three months there, the pastry chef, one of the best in the country, took her under his wing. However, after that, she worked with a new chef who seemed straight out of an episode of "Gordon Ramsay's Kitchen Nightmare." While the experience there was challenging, it gave her the stamina to stand the heat of the kitchen before returning to school.

For her next internship, she wanted to try a place that would be "a little bit more fancy." She decided to explore Scandinavia and settled in Sweden, where she worked at a three Michelin star restaurant.

"It was, at the time, the hardest decision and hardest work experience I've been through," she said.

She worked from 5 a.m. until 7 p.m. on average and, at times, until midnight.

"It was very, very labor intensive and the first two months, every day it was like 'OK, I'm going to quit tomorrow, I'm going to get the courage and quit.' But, you know, I've never quit anything in my life — at that point yet — so I didn't really know what it meant to quit anything. I have always been a perfectionist and overachiever, so it felt very wrong for me to quit because it got difficult. So I stayed," she said.

Her determination paid off. After the third month, she rose through the ranks to become the star intern. While interns usually stayed for two to three months, she stayed for eight. Midway through her tenure, she changed stations. At her old post in pastry, they replaced her with three interns, a testament to her talent and ability.

"I decided after working in the Michelin world that the way of working, the organization, that discipline and the high amount of stress is an environment that I actually thrive in," she said. "My mom at one point was like, 'I'm so happy you found this career because, growing up, I always wondered what job you would do that would fit your personality.'"

After graduation, she was headhunted for a position in Farmacy, founded by Camilla Fayed, one of the first vegan restaurants in London. The chefs who opened up shop had all left when she joined, which brought a unique opportunity to create the food changes she wished to see. After following the recipes given to her, she thought to herself: "Wait a minute, I can do something better than this. So let's start."

After London, Kayal moved to Miami, Florida, where she launched her first business, Nabati. She stayed open during the pandemic — another unprecedented hurdle, but one that taught her many invaluable lessons.

"Nabati is basically the perfect mix of both my degrees together and really utilizing all the things that I've learned and putting it into action," she said.

After operating for the past few years in the Sunshine State, she decided to close shop and move back to Saudi Arabia and her hometown of sunny Jeddah.

"A lot of people ask me if ice cream was always 'my thing,' but actually, no, it just kind of happened," she said.

"I just figured that I've never heard of a healthy ice cream. I think that was really the calling. I love challenges — did you notice that I love challenges in everything I do?" she said cheekily.

What she is attempting in Jeddah is to shift our palate and encourage the community to be more mindful of what we put into our bodies.

"I really believe that the future of food is plant-based. I'm not saying that consuming animal products is necessarily bad for you, but consuming them at the rate that we're consuming and the quality that it has become — that's the main problem," she said.

While many Jeddawis have grown fond of fast food, she adopts the opposite approach, making everything slowly, from scratch and in small batches.

"It's definitely challenging and it's not necessarily the cheapest way of doing business, but I'm not trying to sell ice cream to make money. I'm trying to really create a change of perspective," she said.

The packaging is also plastic-free, made with recyclable material and completely biodegradable. The logo is burnt on so there is no ink or any type of printing. Her pints contain zero plastic, not even in the lining. If a customer brings a container from home, they receive a 5 percent discount.

Kayal is also hoping to collaborate with other restaurateurs in the Kingdom. With Vision 2030 at the forefront of innovation and adaptation, she is eager to be part of the rapidly changing food scene.

Since her "clean" process is so new to the Kingdom, she needs to remain hands-on.

"It is very technical. Once you eliminate the preservatives, the stabilizers of gums, it becomes very technical; not just the ingredients, but the method of how to mix it. If you mix one ingredient before the other, it will make a difference," she said.

Seeing her operate her pop up, her work ethic is clear, and she is already seeking to include the next generation, starting with her own family. Her goal is to create not just an ice cream brand, but also a healthy-eating haven.

Waleed, her 12-year-old cousin, shares her vision. He expressed an interest in working with her and she immediately agreed. On his first day as a scooper, he arrived excited, but a bit nervous.

"Most ice cream is artificial, you can tell; it tastes really weird. But, here, it's real, it's fresh," he told Arab News.

Waleed watched attentively while she instructed her other cousins — two teenage girls — to help train him. All the trainees took orders from the small line of customers waiting to buy a fresh treat. The youngsters listened to the customers' selection, scooped up those orders and sprinkled or drizzled the chosen toppings and then calculated and collected the money.

The younger Kayal got into the rhythm. His face, visibly anxious face at the start of the shift, became relaxed.

"Right now, it's just an ice cream shop, but later it's going to become a real restaurant. When it's built, I want to go every single day and I want to serve everyone," he said with a beaming smile as Kayal stood proudly behind him.