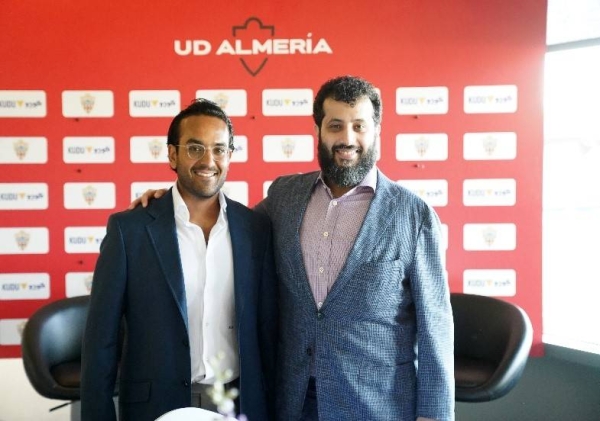 Kudu sponsors Almeria FC in the Spanish premier league
Kudu, one of the largest restaurant chain companies founded in Saudi Arabia, announced its official sponsorship of the Spanish football club Almeria, which is joining the Spanish Premier League (La Liga) this season. Almeria is a worthy front for Saudi Sports' Investment globally, especially after Turki Al AlShaikh, great success story in endorsing the club and bringing it back into the spotlight once again in La Liga.
Kudu was represented at the contract signing ceremony by Rakan Al-Rashed, the Chairman of the Company's Board of Directors, while Almeria Club was represented by Mohammed Al-Asi, CEO, in the presence of the club's owner, His Excellency the Chancellor, Turki AlShaikh.

Rakan Al-Rashed commented that: "Kudu is proud to be an integral part of the successful march of Almeria club, representing an exceptional experience in the Saudi Sports Investment sector at a global level. A sector that has witnessed a remarkable development in light of the Kingdom's vision 2030."

He continued: "We are confident that Almeria Club, under the leadership of HE Turki Al AlShaikh, is ready to achieve the targeted results, which confirm its right to compete with the teams of La Liga clubs. And for our part, we seek through this sponsorship to show Kudu as a Saudi chain of restaurants characterized by sharp keenness to help elevate the people's health and sports lifestyles, following the philosophy of Kudu to provide products that are prepared at customers' sight, using healthy, fresh, and high-quality ingredients."

"This sponsorship represents a good opportunity to attract more football lovers and enthusiasts, as Almeria is a great example in the Spanish League, reflecting the essence and vision of the Kingdom at the international level. In turn, we look forward to supporting Almeria to reach extra achievements, in addition to encouraging promising Saudi youth to move forward, adopting healthy and sporting lifestyles, in the proper way they should be", Rakan added.