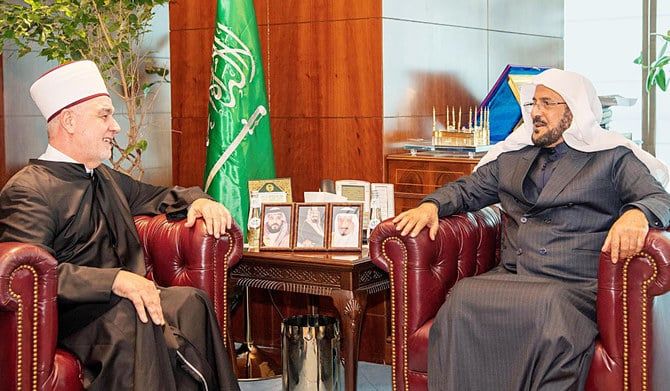 Saudi Islamic minister receives grand mufti of Bosnia and Herzegovina
Saudi Minister of Islamic Affairs, Dawah and Guidance Sheikh Abdullatif Al-Asheikh on Sunday received the grand mufti of Bosnia and Herzegovina and head of the Islamic Sheikhdom, Husein Kavazovic, who is visiting Saudi Arabia.
During the meeting, issues relating to the situation of Muslims in Bosnia and Herzegovina were addressed, and bilateral cooperation in Islamic fields between the ministry and the sheikhdom was discussed.

Al-Asheikh noted the attention given to Bosnia and Herzegovina by the leadership, which is also keen to care for Muslims around the world. The Kingdom's leadership is caring for Islamic sheikhdoms, centers and organizations within the framework of its leading role in serving Muslims globally.

Kavazovic commended the Kingdom's efforts to serve pilgrims and visitors, and the Ministry of Islamic Affairs, Dawah and Guidance's work to serve Islamic efforts and disseminate the principles of Islam.

Meanwhile, Al-Asheikh also received Sheikh Zaid Bakkar Zakaria, the mufti of Akkar in Lebanon, and his delegation, who are visiting the Kingdom.

The two parties discussed several topics of common interest, notably those related to serving Islam, spreading moderation and combating extremism.

Zakaria praised the Saudi leadership's efforts in serving Islam and Muslims, as well as their care for the Two Holy Mosques. He praised the Kingdom's constant support for the Islamic world.