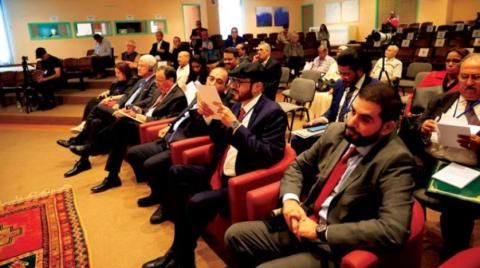 Asilah Forum Reviews Role of the GCC, Regional Influence
The role of the Gulf Cooperation Council (GCC) as an influential force in the new regional order has been highlighted with the start of the Russian-Ukrainian war, said Mustafa Numan, the former undersecretary of the Yemeni Ministry of Foreign Affairs.
Numan's comments were made at the Asilah Forum in Morocco.

Also speaking at the Forum, Mohamed Bechari, Secretary-General of the World Council of Muslim Communities in the United Arab Emirates, acknowledged that the Gulf region is "affected by urgent changes."

"It is not possible in the era of development to establish a global model without international cooperation and interdependence," stressed Bechari.

"The Arab Gulf region is distinguished by its strategic importance and its economic capabilities," he explained, saying its geographic location serves as a link between more than three continents.

"Achieving stability represents the real capital for the region," he added, noting that it would help in establishing grounds for conflict resolution and humanitarian relief.

He stressed that the strength of Gulf states depends on their ability to "stabilize security, increase development engines, and invest in technology and the knowledge economy."

This, according to Bechari, helps Gulf states in building advanced and open societies that are devoted to education, health, and moral values that enhance human commonality.

Bahia al-Jishi, Bahrain's former ambassador to Belgium, Luxembourg, and Denmark, revealed that the world was on the verge of a new order.

"We are on the cusp of a new world order that calls for policy-making," said Jishi.