Meshari Alharrah discovered the Kyokushin style of karate when he was an 18-year-old at university. Now a 27-year-old lawyer, he has earned a black belt in the martial art, continues to practice and hone his skills, and has competed in a number of local and international competitions.
Last month, he faced perhaps his greatest challenge yet when he represented Saudi Arabia at a kata competition in Tokyo. Arab News Japan caught up with him shortly after he returned from the event, to learn more about this particular form of the martial art and how it has shaped his life.

For the uninitiated, Kyokushin, which translates as "ultimate truth," is a form of karate developed in the 1960s that is said to be one of the more physical variations, with a more realistic take on fighting. Kata is the element of karate, and other martial arts, that focuses on form, posture and moves.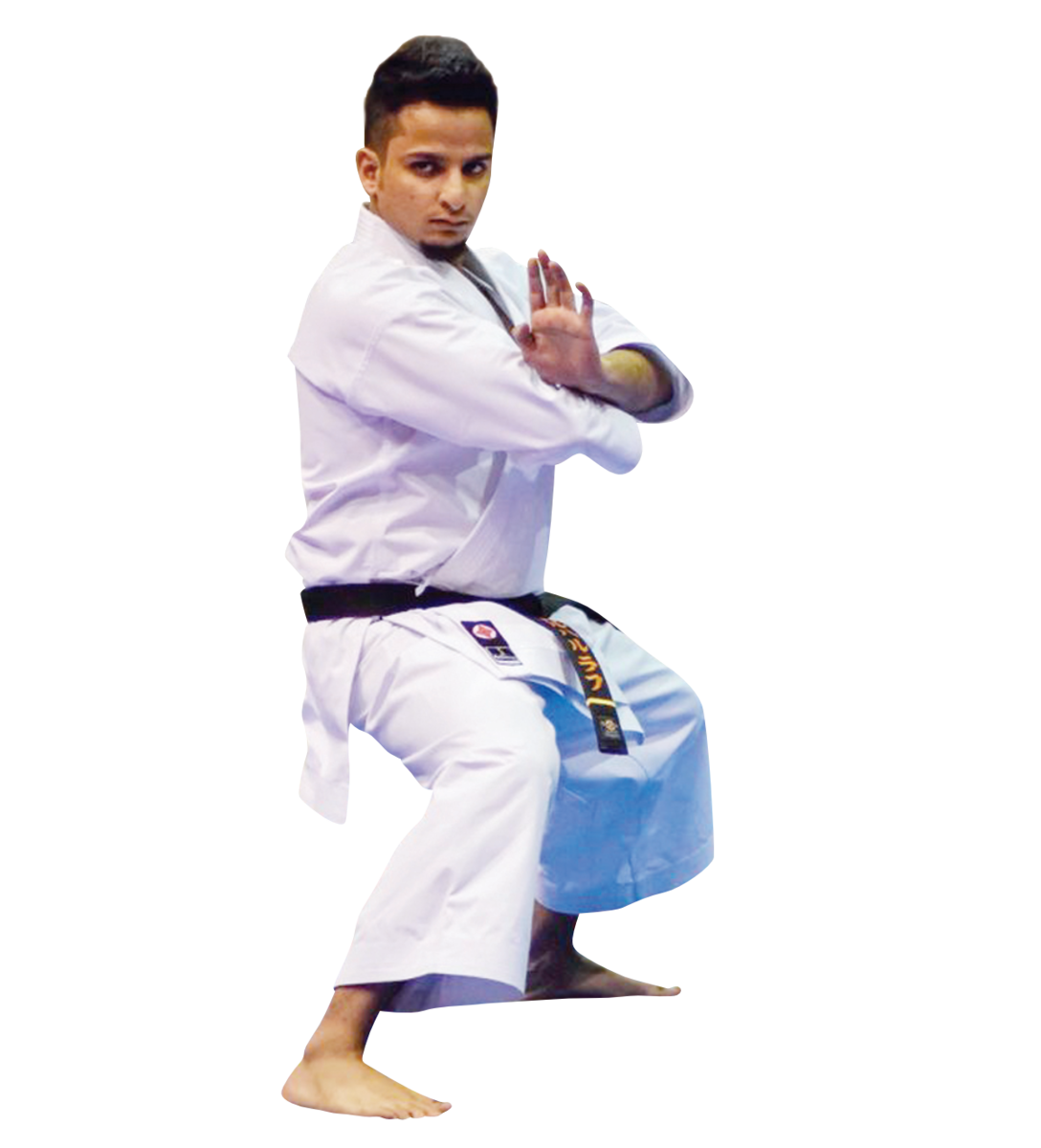 Meshari Alharrah, Saudi martial artist and lawyer

Alharrah said he recently competed in four local championships: The Elite Kata Championship, where he won a silver medal; the Riyadh Kata Championship; in which he won a gold medal; the Kingdom International Kata Championship, in which he also won gold; and the Riyadh Local Kumite Championship, where he won bronze.

"Although, I won a gold medal in the Riyadh Championship for the first time, and was the only Saudi man to achieve this in kata, I was surprised to be denied the right to represent the Kingdom (in international competitions) despite the conditions being met," he said.

"After the Kingdom's International Championship, and my achievement in kata by winning first place, I insisted on my right to represent my country on the national team, especially given the lack of practitioners."

So when an invitation to compete at the World Friendship Championship in Tokyo on April 29 and 30 was sent by the International Organization of Kyokushin Kai Kan in Japan to the organization's branch in the Kingdom, one of the its leaders, Adnan Tarsha, nominated him to compete.

"I had always aspired to represent my country, Saudi Arabia, one day overseas," said Alharrah. "It was like a dream to me for it to become reality. That alone makes me very happy and proud. I have fought many times, over and over, to be able to do so. To practice Kyokushin karate in the country that gave birth to it was amazing."

He ultimately lost in the quarterfinals of the competition, which took place on April 29 and 30, but said: "I hope to go back again and win."

Alharrah said his initial motivation for taking up Karate while he was a freshman at university in 2015 was simply to lose weight. In the space of three or four months he not only lost a few pounds but developed a love of Karate in general, and Kyokushin in particular, that grew and grew.

Karate originated on the Japanese island of Okinawa, influenced by the Chinese martial art kung fu, which in turn was influenced by ancient Indian martial arts.

There are four main styles of Karate, Alharrah said, differing in techniques, philosophies and practices, but they all use a belt system of some kind to grade and measure achievements.

"I took an interest in Kyokushin more than karate," said Alharrah. "I was attracted to the philosophy of self-improvement with 'Kyokushin Kaikan,' which means the society of ultimate truth.

"It's rooted in the aim of attaining high levels of discipline and physical training. I found that concept very real and powerful. I have tried several other methods of martial arts, such as taekwondo and Muay Thai, but Kyokushin stood out for me.

"Thankfully I got my black belt — that took about eight years to achieve, but I consider that achievement to be the beginning of the stairway to attain the highest dan (rank). There are 10 dans in the ranking system of Karate, used to indicate the level of a person's ability, but it's very difficult to attain the 10th rank.

"I have mastered the second dan, while the Japanese karate master who's the head of the organization in Saudi Arabia holds the ninth rank."

There are about 20 or 30 people ranked 10th dan black belts in the world, Alharrah said, and earning one is an incredible achievement that comes only after many years of dedication to the art form.

"There are three terms commonly used in Kyokushin, which are: sensei (teacher), senpai (senior student) and shihan (master instructor)," he added. "There are three training pillars: kihon (basics), kata (mock fighting), and kumite (full-contact fighting). Training must include all three of these to become a strong practitioner. Also, technique, fitness and flexibility are very important to become the best possible fighter."

Alharrah said the karate masters he most admires are Shokei Matsui, a former world champion, and Kenji Yamaki, who is considered one of the best Kyokushin fighters in history.

"Just like any competition, no one can ever tell if they are going to win or not but what you can always do is prepare by practicing as much as possible," he added. "Of course, I was nervous (about competing in Tokyo), and that was my biggest enemy because I feared being out there and feared making a mistake.

"Fear lowers performance in a considerably noticeable way. Whatever tournament you enter, big or small, you must break that barrier of fear and get rid of it by participating in as many tournaments as possible."

The path from the white belt of a beginner to the black belt of a master is long, demanding and exhausting, Alharrah said.

"The most difficult thing was continuity," he explained. "Because sometimes you go through disappointments or feelings of laziness or loss of passion. Trying to show up for practice three or four days a week was difficult, especially while having a job. The key to gaining any skill is continuity."

According to Alharrah, karate clubs can be found across Saudi Arabia, for men and women, boys and girls, but Kyokushin schools are still relatively rare.

"My advice to anyone who is practicing karate is to treat this sport as science and not as a game to play, or a match, and to receive what is taught as it is, in its dimensions, and seek the nobility of this science," he said.

"Also, to be aware of the discipline more than the techniques or fighting styles because self-discipline is more important, especially for people who have anger-control issues.

"For example, I am a lawyer and Kyokushin has affected my career in the sense that it polished my character as a lawyer with the senpai mentality. Also, I learned how to keep calm and not get angry at anything, so that I can think clearly in a calm matter with a balanced head."