Saudi Arabia's longstanding relationship with Jordan is a tale of the two kingdoms becoming a "role model" for regional and pan-Arab cooperation, that is expected to be strengthened with several new initiatives on the political and economic fronts, according to experts.
Ahead of Crown Prince Mohammed bin Salman's upcoming visit to Jordan, observers point to the long, shared history, similar culture and values of both peoples, which have had an impact on diplomatic relations.

"Diplomacy is not the right word to describe the Amman-Riyadh relations. It's history, geography, politics, and common interests," said Samih Maaitah, former Jordan minister of media affairs.

In remarks to Arab News, Maaitah explained that the two nations have become a "role model" for regional cooperation and coordination, thanks to a "number of facts, including primarily the similar political and ruling system."

Maaitah, a prolific writer, explained that the two countries have long adopted a similar political approach to regional and international issues, including on Palestine, Iran, Iraq, Syria and Yemen. This includes tackling terrorism, and "nowadays, illicit drug trafficking (from Syria)."

"Since a stable Jordan is in the very interest of Saudi Arabia, a strong Saudi Arabia is at the heart of Jordan's interests. A constant Amman-Riyadh strategic partnership is a top priority and cannot be compromised or sacrificed. The leaders of both countries are fully aware of that, and they are acting accordingly."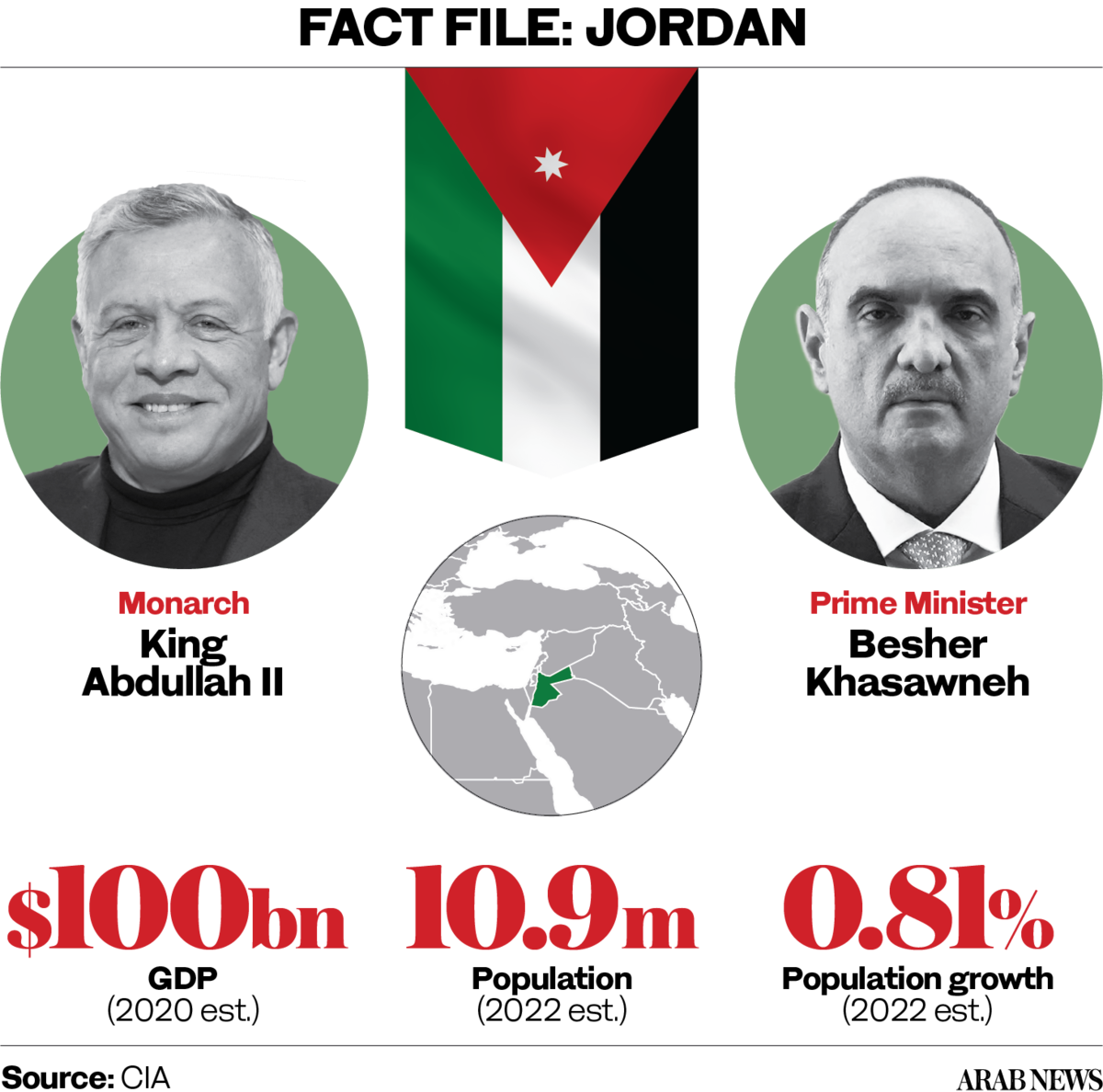 Amer Sabaileh, a Jordanian strategic analyst and university professor, echoed Maaitah's remarks, hailing the progress of ties and calling for stronger political cooperation and coordination.

Sabaileh told Arab News that Jordan must take on a role in "Saudi Arabia's new vision (2030) and its leaders' ambitious plan for the entire region."

"Saudi Arabia has a progressive and ambitious strategic vision for the entire Middle East region, and Jordan is urgently required to capitalize on the Saudi crown prince's visit to Amman."

"Constant Jordanian-Saudi cooperation and coordination serves the interests of the entire region," he added.

Saudi Arabia is Jordan's largest economic partner, with investments of more than $13 billion. Trade between the two nations reached $5 billion in 2021.

According to the World Bank, Saudi Arabia is Jordan's largest donor, having given its neighbor direct financial assistance of $3 billion, or around 8 percent of Jordan's GDP.

In April this year, Saudi Arabia sent $50 million in direct funding to Jordan, the fourth installment out of five that Riyadh pledged to the country. According to the Saudi Press Agency, this assistance was part of a 2018 agreement between Saudi Arabia, Kuwait, and the UAE to provide a $2.5 billion economic aid package to Jordan.

The Saudi-Jordanian Investment Fund, backed by the Saudi Public Investment Fund, recently signed an agreement with Jordan to invest $400 million in a healthcare facility in the country.

The project has been described as the "culmination" of Saudi investment in Jordan.

During the signing ceremony, Jordan's Prime Minister Bisher Khasawneh emphasized that the leaders of the two nations had a deep-rooted relationship, and urged greater cooperation on all fronts.

Supporting this view, Saudi Ambassador to Jordan Naif bin Bandar Al-Sudairi said that the Kingdom was eager to enhance its relations with Jordan.

SJIF Chairman Hisham Attar explained that the fund's main objective is to contribute to economic growth in Jordan through long-term investments in key strategic sectors, reflecting the vision of the two countries' leaders.

He also highlighted the objectives of Saudi Vision 2030 and the strategy of the Public Investment Fund of Saudi Arabia to further promote economic integration. The SJIF was seeking to become the most impactful investor in Jordan.

The SJIF and the Jordanian government, represented by the Jordan Investment Fund, signed a memorandum of understanding on June 16 that would enable the SJIF to explore investments in the National Railway Network Project.

This project entails the construction of a 418-kilometer railway line connecting the Aqaba Container Terminal with the Madouna land port in southern Amman for the shipment of containers, phosphate, grain, and automobiles, according to an SJIF statement.

In June 2021, the SJIF announced a $15 million investment in leading Jordanian technology company OpenSooq, an e-commerce mobile app that enables consumer-to-consumer sales, as part of its capital growth investment strategy.

The fund said at the time that the investment sought to bolster the entrepreneurial environment in Jordan, that would support the development of local companies, and provide them an opportunity for regional expansion.

In March this year, a bilateral agreement that could be worth over $1 billion was signed by business leaders from Makkah and Amman.

Attending the signing ceremony between the Makkah Chamber of Commerce and Industry and its Amman counterpart, Jordan's Minister of Industry, Trade and Supply Yousef Mahmoud Al-Shamali said: "There is a need to strengthen these relations to rise above $1 billion, especially since Amman is proud of Saudi products, and Saudi investments are the most important in Jordan."

Jamal Shalabi, a political science professor at the Hashemite University of Jordan, explained that Saudi Arabia has shifted its economic cooperation with Jordan from "cash assistance to direct investment in services and infrastructure projects."

"This is very smart and more sustainable and it has a direct impact on creating jobs and accelerating economic growth," he said during a ceremony marking the centenary of the Jordanian state at the university in April.

According to official figures, around 430,000 Jordanians work in Saudi Arabia.

Remittances sent from Saudi Arabia to Jordan have increased by $16.4 million to $1.1 billion during the first four months of 2022, marking a 1.5 percent rise from the same period last year.

The Central Bank of Jordan's data showed that these remittances totaled $3.4 billion at the end of 2021. Most of the remittances from Jordanian expatriates come from Gulf countries, and from Saudi Arabia in particular.

An opinion poll conducted by the University of Jordan's Center for Strategic Studies in March revealed that Jordanians see an "institutionalized relationship with Saudi Arabia" as a top priority for their country.

The poll also revealed that 37 percent of Jordanians view Saudi Arabia as their country's largest economic and political supporter, and the "closest neighbor both culturally and traditionally."