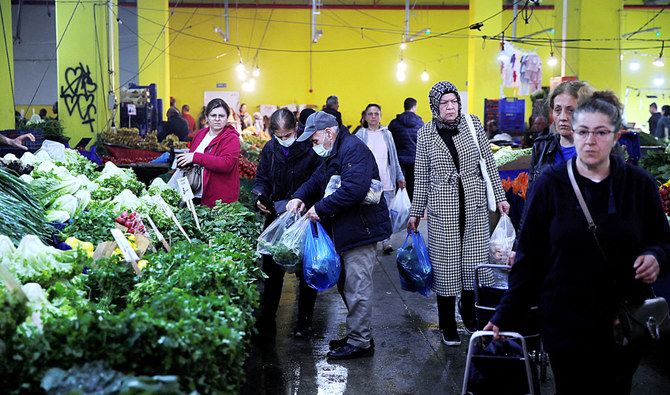 OSCE 'disappointed' after Turkiye bars two vote observers
The parliamentary assembly of the world's largest security organization, the OSCE, has voiced disappointment after Turkiye barred two lawmakers from a 100-strong mission to monitor the Sunday's elections.
Turkish authorities have denied accreditation to Danish MP Soren Sondergaard and Swedish MP Kadir Kasirga, said the parliamentary assembly of the 57-member Organization for Security and Cooperation in Europe.

"We are disappointed with this step taken by the Turkish authorities, which could impact negatively on the work of the international observer mission," the assembly said.

It said Turkiye "should not — directly or indirectly — influence the composition of the mission," adding that Sondergaard and Kasirga had been refused entry because of statements made "as independent members of parliament."

The 100-strong team is made up of lawmakers from OSCE member countries.

Another OSCE body is sending a separate team of almost 400 people to observe Turkiye's presidential and parliamentary vote, in which President Recep Tayyip Erdogan faces the toughest challenge of his two-decade rule.

Sondergaard, from Denmark's Socialist-Green Alliance, said last week that Turkiye had denied him access because he had previously visited the Kurdish-led Syrian Democratic Forces or SDF.

He told Danish public television TV2 that Ankara had accused him of "promoting a terrorist organization."

The SDF spearheaded the fight against the Daesh group in Syria. Turkiye regards it as an offshoot of the Kurdistan Workers' Party or PKK, which it classifies as "terrorist."

In 2018, Ankara barred a German and a Swedish lawmaker from an election observer mission sent by the OSCE's parliamentary assembly.

The OSCE was founded in 1975 to foster relations between the West and the Eastern Bloc.

Its current members include both NATO countries and Russia.

More than 6 million first-time voters are expected to cast ballots in the election.

Roughly 10 percent of the electorate, their votes could prove critical in deciding whether Erdogan's rule continues into a third decade or comes to an end.

Research conducted by pollster Konda last year showed that 57 percent of the first-time voters described themselves as modern, 32 percent described themselves as traditional conservatives, and the remainder described themselves as religious conservatives.

Turkish university student Yunus Efe has known only one leader of his country — Erdogan.

As he prepares to vote for the first time in elections this month, the 22-year-old says it is time for change.

Efe is one of the first-time voters. A toddler when Erdogan came to power in 2003, Efe said his vote will go to the opposition's Kemal Kilicdaroglu, who he believes will strengthen rule of law, human rights and freedom of expression — which critics say have suffered under Erdogan.

"I am definitely concerned about freedom of expression. In fact, I experience this every day but we do not realize it because we got used to living this way," said Efe, describing how he thinks twice before liking or sharing social media posts.

Human Rights Watch, in a 2022 report, said thousands of people have faced arrest and prosecution every year in Turkiye for social media posts, typically charged with defamation, insulting the president, or spreading terrorist propaganda.

Ankara says its measures are necessary to fight disinformation spreading on media and internet.

Efe said he had been apathetic about the elections and politics "like many young people," but was now excited to vote and attracted by the promises of Kilicdaroglu and his Republican People's Party o CHP, one of six parties allied against Erdogan.

"I think that the rights can be restored and justice can be re-established," Efe said, speaking in central Istanbul.

The sentiment points to the challenge facing Erdogan and his AK Party as they try to rally support for the presidential and parliamentary polls, with their popularity hit by a cost-of-living crisis and dizzying inflation.

Sensing their best chance yet of unseating Erdogan, his opponents are promising to reverse many of his signature policies, including abolishing the all-powerful presidency seen by critics as a symbol of his drive to wield ever greater control.

Erdogan's share of the vote among young and first-time voters is forecast to be lower than among other age groups, said Erman Bakirci from pollster Konda Arastirma.

Describing young voters as a "very angry and hopeless" segment of Turkiye's 85 million people, Bakirci said they would be crucial to the result because they are such a large block.

"They see via Internet and social media what their peers in Europe are doing and what opportunities they have," Bakirci said.

"They see that the difference between them widened ... They lack social, economic and legal security. They want to get out of this situation."

Erdogan has championed the youth in his campaign while also criticizing them for failing to appreciate how Turkiye's economy has developed on his watch, harking back to more difficult times before the AK Party came to power.

Emre Orgun, a 22-year-old who works in the information technology department of a textile company in Istanbul, said he would be voting for Erdogan because he did not think the opposition could manage Turkiye as well as the veteran leader.

"Of course I want the current government to continue. We want them to continue with some changes in some officials and policies," Orgun said. He said his main problems are high prices and job opportunities.