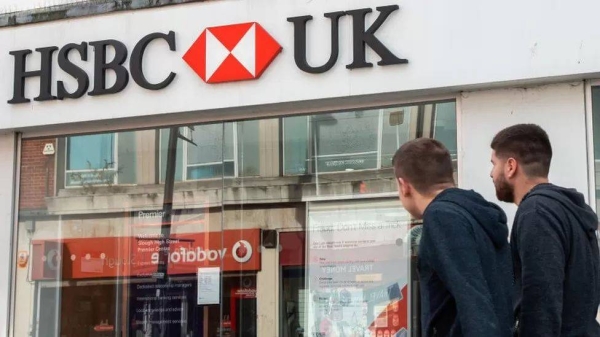 HSBC says UK buyout boosted profit by $1.5bn
Banking giant HSBC says its profits got a $1.5bn (£1.2bn) boost from the purchase of collapsed Silicon Valley Bank's British business (SVB UK).
Europe's biggest bank posted a pre-tax profit of $12.9bn for the three months to the end of March.

That is more than three times the amount it made for the same time last year.

In March, HSBC bought SVB UK for a nominal £1 ($1.25), in a deal led by the government and the Bank of England.

The London-headquartered lender said the profit included a "provisional gain of $1.5bn on the acquisition of Silicon Valley Bank UK Limited".

"We remain focused on continuing to improve our performance and maintaining tight cost discipline, but we also saw an opportunity to invest in SVB UK to accelerate our growth plans," group chief executive Noel Quinn said.

The bank also got a boost from the reversal of its plan to write-off $2.1bn due to the sale of its French business, as that deal may no longer be completed.

HSBC announced its first quarterly payout to shareholders since before the pandemic in 2019 and said it would buy back $2bn of its shares.

It also said the completion of the sale of its business in Canada is likely to be delayed.

The planned $10bn sale, which was originally expected to be completed by the end of this year, is now likely to go through early next year.

The proposed deal is a key part of its strategy to pull back from slow-growing Western markets.

HSBC's strong performance comes against the backdrop of the global banking sector being rocked by the collapse of Silicon Valley Bank and Signature Bank in March and the forced buyout by Swiss banking giant UBS of rival Credit Suisse.

On Monday, US regulators seized First Republic Bank and sold its assets to Wall Street giant JPMorgan Chase.

The move was aimed to resolve the biggest failure since of a US bank since the 2008 global financial crisis and draw a line under weeks of turmoil in the industry.

In recent months, pressure has grown on HSBC from its biggest shareholder, Chinese insurance giant Ping An.

Ping An has called for HSBC to spin off its Asian operation to increase the amount investors make out of the business there.

HSBC is still run from its headquarters in London but makes the majority of its profits in Asia. These profits effectively subsidise some of the bank's loss-making operations in Europe and the US.

Ping An has argued that this is unfair and its solution is to break up HSBC, giving Asian investors a larger share of the profits.

"If you look at HSBC's share price for the past eight years, Ping An's investment hasn't been a particularly good one. A break-up may enhance the value of the bank for shareholders in Asia," says Kenny Wen, head of investment at KGI Asia in Hong Kong.

HSBC has urged its shareholders to vote against the proposal at its annual general meeting, which is due to take place in Birmingham on Friday.

"Currently HSBC clearly has not earned the right to simply bat away calls for change," Manus Costello from Autonomous Research in London said.

A break-up, however, would face "formidable obstacles, including significant economic and political hurdles," he added.